by Divyakshee K.
TJ Gnanavel's Jai Bhim has received glowing critical and commercial praise since its premiere, earning a 9.6 IMDb rating – greater than Frank Darrabont's cult masterpiece Shawshank Redemption, which had a 9.3 rating.
The film, which was released on November 2nd, follows the trials of a pregnant lady from an oppressed tribe as she seeks justice for her husband, who was detained, tortured, and murdered after being falsely accused in a case.
The film's title, which translates to "Long Live, Bhim," is a chant popular among Dr. BR Ambedkar's supporters. Set in Tamil Nadu, it is based on true events that occurred in 1993.
Despite the fact that Segeni from the film Jay Bhim tugged at numerous hearts, the real woman behind the character, Parvathi Ammal, seems strangely detached from the commotion that her narrative has sparked in recent weeks. Speaking to Times of India, she said "To me, it's an old nightmare, familiar but not softened in the least" "For the last 28 years, I have learnt to work myself to exhaustion every day to keep my mind off the things that I saw and experienced, but in the past few weeks my demons have returned with a vengeance."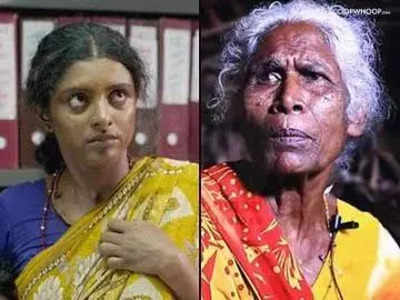 Parvathi was hired as a farmhand in Gopalapuram, Tamil Nadu, in March 1993, along with her family of Kurava tribals. They learned when they returned home that they had been accused of a theft at Gopalapuram. Her husband  Rajakannu, his brother, sister, and brother-in-law were brutally beaten by the Kammapuram police, forcing them to confess to the crime before they could comprehend what was going on. When Parvathi intervened, she was thrashed "until the walls of the station turned red," she recalls, along with her toddler son Selvam, second son Ravi, and eldest son Mariappan. Rajakannu was tortured to death in police custody.
The police officers – Ramasamy, Anthonysamy, and Veerasamy – were convicted to 14 years in prison for the murder of Rajakannu in this case, which began as a habeas corpus petition. While it was a triumph for Parvathi and her children as well as a landmark judgement for the Indian Judiciary, the lingering effects of the violence have kept Parvathi's anguish alive to this day. "I grew thrice my size with swelling from the beatings. Years later, at the age of 15, my youngest son died from the shock he could never recover from. My eldest son, who lives in the village, has gone entirely deaf and wanders around aimlessly like a madman," she explains. 
Parvathi said that she ran a temperature for two days after the first set of people tracked her down and started calling after watching the film. "It brought back everything."  
Parvathi now resides in Chennai with her daughter, son-in-law, and two grandchildren. It's been almost a decade since she broke off all ties with the villagers, gave away the 3 acre plot of land she was given as compensation, and moved away to forget about the past and start over. While the years may have softened her wounds, her family is kept on their toes by tremendous marginalisation and poverty. Her daughter, who recently underwent appendicitis surgery, is unable to work outside the home, and her son-in-law, Saravanan, is a daily wage labourer who hasn't made a stable income since the pandemic began.
Despite these circumstances, Parvathi feels that education is a tool for reclaiming power, and she persuades her grandchildren to complete their studies and obtain employment. The boys, who are 17 and 19, are more inclined to start working and contribute to the family, which survives on less than half a kilo of rice and Saravanan's paltry daily income.
"Many years have gone, yet certain things haven't changed. "There is a future I look forward to in the health and prosperity of my grandkids," Parvathi adds while speaking to Times of India reporters. We need a source of income as a family so that we can take the burden off our children's shoulders and see them develop into great young men. After all, this is a life that has been nothing but hard work." 
Thankfully, there have been some positive effects in addition to the immense grief and misery that reliving her history has brought. On Monday, November 14, Suriya and Jyotika's home production company 2D Entertainment announced that Suriya will create a Rs 10 lakh fixed deposit in Parvati Ammal's name. "Every month, the interest earned on the FD will be donated to Parvati Ammal." Suriya said in a statement. He added that the money would be transferred to her children after her death.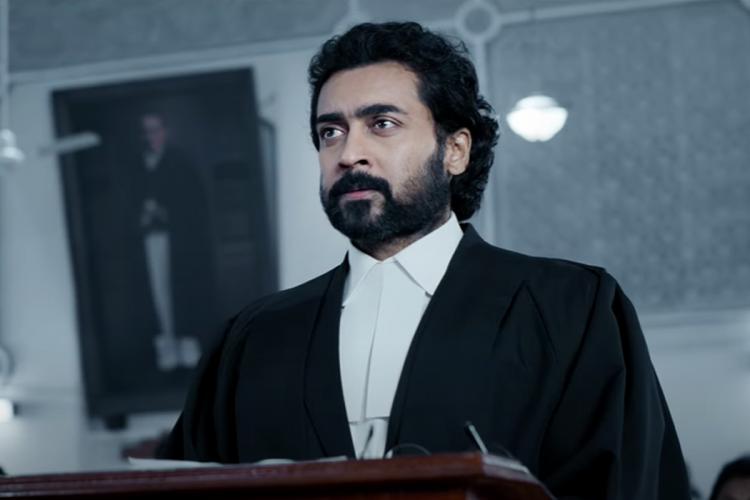 Raghava Lawrence, an actor, director, and choreographer, has announced that he will build a new house for Parvathi. Lawrence wrote in a note, "I was greatly affected when I heard about the life of Parvathi Amma, Rajakannu's wife, who was tortured and killed for a crime he did not commit." He expressed his concern after learning more about Parvathi's current state of poverty, which was documented on the YouTube channel Valaipechu Voice. Lawrence wrote, "I have promised Parvathi Amma that I will build a house for her at my expense."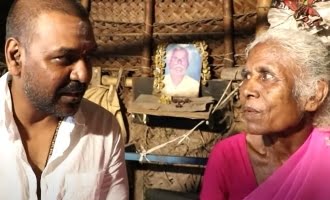 While no sort of material or monetary compensation can ever replace or repair the wounds left behind by her tragic past, the hope is that these provisions will give her and her family some amount of support through the pandemic, allowing them to help achieve her dreams of educating her grandsons without them being forced to work due to poverty.
Reference- Times of India