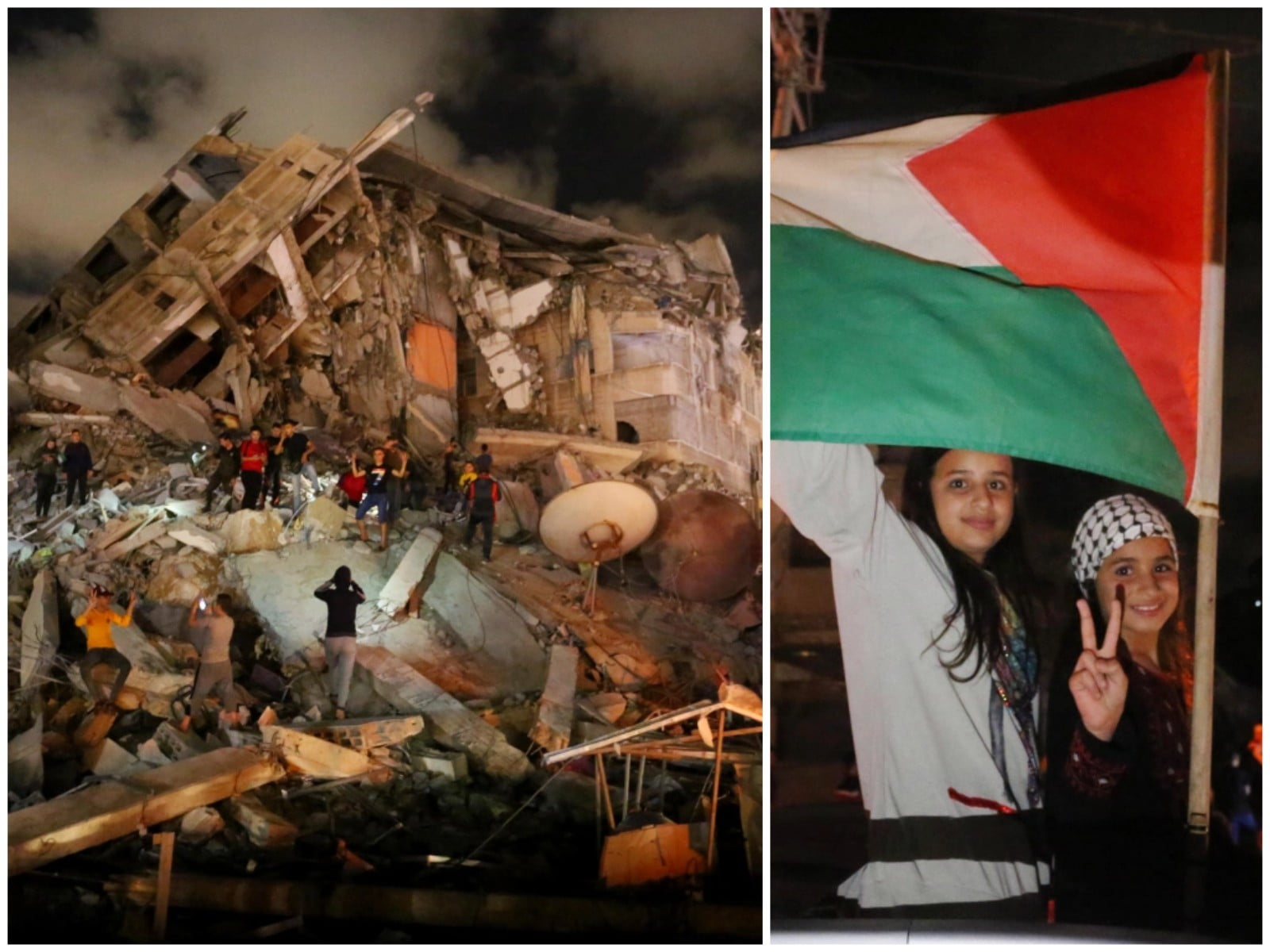 The much awaited truce, armistice, ceasefire, call it with any term, has finally come into effect. But at what cost? Almost after eleven days of relentless bombing in Gaza and attacks that have taken place much prior to that in various other parts of the state has completely shattered Palestine.
Indiscriminate killings of human life including newborns and children in the past few days has taken a toll on humanity. Heart-wrenching visuals that have emerged from Palestine via social media and some of the international media covering the live events has underlined the horrors faced by the Palestinians.
After this mammoth destruction of life and property, a ceasefire finally came into force in the Gaza Strip in the early hours of Friday morning after Egypt brokered an agreement between Israel and Hamas to halt 11 days of conflict.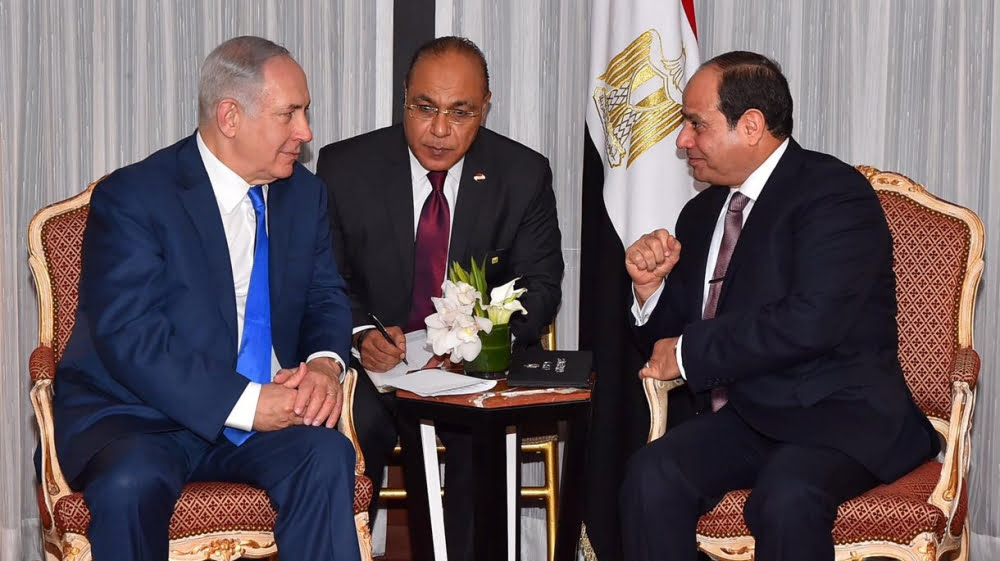 A statement from Israeli Prime Minister Benjamin Netanyahu's office said the security cabinet had "unanimously accepted the recommendations to accept an Egyptian initiative for an unconditional … ceasefire."
Palestinian groups Hamas and Islamic Jihad then confirmed the ceasefire in a statement, saying it would come into force at 2:00am on Friday (23:00 GMT on Thursday).
The direct material damage to infrastructure and buildings in the Gaza Strip, as of Wednesday, is estimated at about a quarter of a billion dollars. Some $92 million dollars of damage was done to residential housing and the offices of various non-governmental organizations throughout the Strip. With every additional day of fighting, this figure grows, said head of Hamas' information office, Salameh Maaruf.
Gaza's power grid has also been damaged, incurring an estimated $22 million in damage as of Tuesday. The electricity supply has been reduced to three or four hours a day due to the impaired facilities.
The limited electricity supply has badly impaired Gaza's water system. More than 95 percent of the water drawn from the Gaza aquifer is unfit for drinking, and must be purified and desalinated. These facilities depend on electricity to operate, as do the sewage treatment plants and pumps. The water supply has plummeted by more than 40 percent.
The situation only worsened after Monday, when the water and sewage pipelines that serve more than 140,000 people in the area of Khan Yunis and the central Gaza Strip were damaged by airstrikes.
Due to the lack of power, three main desalination plants providing services for more than 400,000 people have suspended operations, and more than 100,000 cubic meters of untreated or partially treated wastewater are being discharged to the sea daily.
According to Maaruf, as of Tuesday, 1,335 housing units were destroyed in the ongoing Israeli bombardments or damaged so severely that they are unfit for habitation. About 12,800 housing units were partially damaged. Hundreds of private offices and NGO offices were severely damaged and 33 media offices were completely demolished.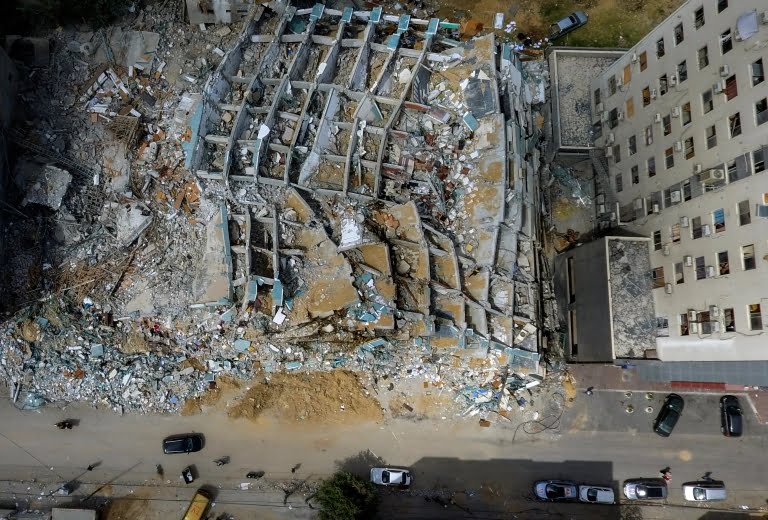 According to the UN, the number of uprooted Gazans – either those whose houses were destroyed or those who have fled them due to the intensive bombardment has reached 75,000. Around 47,000 of them found shelters in UNRWA schools, and the rest are dispersed among relatives and friends.
The list does not ends here. Medical infrastructure of Palestine has been shattered as well due to the aerial bombardments as major hospitals are under debris now. The strike badly damaged the Al-Rimal clinic, which housed the main laboratory for COVID testing. The laboratory halted work as a result.
According to information provided by the United Nations, six hospitals and 11 medical centers were damaged. One hospital has not functioned since Sunday because its electricity has been cut off.
Three mosques have been completely wrecked since the war began; another 40 mosques and one church were badly damaged. A five-story building belonging to the Waqf Muslim religious trust was badly damaged. The damage to religious structures is estimated at $5 million.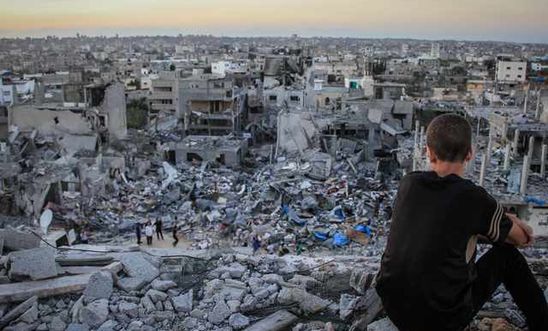 Farmers in the Gaza Strip fear going out to work their land due to strikes, especially after a number of farmers were killed. Gaza's agriculture sector has thus far incurred some $24 million worth of damage by bombardment.
Key traffic arteries have been blocked by the ruins of bombarded roads, which has impeded the arrival of food suppliers, medical teams and other rescue services. They now either have to take a longer route or can't reach their destinations at all.
This is a particularly life-threatening situation when it comes to medical, fire and rescue teams, who are called to extricate people from the rubble or to put out blazes.
Israel's bombardment of Gaza killed at least 243 Palestinians, including 66 children, and brought widespread devastation to the already impoverished territory. On the Israeli side, 12 people, including two children, were killed.
The World Health Organization (WHO) tallied "significant trauma needs" in Gaza. A total of 8,538 people had been injured across the besieged enclave and 30 health facilities had been damaged, said WHO.
Israeli Prime Minister Benjamin Netanyahu has warned Hamas rulers against any further rocket attacks following a ceasefire.
In a speech hours after the truce took effect, he said, "If Hamas thinks we will tolerate a drizzle of rockets, it is wrong." He promised to respond with "a new level of force against any expression of aggression against communities around Gaza and any other part of Israel".
Netanyahu also hailed Israel's 11-day bombardment of Gaza as "an exceptional success".
Despite this massacre, Palestinians have welcomed the truce wholeheartedly. Palestinians in the Gaza Strip have taken to the streets to celebrate the ceasefire agreement reached between Israel and Hamas, waving flags and flashing the "V" sign for victory.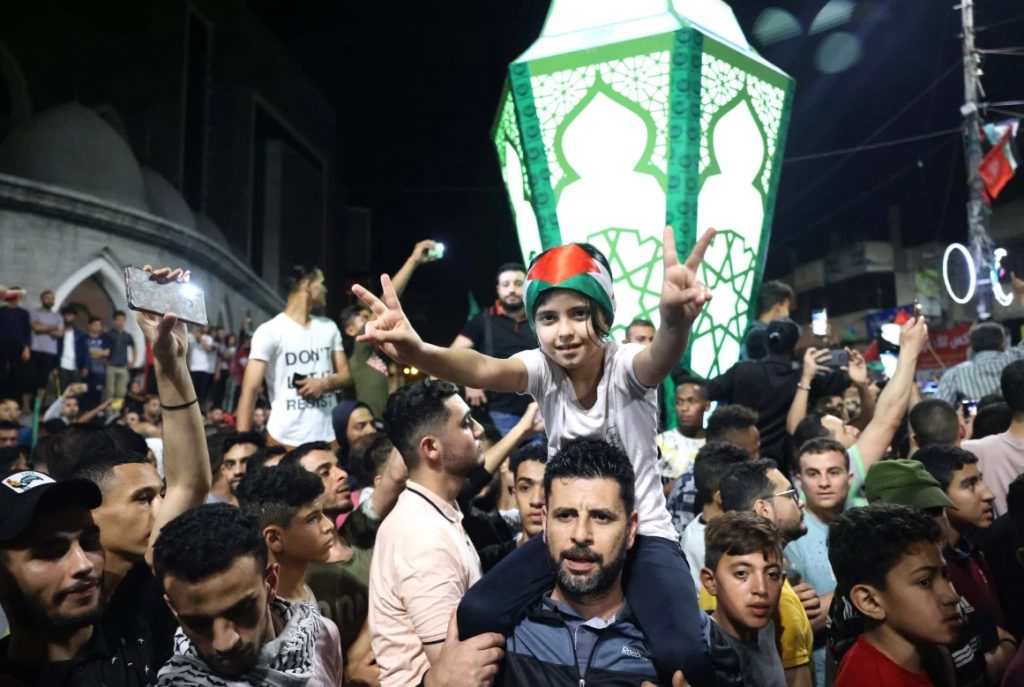 In the Gaza Strip, which has been under a 14-year blockade, Palestinians on Friday embraced one another in celebration of the ceasefire in front of bombed-out buildings and along streets covered in wreckage. Mosque loudspeakers feted "the victory of the resistance achieved over the Occupation (Israel)".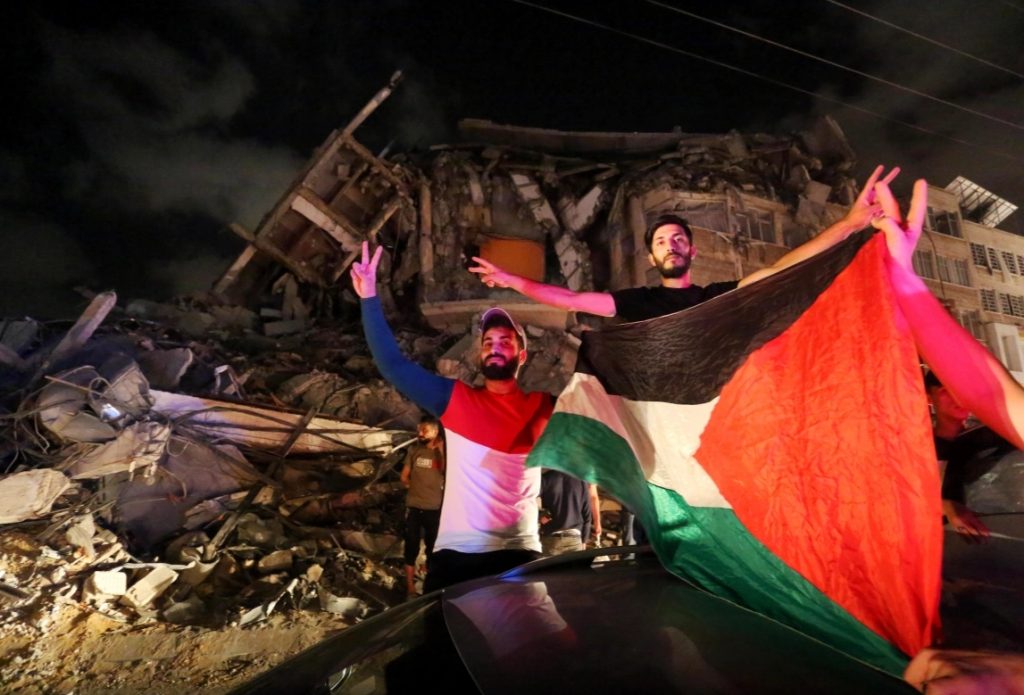 There were similar scenes of jubilation in occupied East Jerusalem around Sheikh Jarrah as people in cars flew Palestinian flags and honked horns. Celebrations also broke out in Ramallah and Bethlehem.
References:
Image Sources:
• AP
• AFP
• Reuters
• Getty Images