The prestigious Verbattle Karnataka Annual Debate Championships are conducted by Verbattle Foundation, a premier global debate promotion organization since 2005. The Organization has to date conducted over 120 large-scale Regional, National, and international debate events.
The 19th annual edition of the state-level Verbattle Karnataka debate competition for the academic year 2023-24 was held from 26th June to 18th August 2023. Leading schools and institutions from across Karnataka participated in the competitions. Hubballi and Bengaluru were the two zones for the Verbattle Karnataka Student Debate Championships 2023.
Students debated in the unique, thought-provoking, awe-inspiring, quick, educating, entertaining, engaging, and internationally acclaimed Verbattle Debate Format. The debate competition was conducted for students in the categories of Beginner (8-12yrs), Junior & Kannada (12-16yrs), and Junior plus (16-18yrs).
Around 900 students from 62 reputed institutions across Karnataka participated in this prestigious event. The debate competitions had a team of 2 members representing their institution. 
The Hubballi zonal edition was supported by Dr Ashok Shettar and KLE Technological University and was held in their Biotech auditorium. The Bengaluru events were supported by Mr. Mohan Kondajji and Karnataka Scouts and Guides and were conducted in the Kondajji Basappa Auditorium, Palace Road, Bengaluru.
The winners of the flagship event Verbattle Junior was the team of Aryan A Karkun and Sakshi Kulkarni from Chinmaya Vidyalaya, Hubballi. The winning team was awarded with Rs.1,00,000 cash prize, certificates, and other goodies. The two finalist teams were Viraj Simha P and Dhruvi Thakkar from KLE Society's School, Rajajinagar, and Sidharth Kanan and Anika Prashanth from Gopalan International School, Bengaluru. The finalist two teams were rewarded with Rs.20,000 each.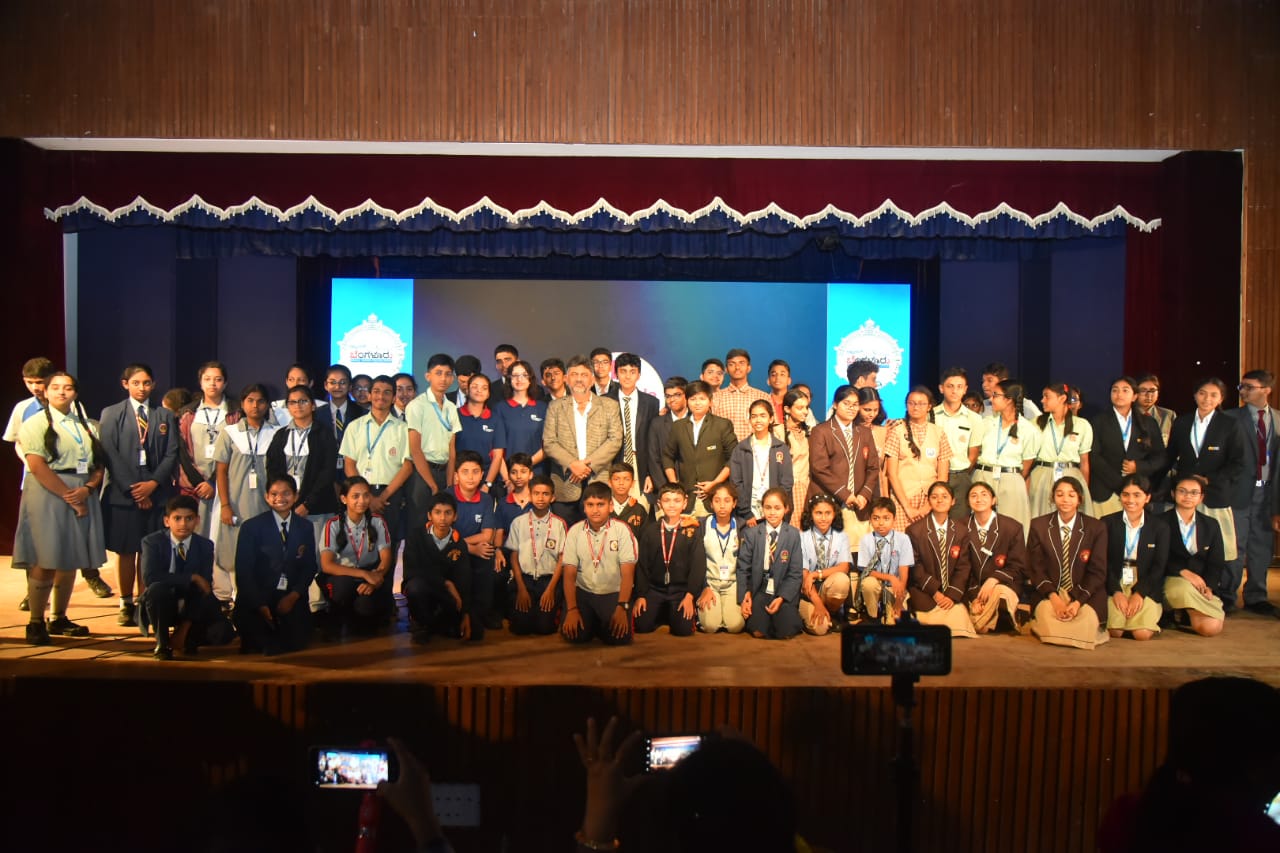 The teams that emerged the winners and finalists in other categories of competition are : 
VERBATTLE BEGINNER 2023 – RESULT
WINNING TEAM – Atharv Naveen and Anagha Sooruj Nair from Deens Academy, Gunjur, Bangalore – Rs.20,000/-
FINALIST TEAM – Sammit Basu and Maharth Nidtha Rao from Vidyashilp Academy, Bangalore – Rs.5,000/-
FINALIST TEAM – Gaurika V and Sheera Naresh from Vidyashilp Academy, Bangalore – Rs.5,000
VERBATTLE KANNADA 2023 – RESULT
WINNING TEAM – Ritesh.R.Gadagoli and Samarth.M.Kuratti from St. Antony's Public School, Hubballi – Rs.20,000/-
FINALIST TEAM – Deeksha D S and Kishala K from Vidyaniketan Public School, Ullal, Bangalore – Rs.5,000/-
FINALIST TEAM – Nidhi Karthik Agara and Rishvika Satheesh from Gopalan National School, Bangalore – Rs.5,000/-
VERBATTLE JUNIOR PLUS 2023 – RESULT
WINNING TEAM – Little Rock Indian School – Kristen W Coelho and Pearl Andrea D'Souza – Rs.20,000/-
FINALIST TEAM – Vidyaniketan Public School – Jennifer J and P Bhavana Bhat – Rs.5000/-
FINALIST TEAM – Kensri School and College – Aaryan S Kumar and Vishruthi – Rs.5000/-
VERBATTLE SPEECH COMPETITION 2023 – JUNIOR – RESULT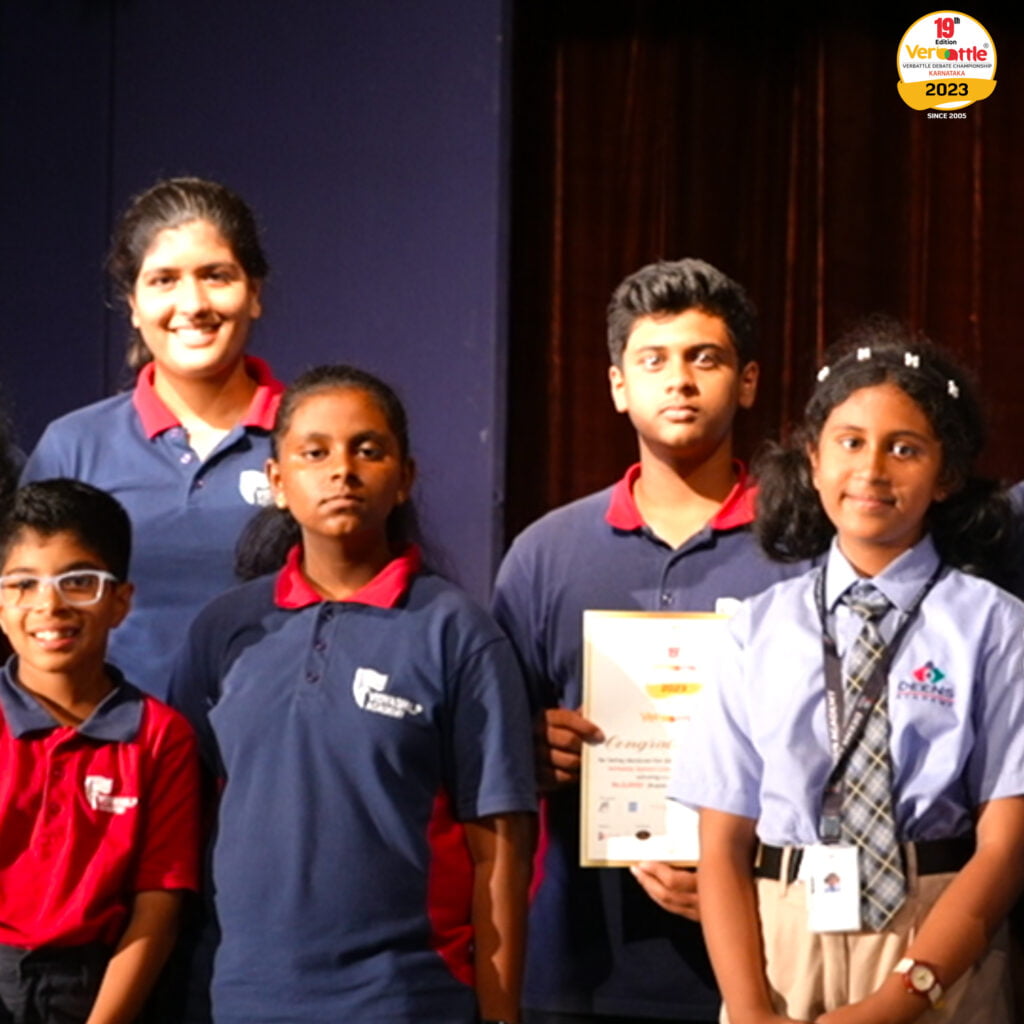 1 st PRIZE – Aadya Kanchan – Vidyashilp Academy – Rs.10,000/-
2nd PRIZE – Ayman Ahmed – Vidyashilp Academy – Rs.5000/-
3rd PRIZE – Diva Jain – Vidyashilp Academy – Rs.2,000/-
Verbattle Karnataka 2023 debates were patronized by AI Enterprises, Microlabs, Kelachandra Group, and TV House Network and sponsored by Canara Bank & Karnataka Renewable Energy Development Limited and Co-sponsored by Illumista Fragrant Candles.
After orientation, participants went through several grueling rounds of Verbattle Debates from Clamber, Skirmish, Combat, and Confrontation up to the final FACE OFF rounds along with Speech Competitions.
Leading achievers and eminent personalities were part of the panel of Judges during the competitions. RJ Rasheed, Dr. Muralidhara G.V, Prof. Ramakrishna, Dr. M.S.Savitha, Dr. Anitha Ravishankar, Mr. Ramakrishna Upadhya, Ms. Ami Desai, Mr. Michael Patrao, Mr. Surya Mukundaraj, Mr. Imitiaz Shariff, Ms. Angel John, Mr. Natraj, Mr. Vinayaka Ramakrishna, Ms. Katyayini Chamaraj, Ms. Muktha, Ms. Savitha Hosamane, Mr Balachandra Prabhu, Mr Abhishek Bhaskar, Mr. Anil Bharadwaj to name a few of them.
Prof. Lingaraja Gandhi, Vice-Chancellor of Bengaluru City University graced the grand finale of the Championships and gave away the prizes. Mr Deepak Thimaya, Founder of Verbattle was present on the occasion, along with the participants, their mentor teachers, parents, and other audience.
Verbattle Senior Debate competition for college students is scheduled to be held from 25th to 27th September 2023.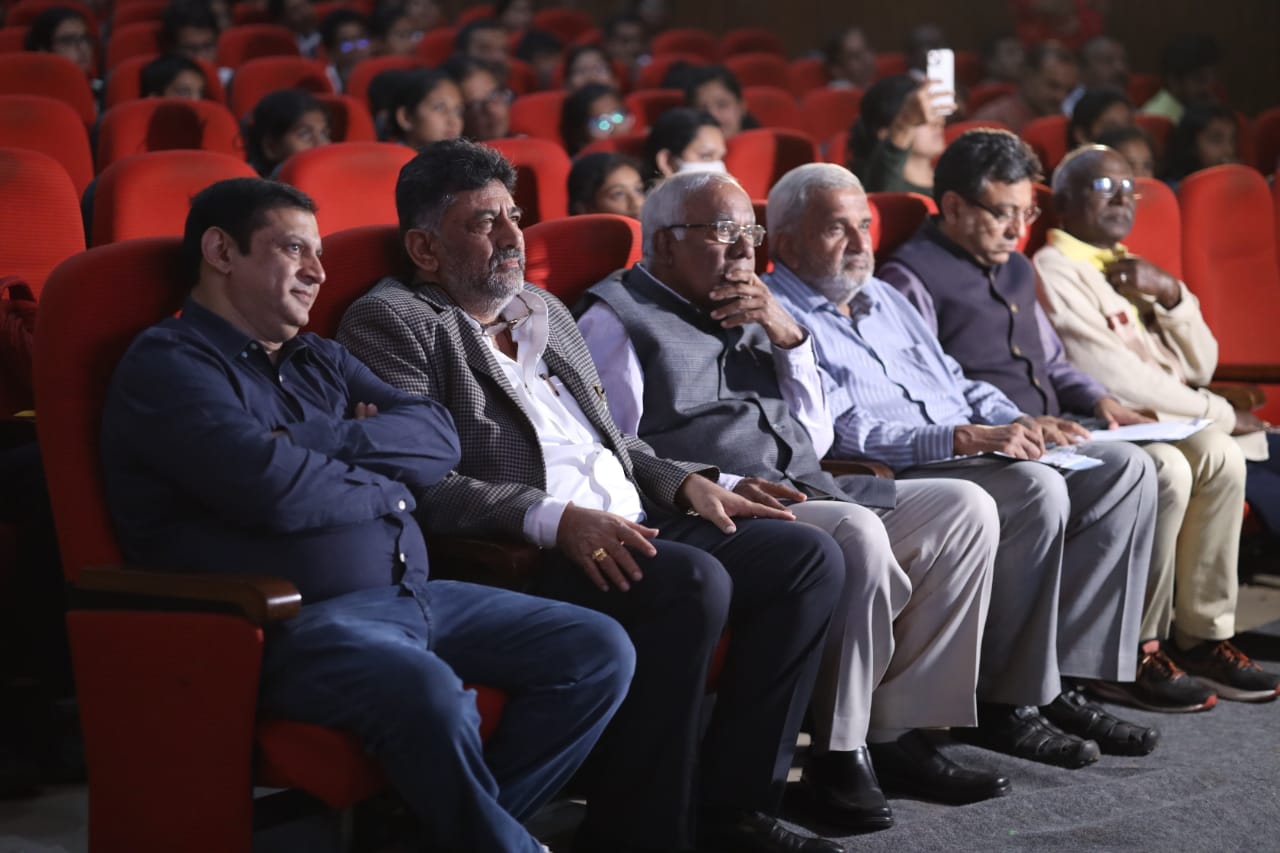 About Verbattle:
Verbattle, an acronym for Verbal Battle, has been one of the biggest debate and dialogue platforms, founded and cultivated to facilitate thought interaction at all levels in our multidimensional society.
Verbattle, started in 2005, has been reaching out to school children in the form of Verbattle Junior and to college youth as Verbattle Senior – two major debate competitions that can be easily considered as the biggest intellectual event for children and youth in the state of Karnataka.
All information about Verbattle 2023 is available on the official website www.verbattle.com or by calling 9886464641
About the Organizers:
Verbattle, established in 2005, began with a state-level competition in Karnataka, India. The founder of the organization, Deepak Thimaya, is a well-known media person in Karnataka and Verbattle Foundation is a registered non-profit organization with him as its managing trustee.
The organization professes to promote the values of democracy among children and youth and make them more human, as its main aim. It works as a platform for debate and dialogue, which fosters leadership development and promotes civil tolerance in society.
Contacts:
VERBATTLE FOUNDATION
# 808, 2nd Floor, 18th Cross,9th Main, III Block, Jayanagar, Bangalore – 560 011 Helpline: +91 9886464641; Phone: 080 – 4251 1111 Email: info@verbattle.com
ALSO READ
Why 'Verbattle' Is More Than Just A Debate Competition…? | Verbattle Debates