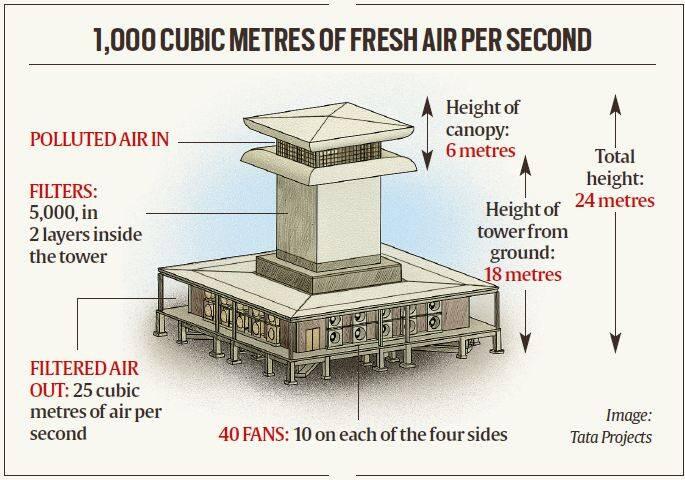 Delhi's Connaught Place got India's first ever 'smog tower' on Monday. Built at the cost of ₹20 crore, the 24- metre- long structure has been set up to improve air quality in a radius of around one kilometer. The Delhi government plans to add more smog towers after observing the impact of this installed smog tower.
A smog tower is a structure that works as a large scale air purifier to curb air pollution. The smog tower has been installed ahead of winter season. Notably, Delhi is one of the most polluted cities in India and witnesses a major fall in its air quality during winter. The tower has been developed by the University of Minnesota. The American university collaborated with IIT- Bombay to replicate the technology, which has been implemented by TATA Projects Limited.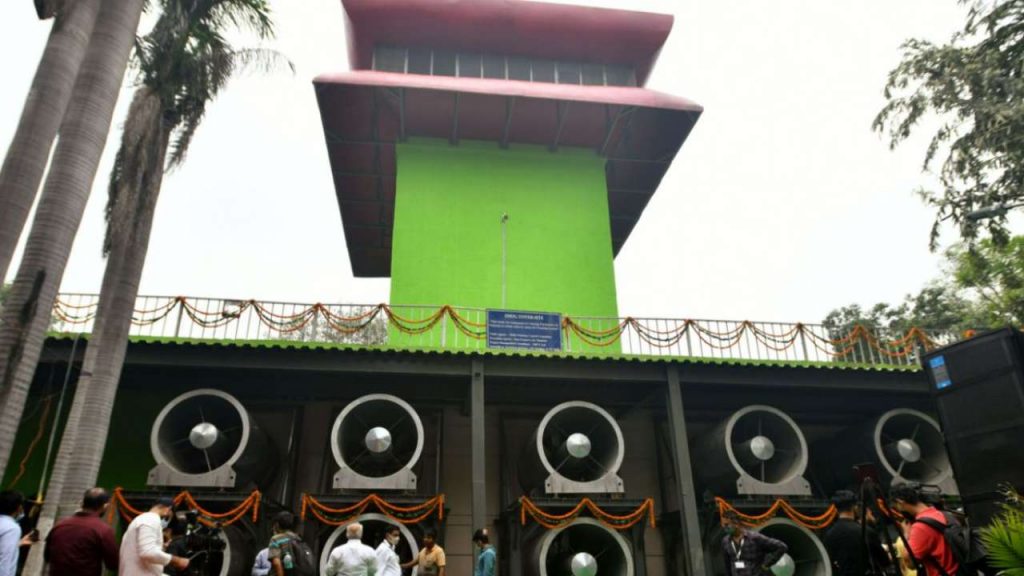 According to Business Standard, the tower's 40 huge fans will suck air from the top of a special type of canopy structure and release clean air filtered through novel geometry filters. Sandeep Navlakhe, Vice President & BU Head- Buildings, TATA Projects Limited said, "This solution will hopefully reduce India's air pollution, thereby improving the lives of citizens. Large areas of cities can be covered if such smog towers are strategically placed at densely populated urban locations." The company is prepared to offer its expertise and experience in setting- up more such smog towers across Indian cities.
How the tower works?
The model is based on a downdraft air- flow model. At a height of 24 metre, polluted air is sucked and filtered air is released at the bottom of the tower. According to The Indian Express, when the fans at the bottom of the tower operate, the negative pressure created sucks in air from the top. The 'macro' layer in the filter traps particles of 10 microns and larger, while the 'micro' layer filters smaller particles of around 0.3 microns.
Talking about the impacts of the tower, The Indian Express says there has been no evidence so far. Anumita Roychowdhury, executive director of research and advocacy at the Centre for Science and Environment said, "We haven't come across any clear data that has shown that smog towers have helped to improve the outdoor ambient air quality of a city, either in India or other parts of the world."
The tower has been installed after the Supreme Court of India directed the Central Pollution Control Board (CPCB) and Delhi government to come up with a plan to curb air pollution. It was then that the IIT- Bombay submitted a proposal for the towers. Earlier, in Delhi, Gautam Gambhir Foundation had installed three smaller air purifiers.
References:
Picture Credits: