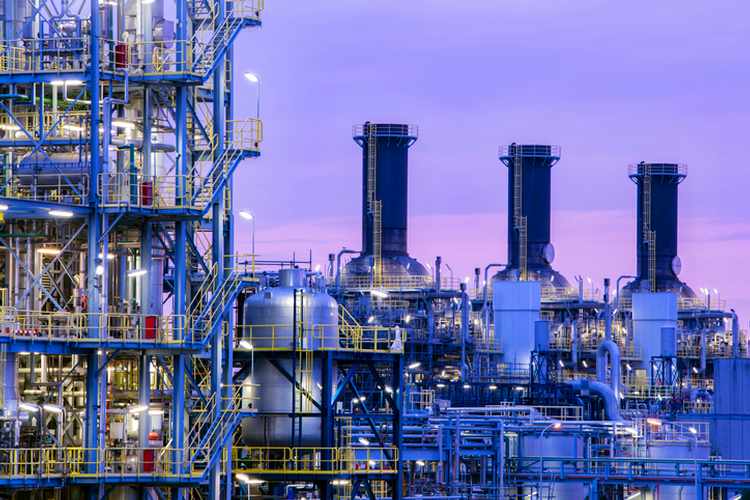 Petrochemical plant at dusk
Wednesday, 8th of September, India's first-ever primitively designed High Ash Coal Gasification based Methanol Production Plant was launched and inaugurated. It is at Bharat Heavy Electricals Limited [BHEL] Research and Development center in Hyderabad.
The Chairman of BHEL-Nalin Shinghal, a member of NITI Aayog- Dr. VK Saraswat, and the Coal Gasification team of BHEL were there to witness the inauguration and demonstration of the first methanol production plant of India.
"This endeavor led to the formation of in-house design expertise in BHEL for designing greater capacity coal gasification facilities, which will provide the necessary impetus to our Prime Minister's vision of 'Atmanirbhar Bharat. This in-house capability will assist India's Coal Gasification Mission and Coal to Hydrogen Production for Hydrogen Mission." said Dr. VK Saraswat.
The work on this High Ash Coal Gasification began way back in 2016. NITI Aayog, PMO-India, and the Ministry of Coal backed up this project. It was funded and had full support from the department of science. It received a ten-crore grant.
As mentioned before, the plant is the first of its kind. The design for the plant is in such a way as to work on high ash Indian coal. The capabilities of the power plant are very distinctive. It has the power to produce around 0.25 tons of methanol from high ash Indian coal per day, using a 1.2 TPD Fluidized bed gasifier. The purity of the produced crude methanol produced is between 98 and 99.5 percent.
What is methanol? Why is it used?
Methanol is chemical and is very simple alcohol. It is a light, volatile and flammable liquid. It is usually used to power ship engines, used as motor fuel, and used to generate clean power and is also used to create dimethyl ether [DME], which is very similar to diesel.
Globally the production of methanol is procured from natural gases through an easy process. India does not have many reserves for natural gases. Therefore India resorts to importing natural gases from foreign countries leading to the outflow of foreign exchange that is considered uneconomical due to the outrageous prices of natural gases. Since India has a considerable amount of coal, the construction of the power plant began.
image source :
reference: