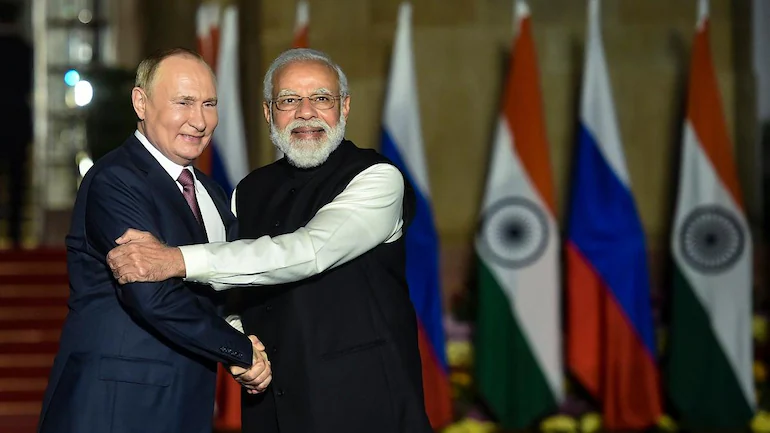 PM Modi welcomes Russian President Vladimir Putin (PTI photo)
by Divyakshee K.
On Monday, Prime Minister Narendra Modi and Russian President Vladimir Putin convened for the 21st Annual India-Russia Summit to address a wide range of subjects, including regional and global challenges. The meeting of the newly formed 2+2 Dialogue of Russian and Indian Foreign and Defense Ministers, as well as the Inter-Governmental Commission on Military and Military-Technical Cooperation, took place at the same time as the Summit. These gatherings gave an excellent chance to discuss global and regional events, as well as the bilateral strategic alliance that was established two decades ago.
Putin's brief visit to New Delhi lasted only around five hours while his ministers had flown in a day prior to attend the inaugural 2+2 ministerial conference and have bilateral meetings, including the intergovernmental committee on military and technological cooperation meeting.
"2021 is also special for our Strategic Partnership. Today was the inaugural meeting of the 2+2 dialogue between our Foreign and Defence Ministers. This has started a new mechanism to enhance our practical cooperation," PM Modi said ahead of the meeting.
PM Modi stated in his opening comments that relations between the two countries have not changed, even during the Covid-19 outbreak. He went on to say that the two countries' unique and privileged strategic alliance was growing stronger and that both sides stayed in touch with the situation in Afghanistan and other concerns.
"Our two countries have faced many challenges in the recent past. We have not only cooperated but also kept each other's sensitivities in mind," PM Modi stated.
The prime minister also added, "In the last few decades, the world witnessed many fundamental changes and different kinds of geopolitical equations emerged, but the friendship of India and Russia remained constant."
The India-Russia Joint Statement called 'Partnership for Peace, Progress and Prosperity' said, "The completion of 5 decades of the 1971 Treaty of Peace, Friendship and Cooperation and 2 decades of Declaration on Strategic Partnership is symbolic of the long-standing and time-tested India-Russia relations characterized by mutual trust, respect for each other's core national interests and similarity of positions on various international and regional issues."
The meeting saw the signing of 28 agreements across sectors from defence to energy to space exploration, science and technology, heavy engineering, to trade and investment.
The two countries inked the 'Agreement on Program of Military-Technical Cooperation from 2021 to 2031,' among others. This ten-year Defense Cooperation Program describes the two nations' current defence cooperation as well as potential future cooperation. Since 1994, such agreements have been established.
The long-awaited 'A-203 assault rifles deal' was signed by Defence Minister Rajnath Singh and his Russian colleague Sergey Shoigu at the end of bilateral discussions, opening the way for the manufacturing of over six lakh guns in Amethi.
The Russian-designed AK-203 will be manufactured in a new plant in Uttar Pradesh. In terms of numbers, pricing, and production method, both nations have agreed to the parameters of the agreement. Over ten years, 6,014,427 AK-203S will be produced for India's armed services.
"India deeply appreciates Russia's strong support for India. We hope that our cooperation will bring peace, prosperity and stability to the entire region. Glad that a number of Agreements/Contracts/Protocols were signed pertaining to small arms and military cooperation," the Defence Minister added in a tweet.
India also said that concerns such as Chinese intrusions in Ladakh and the situation in Ukraine were discussed during the talks.
The administration also reviewed the changing circumstances in Afghanistan, particularly the security situation and its regional ramifications, the present political scenario, and challenges like terrorism, radicalization, and drug trafficking, among other things.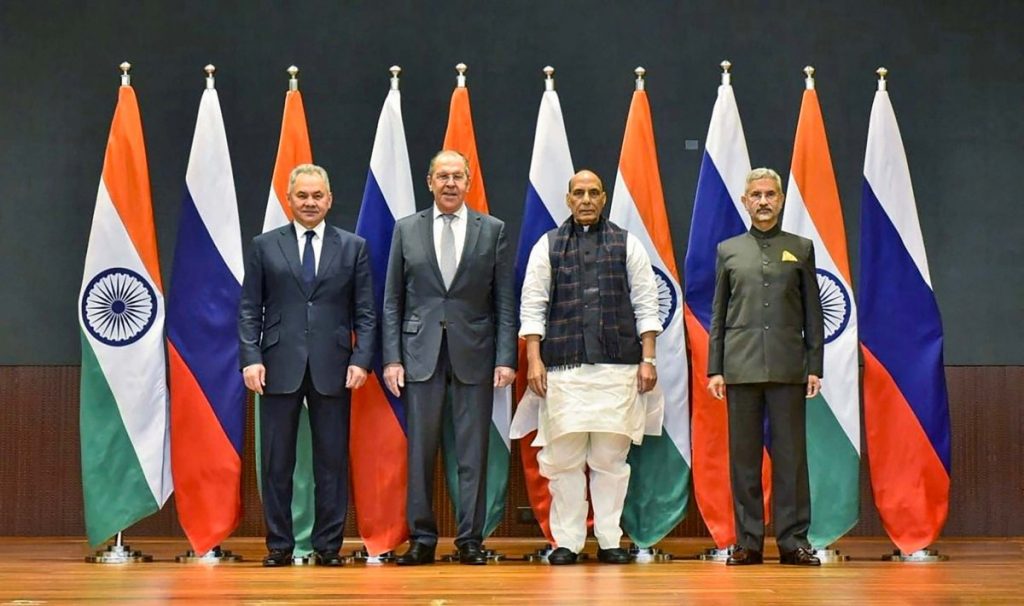 External Affairs Minister Dr S Jaishankar added that "The Covid-19 pandemic has raised questions about the current model of global affairs, but the long-standing challenges remain even as new ones emerge, prominent among them are terrorism, violent extremism and radicalisation. The situation in Afghanistan has wider repercussions, including for Central Asia. West Asia or the Middle-East continues to present hot spots,"
India's concern over terror networks including Pakistan-based terror organisations like the Lashkar-e-Taiba (LeT) developing a foothold in Afghanistan was expressed in the joint statement.
"The leaders emphasised that Afghanistan's territory should not be used for sheltering, training, planning or financing any terrorist groups including ISIS, Al Qaeda, LeT etc. They reaffirmed their firm commitment to combat terrorism in all its forms and manifestations, including its financing, the dismantling of terrorist infrastructure and countering radicalization, to ensure that Afghanistan would never become a safe haven for global terrorism," the joint statement read.
The Indian side has been invited to Moscow to further the 2+2 conversation, which will take place in 2022. The invitation has been accepted by India.
Despite India's growing ties with the West, stable India-Russia ties are critical to India's balanced foreign policy. It is also critical for India to emphasise its strategic autonomy, defence modernization, and goal to become a major defence equipment manufacturer.