By: Adelle Fernandes
Every January, film makers, critics and celebrities head to Utah for about a week of film screenings, panel discussions, parties and much more at the Sundance festival. This festival prides itself on celebrating independently produced films from around the world. It gives these independent films an audience by way of distributors. A number of distributors attend the Sundance festival and 'shop' for films they can feature on Netflix, Amazon Prime, Hulu, etc.
The Sundance festival has also taken the initiative of promoting the work of women in the industry. With its 'Women at Sundance' initiative, 46% of the festival featured films helmed by women. The festival also brings diverse theme like race to center stage.
Sundance 2021 will feature 72 films and a virtual space for viewers to interact with each other. For the first time ever, Sundance will be accessible to all through a virtual medium. Tabitha Jackson will head the festival in 2021, being the first women and person of color to do so since the advent of the festival 40 years ago. "Despite the challenges this year, nothing could stop us from celebrating independent film, visionary artists, unique perspectives, and our adventurous audiences," Jackson wrote on the festival website.
Right from 'Liar's Dance' to 'Lunchbox', Indian has been gracing this global festival with its best work. In 2021, India had 3 women-centric films in store for the world.
Fire in the Mountains – by Ajitpal Singh
Ajitpal Singh's feature debut in Hindi, formerly titled 'Switzerland', is one of the 10 features in the World Cinema Dramatic Competition section. It was steeped and brewed at NFDC Screenwriters' Lab 2018, Work-in-Progress Lab 2019, and, in June 2020, part of the five projects in Film Bazaar Goes to Cannes at Marche du Film marketplace to fetch global distributors, etc.
The film will premiere to the world on February 1-2, is inspired by a personal tragedy. It tells the story of Chandra and Dharam, who run Switzerland Homestay, towering on the only road in a small Himalayan village. Chandra toils to build a road in the remote section of the village to take her wheelchair-bound son medical attention; which Dharam believes that a shamanic ritual will cure his son.
Writing with Fire – by Sushmit Ghosh and Rintu Thomas
Former Jamia Millia Islamia graduates and filmmakers Sushmit Ghosh and Rintu Thomas have received many awards, including a National Film Award in the Best Environment Film in 2012. The Sundance docu-feature entry is part of the World Cinema Documentary Competition category and will premiere on January 31-February 1. It revolves around India's only all-female Dalit news network Khabar Lahariya. The coming into existence and survival against all odds, of such an outfit in a male-dominated news landscape and amid the reality of how Dalit women's struggles go unwritten in mainstream national and regional media is brought to light through this work of art. The film trails Meera and her gang of girls to capture switch from print to digital, armed with smartphones and grit, breaking the stereotypes of power and patriarchy.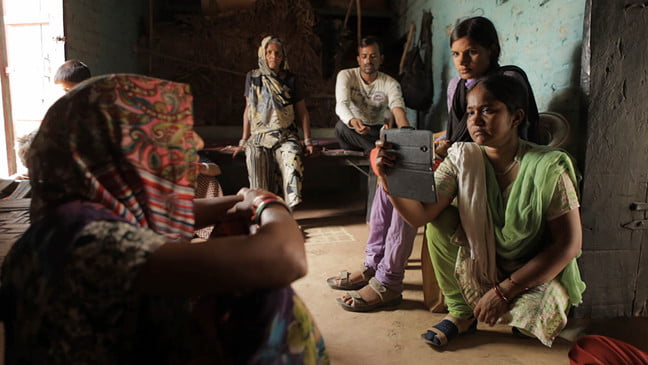 Lata – by Alisha Tejpal
Lata, a 23-year-old domestic worker navigates her way through an upper-class home in south Mumbai. This gives her access to contending realities that occupy this space and harsh class and power dynamics. This film will screen on January 28 and aims to be the voice of India's domestic workers.
With this, India was one of the top countries to send the most submissions to the Sundance Institute for its global 2021 festival.
References:
https://indianexpress.com/article/entertainment/entertainment-others/three-indian-women-centric-films-2021-sundance-film-festival-line-up-7108965/
Picture Sources:
1. Scroll.in
2. WRGT
3. Daily 2 Daily News