The BJP surprised all opposition party leaders and the general public when it won all 8 assembly seats from Lakhimpur Kheri in the recent Uttar Pradesh elections. Shashank Verma, the BJP's candidate, was leading by nearly 40,000 votes over RS Khushwaha, the Samajwadi Party's candidate.
One may think that the BJP is popular in the district of Lakhimpur Kheri, however, that is not the case. A few months ago, the district made headlines because the local BJP MP and union minister Ajay Mishra's son allegedly mowed down protestors. Nearly 8 protestors were killed and 4 of them were farmers. The protestors were protesting against the controversial farm laws which were taken down later by the central government.
After being discovered at the crime scene, Ashish Mishra, the son of Union minister Ajay Mishra, sparked outrage. The incident occurred on 3rd October 2021, which was right during the election season. Although he was arrested a few days later, he was granted bail in February 2022.
The effect of the controversy could be seen since union minister Ajay Mishra was not BJP's star campaigner list in UP and was less visible to the public. Moreover, he even skipped the rallies which were hosted by Chief Minister Yogi Adityanath in Lakhimpur Kheri.
The opposition parties had hoped they would defeat the BJP in the district by raising the issue of farmers and hoped it would showcase the ruling party as "anti-farmer" in nature.
After hearing BJP's win the district, Twitter users did have their say in this!
BJP won 8 out of 8 seats in Lakhimpur Kheri

Tight slap on " TukdeTukde " Gang

Where are those selective Amnesia Pseudo Intellectuals#BJPAgain #BJPWinningUP pic.twitter.com/i9gPRBXNsf

— हिन्दू गोविंदा राजपूत 👉आओ हिंदुत्व को बढ़ाये🙏🏼🚩 (@hindugj) March 10, 2022
Heartiest congratulations to Yogiji ❤️🥳
BJP sweeps Lakhimpur Kheri and Hathras also 🥺💥🔥
Dhanyavad UP 😍 pic.twitter.com/aHwwSofcys

— Gaana Shree #SaveSoil (@GaanaNagraj) March 10, 2022
Highly disappointed with the results from Uttar Pradesh and Uttrakhand. @BJP4India winning all 8 seats in Lakhimpur Kheri is insult to our 5 martyrs who were murdered by @BJP4UP leader in cold blood.
Anyways, history will remember it.
Fight to save the Constitution is still on.

— Guramneet Singh Mangat l ਗੁਰਅਮਨੀਤ ਸ਼ਿੰਘ ਮਾਂਗਟ l (@guramneet) March 10, 2022
https://twitter.com/aalakx/status/1501870967005630467?s=20&t=BWNJAouZttEWIyqZEyOQ0w
While there were mixed reactions on Twitter, Team News Hamster has a meme for this win.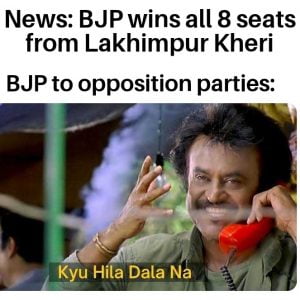 References: NDTV and Twitter
Featured Image source: Deccan Herald