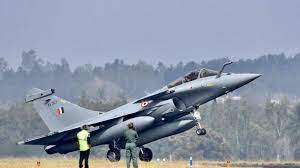 The second rafale squadron is set to start its operations by the end of July in the Hashimara air force base in West Bengal. The defense minister of India, Rajnath Singh said that the country would have an entire fleet of fighter aircraft by the end of April 2022. 
In 2016, India signed an agreement with France to acquire 36 rafale jets. The Indian air force has received 25 aircraft and is yet to receive the 36 aircraft that were previously ordered in 2016
After the arrival of the second squadron Rafale aircraft, they will be deployed for air patrols along the border.
At present India is to order another 114 fighter aircraft. These 101 squadrons are predominantly responsible for patrolling the eastern frontier whereas the rest 17 squadrons would be looking after the northern borders.
The rafale jets can carry out missions on the ground and sea. It can survive in threatening environments due to its advanced electronic warfare systems. The size of the aircraft is moderate, yet it's extremely powerful. The aircraft is very discreet and can perform multiple functions in a time of crisis. Their air defense, air superiority, and nuclear strike are astounding.
REFERENCE: