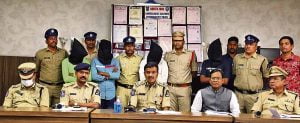 The Spanish heist crime series, Money Heist, has inspired a gang of kidnappers in Hyderabad. Taking inspiration from the hit Netflix series, four members of the gang had allegedly committed kidnapping and other half-a-dozen offences.
The Asifnagar police in Hyderabad busted the modus operandi of the kidnapping gang on Tuesday. The arrested people are G Suresh (a driver and the kingpin from Attapur), Rohit, Jagdish, K Kunal (all the three are private employees from Mehdipatnam). However, a lady from the gang named Swetha Chary is still absconding.
G Suresh has been involved in other forms of crimes such as burglary. He had been first arrested in 2011 and later in 2019. Even after being released from prison in February 2020, he continued to commit criminal offences.
According to the police, he was inspired by a character named 'Professor' from Money Heist. In the series, 'Professor' hires people to commit several crimes. The accused then decided to recruit people, including a woman to kidnap people for ransom. Moreover, in August 2021, the gang purchased a used car.
The police commissioner of Hyderabad stated that Suresh used to target people in his own friends' group by inducing them and honey trapping them with the help of girls. The gang used to send their victims voice notes and text messages on WhatsApp and Instagram. They asked their victims to meet at convenient places and executed their plan.
When the victim reached the spot, they would kidnap them and take them to an unknown location. To hide their identity, the gang would use masks and even covered the victim's face. Suresh would use the victim's phone to make a WhatsApp call to the family members to demand a ransom and to avoid police tracking, he kept his phone on flight mode.
The gang had an edge over the police as the victims were hesitant to complain to the police as they were lured and trapped by women. This empowered them and the gang continued kidnapping people.
References: Telangana Today.