India happens to be a nation of decentralised governance where the powers are divided between the Centre and the State. Both are interdependent on each other. If we take into consideration the present circumstances, where we are witnessing an unprecedented spike in covid cases all across the country and states are gasping for oxygen. So in this case can we totally blame the incumbent government for its inefficiency or do we blame the states equally for not cooperating well?
A week back, Centre has appointed a team to have a look at the working of the states and pick-up the noticeable flaws and loopholes. Three Central teams were deputed to Maharashtra, Punjab and Chhattisgarh. Overall, the teams had visited 50 districts – 30 in Maharashtra, 11 in Chhattisgarh and nine in Punjab. Their reviews mentioned a multitude of issues ranging from lack of optimal use of health care facilities, lack of RT-PCR testing facilities, shortage of healthcare workers and in one place, even attacks on healthcare workers.
Among all the three states, the Central team noted that there was an unanimous lack of compliance to Covid-appropriate behaviour.
In Maharashtra – which alone accounts for 48.57 per cent of the total active caseload of the country – containment operations were found to be sub-optimal in several districts. The testing capacity in several districts in the state is overwhelmed, resulting in delay in reporting of test results.
Surveillance and contact tracing were found to be minimum in Buldhana, Satara, Aurgangabad and Nanded, mostly due to limited manpower.
Most Covid cases in Bhandara were reported from outside of containment zones, which called for a reorganisation of the zones. Monitoring of patients in home isolation was inadequate. Also, community resistance to Covid tests were reported from the district. Acute shortage of healthcare workforce was reported from Aurangabad, Nandurabar, Yawatmal, Satara, Palghar, Jalgoan and Jalna districts.
In Punjab, the teams, in their review of the nine districts that they were sent to, reported low rates of testing, lack of Covid care centers and dedicated hospital and shortage of healthcare workforce.
The teams also pointed at the slow pace of COVID-19 vaccination in Patiala and Ludhiana. This report of slow vaccination speed comes just a day after Chief Minister Amarinder Singh said the state had a limited supply of COVID-19 vaccines and urged the Centre to ramp up the supply.
In Chhattisgarh, the teams reported lack of perimeter control in containment zones in several districts. In parts of the state, there was a shortage of RT-PCR testing facilities, drugs like Remdesivir and Heparin, oxygen and infrastructure including ambulance services.
The teams also reported instances of attack on healthcare workers and resistance to containment activities in a few districts. "Resistance (even attacks on healthcare workers) to containment activities and testing was reported by the team from Dhaneli Village, Raipur. This needs to be addressed on an urgent basis," said the report on Chhattisgarh, which is among the five states which account for 70.82 per cent of India's active COVID-19 cases.
This sums up the adversely affected states of the northern side. But what does the Centre and the states collectively have to say about the eastern and southern states where their main and utmost priority during this crunch situation was Assembly Elections 2021?
India's daily case numbers began rising at the end of February after falling steadily from mid-September 2020. They picked up sharply in March, and have reached record highs this month, outpacing the rate of growth seen in the first wave which hit India in 2020.
At the same time, India's political parties have been campaigning for a series of state elections in West Bengal, Assam, Kerala and Tamil Nadu. This has been going on since early March, with voting starting at the end of March, and carrying on through April.
The campaigns have often involved numerous rallies with large crowds – with minimal social distancing and very little mask-wearing. Political campaigners and candidates were also seen not following Covid safety protocols.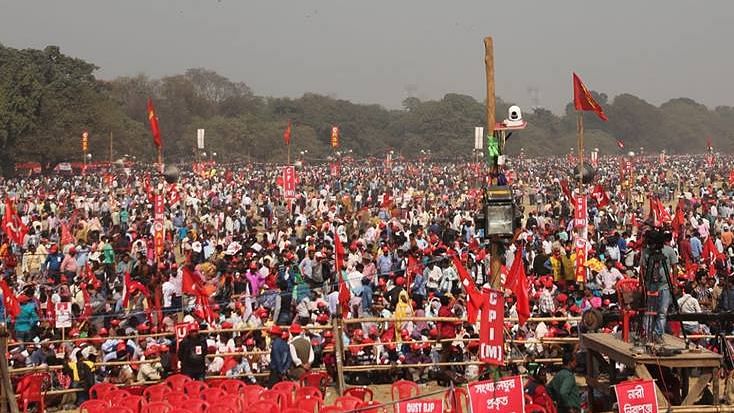 India's election commission issued warnings about such gatherings in one of the key election battlegrounds, West Bengal state. It finally banned rallies there on 22 April after noting that many politicians weren't sticking to safety rules.
A similar scenario was seen in Assam, Kerala and Tamil Nadu. Election rallies, roadshows, campaigning has resulted in a gradual spike in covid cases in all these states.
Political rallies and roadshows were held all across the states having elections. Starting from Assam and Bengal in the East to Kerala and Tamil Nadu in the south. Absolute identical situation of flouting Covid-19 norms was witnessed in all these states.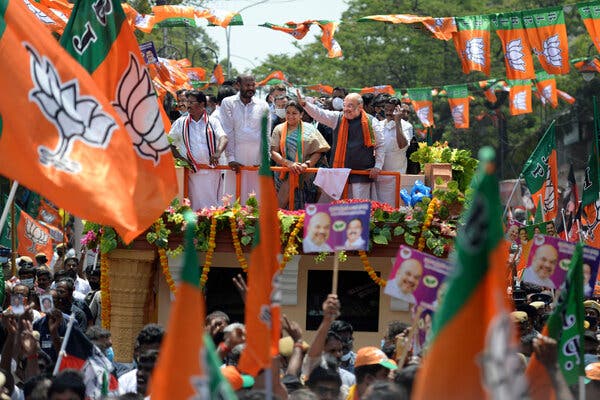 Probably the most criminal move by the Election Commission this election has been the decision to hold it in eight phases in the first place. If safety and fair polling was a concern, more security could've been deployed. Better law and order could've been ensured. But having a month-long election during a pandemic is not just imprudent but also extremely insensitive.
However, we cannot directly blame the Assembly Elections for the rise in Covid-19 cases. As there are states like Uttar Pradesh, Maharashtra and Karnataka who don't have elections yet their total Covid-19 cases are much more than the states having elections.
It is also worth noting that there's been a major religious festival in northern India as well since early March. The Kumbh Mela attracts millions of devotees from all over the country, and there's been little sign of safety measures at it.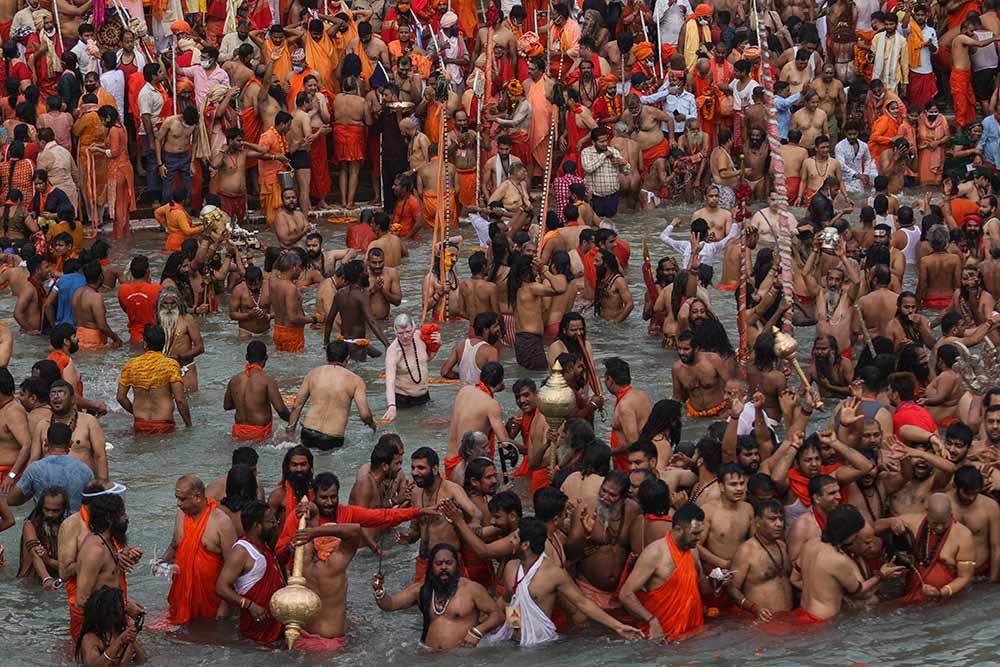 Albeit the Covid-19 protocols were in order, there has been an event which took place recently that has flouted all the Covid-19 norms. With absolute zero adherence to social distancing at Someshwar Somnath Temple located in the Mangaluru city, several devotees attended a religious event 'Bramha Rathothsava'.
Soon enough, Mangaluru city police booked the Someshwar Somnath Temple authorities for defying the Covid-19 related guidelines issued by the government. An FIR was filed against the organising committee.
Simultaneously, the District Administration has also issued a notice to Kateel Sri Durgaparameshwari Temple for holding the religious festival amid this crunch situation when we are battling with this deadly pandemic. Thereupon, after receiving the notice Kateel temple decided to halt the ongoing religious event.
"A case has already been booked against the management of Someshwara Temple at Ullal police station. A report will also be sought from the officials and will see whether they can be booked for other serious offences. Meanwhile, regarding the festival at Kateel Temple, we have served a notice to the temple management. They had scheduled a programme at the temple today (Tuesday). If they do not adhere to the norms, cases will be booked against the management of the temple," said Deputy commissioner Dr. K V Rajendra.
It is not entirely clear why this surge has happened in India, but it is likely to be because of crowded events organised in the run-up to elections. PM Modi himself hit the campaign trail addressing election rallies in Kerala, Tamil Nadu and Puducherry on March 30 as the upturn of cases began.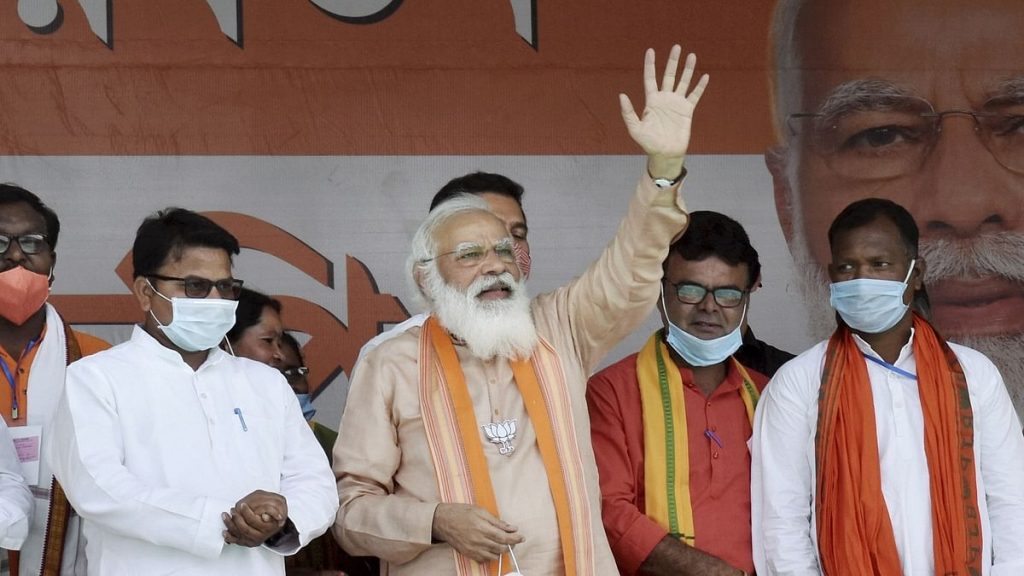 Large groups and social gatherings during religious festivals of 2020 like Durga Puja, followed by Christmas, Easter, Holi and congregation during the Jummah (Friday prayers) have also played a part, as well as the re-opening of public spaces and easing of lockdown measures which took place gradually throughout 2020 with the final "unlocking" of restrictions happening in December 2020.
This new wave in India has been devastating for the country. A coordinated response is needed between Indian states and central government to manage the supply of oxygen and essential drugs if the number of COVID-related deaths is to be brought under control.
There is also a concern that we do not know the true number of deaths from COVID, as some people have died at home before they could get to hospital and many others in India, particularly in rural areas, have had difficulty accessing testing facilities. Pressure urgently needs to be lifted off the healthcare system and the only way to do that is to ramp up the vaccination programme, strengthen social distancing procedures and re-introduce lockdown measures.
References:
Image Sources:
• BBC
• Gulf News
• The New York Times
• Free Press Journal
• Outlook
• The Quint