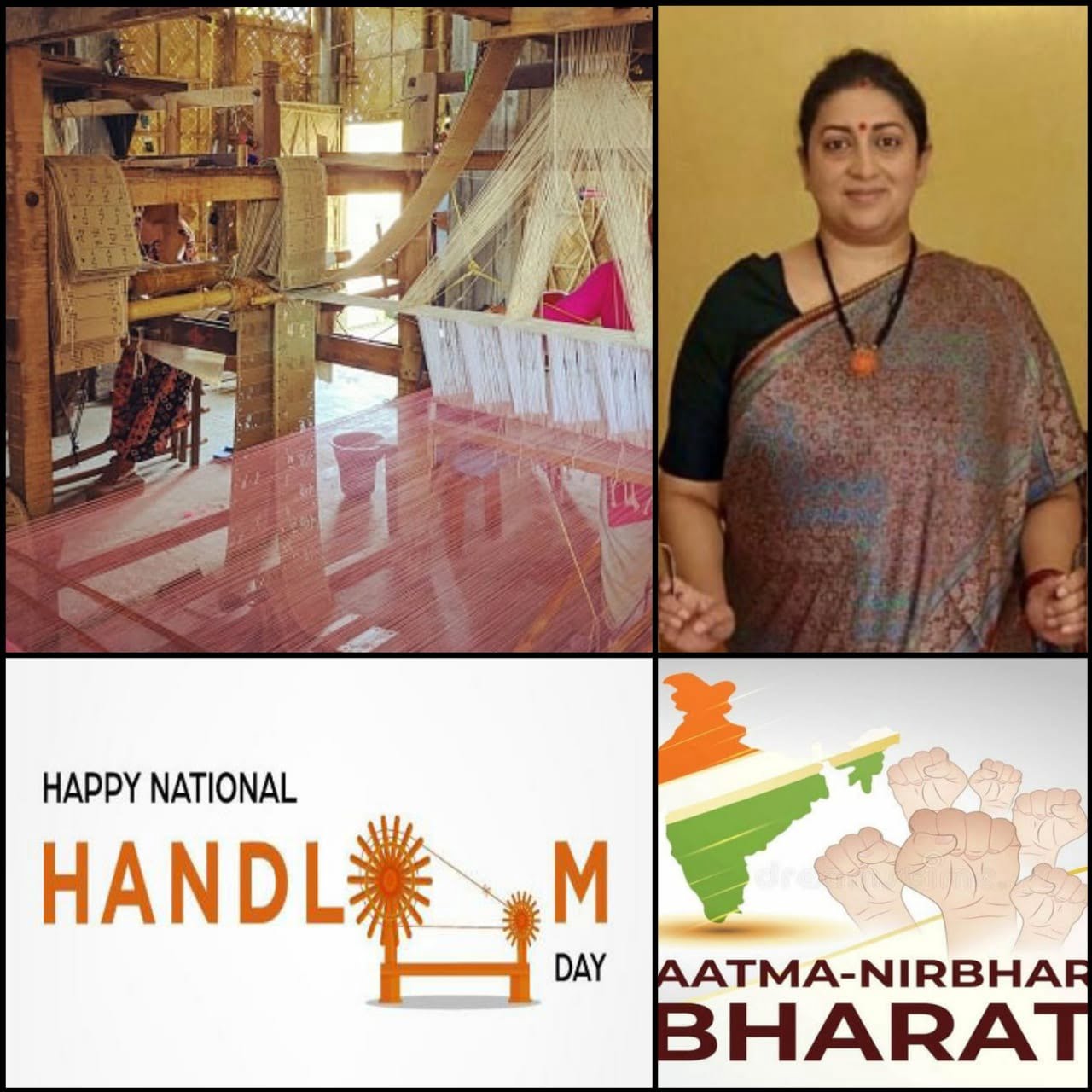 7th August, every year since 2015 is being celebrated as National Handloom Day. The day is celebrated to recognise and honour the contribution and hard work of Indian handloom weavers in preserving our native crafts. Smriti Irani, the Union Minister of Textiles took to twitter and said, "National Handloom Day is the day to commemorate India's rich & diverse handloom and acknowledge contribution of weavers in conserving our heritage,". She also shared a couple photos where she can be seen wearing a handloom saree and face mask. She also urged people to flaunt their handloom collection on social media today with #Vocal4Handmade. Taking cue, Priyanka Chopra, Vidya Balan, Jhanvi Kapoor and others shared their handloom attires on social media.
Do you know why this day was chosen to be the National Handloom Day? Swadeshi Movement was launched on the same day in 1905 in Calcutta to protest against the partition of Bengal by the Britishers. In 2015, as we completed 100 years of that occasion, it was decided to celebrate Handloom Day ever since.
So, what are handlooms? Handloom is a textile that is weaved without using electricity on pit looms or frame looms, which is generally located in weaver's homes. These textiles can be sarees, shawls, scarves, dhothies, carpets, towels, angocha&gomacha, angavastras or any other dress or salwar materials. It is the second largest source of employment in the country after agriculture. As per the Fourth All India Handloom Census, 31.45 lakh households are engaged in handloom and weaving and associated activities.
Smriti Irani's post about NHD received some flak on social media due to a development that happened yesterday. The Union Textile Ministry abolished All India Handicrafts Boards and the All India Handloom Board keeping in mind the government's vision of 'Minimum Government and maximum Governance'. The AIHBs were advisory bodies established in 1952 by Pupul Jayakar and Kamaladevi Chattopadhyay, which helped the government in formulation of developmental programs for the handloom and handicraft sector. This move which happened very quietly didn't sit well with many artisans.
Laila Tyabji (co-founder of Dastkar) expressed her thoughts on Facebook. "All these years on, it [AIHB] remained the one official forum, however watered down, where the voices and views of weavers and craftspeople could be expressed directly,". She also said that the spaces where people themselves can interact directly with the government or be a part of governance are becoming leaner and it is worrying. Dr D Narasimha Reddy, a public policy reviewer also issued a statement to Firstpost in which he said "India wants to forget Bharat. 'Make in India' becomes 'Rake in India', without traditional livelihoods,".
The handloom industry has been greatly affected by the COVID situation in the country. A lot of rural exhibitions, bazaars and art emporiums were usually hosted from January to June which would provide an opportunity for weavers and artisans from all over the country to sell and exhibit their products. Due to the lockdown, the same didn't happen this year which affected the entire supply chain of the handlooms. The Tribal Cooperative Marketing Development Federation of India (TRIFED) the sector suffered a loss as products worth Rupees 100 crore were unsold this year.
Thanks to Self Help Groups (SHGs) and their amazing network, artisans could rise up to the occasion during this unfortunate situation as they engaged themselves in making masks. More than 20,000 SHGs prepared more than 19 million masks across 27 states according to a World Bank article. This was of some help for the rural livelihood and village economies. A census from the previous year said that the many medical products including surgical bandages in the country are produced by 4.3% of handloom workers.
The government of India has also been very supportive of the handloom sector as they are included under Atmanirbharta program, vocal for local campaign and Make in India campaign. Saree diplomacy and Khadi diplomacy are also some of the great initiatives aimed at establishing a global market for our handlooms. But there are also some shortcomings, the main one being the reduction of the allocation of budget for handlooms. Dr D N Reddy said that the weavers are disappointed that they were not included under the Atmanirbhar program directly even as the weavers contribute greatly to the GDP and national economy in terms of wealth and employment creation and environmental conservation.
The artisans and weavers are a great treasure to our country as their skills are appreciated worldwide. No matter how many programs the government introduces, it won't be enough to sustain the whole industry until, us, the general public start creating demand and value for these products. There is also a need for the artisans and weavers to adapt to modern technology and make use of online markets to sell their products. We all need to truly become local for vocal to support these indigenous artists and ensure their creative crafts continue for the generations to come.
– Jahnavi TR
– Bengaluru
References – https://indianexpress.com/article/lifestyle/art-and-culture/national-handloom-day-indian-handlooms-atmanirbhar-vocal-for-local-make-in-india-6543635/
https://www.firstpost.com/india/centre-scraps-handicrafts-and-handloom-boards-stating-move-towards-minimum-govt-maximum-governance-8680091.html
https://www.ndtv.com/offbeat/national-handloom-day-smriti-irani-asked-for-pics-bollywood-obliged-2275745