by Divyakshee K.
For the third week in a row, Gurugram police apprehended individuals affiliated with various right-wing organisations for attempting to disrupt namaz in Sector 37. Their attempts were blocked by the police, who formed a security barrier around the Muslims, ensuring that the namaz would continue unhindered. 
Given the city's lack of mosques, the administration has allocated 20 locations for performing Friday prayers in the open, Sector 37 being one among them. Despite this, there have been protests there for the last three weeks, with Hindu organisations insistent over not allowing Muslims to pray openly.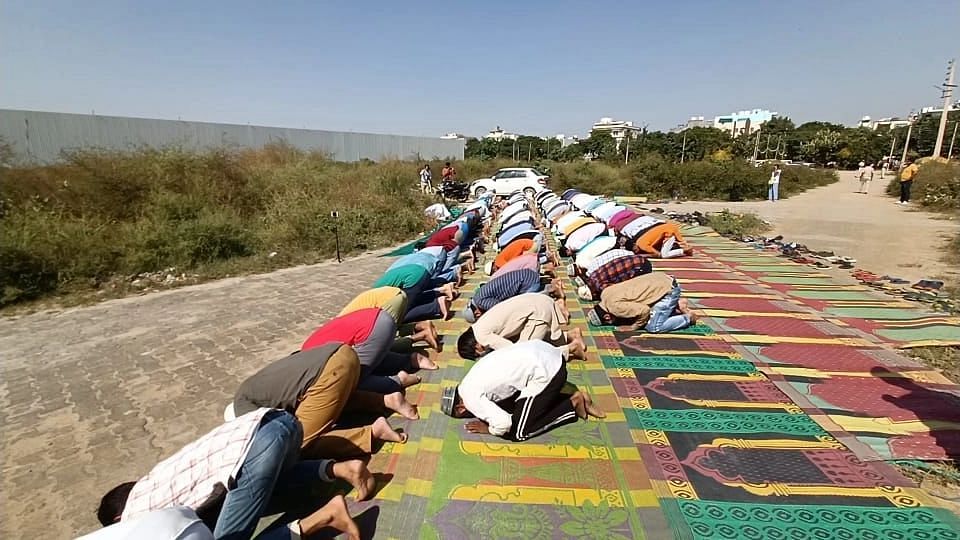 Right-wing groups have obstructed namaz being offered in open spaces in sectors 47, 12, 37, and Sirhaul village throughout the last three months. On Friday, more than 700 people were deployed across six designated namaz sites that had previously experienced protests. There was no violence in the city, but there was a disturbance at a smaller location in Sector 34, when demonstrators pushed Muslims away and refused to allow them to start praying, according to police.
More than 400 police officers were already stationed at the sector 37 location, according to Rajender Kumar, Assistant Commissioner of Police, since Hindu organisations had forewarned the authorities on Thursday that they planned to disrupt Friday prayers. "We called in personnel from four police stations to control the situation and detained protesters before the situation could turn ugly. We created a protective layer around the Muslims offering prayers to ensure their safety and security. To assure their safety and security, we erected a protective layer around the Muslims offering prayers," he stated.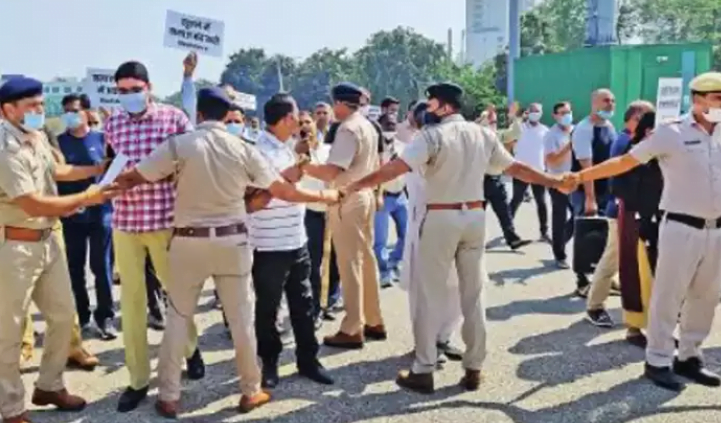 Members of right-wing organisations had parked their vehicles on the ground, stating they didn't have anywhere else to park them. Men wearing saffron scarves also chanted slogans demanding an end to the namaz. While they were praying, the protestors sang "Jai Shri Ram" chants. Protesters positioned more than 50 vehicles on the ground in Sector 37 in an attempt to disrupt the namaz. Right-wing organisations and individuals who gathered in protest began yelling religious chants, forcing police to push protestors back and make room for Muslims. 
Hundreds of people had gathered on the ground in opposition, according to Sushil Kumar, a duty magistrate stationed at the Sector 37 site, and the police had asked them not to cause any disruption, but they refused the demand. They began shouting slogans. "They were placed into preventive custody," he stated, adding that the venue had been cleared for prayers. According to the authorities, just a tiny area of the land was eventually used for namaz. 
Villagers of Gurugram's Khandsa village and officials of the Sanyukt Hindu Sangharsh Samiti, an umbrella body of 22 Hindutva organisations, performed a havan at the namaz venue last Friday. They said that ritual flames were lighted to commemorate the 2008 Mumbai terror attack. Because the land was occupied, Muslims were unable to offer namaz.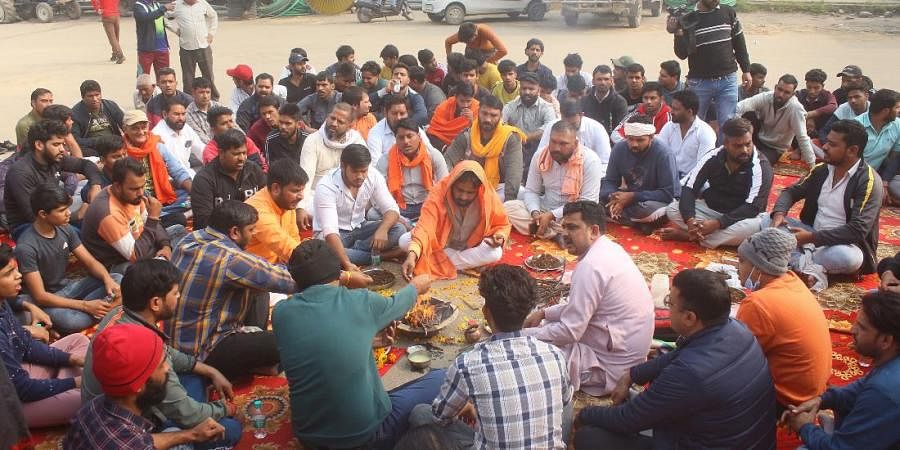 While ten of those arrested were eventually released, Dinesh Bharti, the leader of the Hindu group Bharat Mata Vahini, was arrested on charges of intimidating Muslims who came to pray, according to police.
The situation is becoming increasingly serious, according to Haji Shehzad Khan, chairman of Muslim Ekta Manch, yet they were able to pray on Friday owing to the cooperation of the police and the government. Speaking to the Hindustan Times, he said "The way the Hindu groups are trying to attack us is not fair. They were prepared to take the law into their hands but timely intervention saved us. People offered prayers even as sloganeering continued all around them,".
Khandsa resident Avaneesh Raghav, who was present at the Sector 37 protest, claimed vehicles were parked on the ground since there was no other clearance in the village.
"We have requested companies in the area to provide space to their Muslim employees — on rooftops, basements or premises — to offer prayers. We will not let them use our ground even if we get arrested for stopping them. Muslims offering namaz here are not locals; they come from far off places to encroach our land," he claimed.
Another protester, Praveen Yadav, told the Hindustan Times that they will park additional trucks and cars next Friday to make sure there is no room for Muslims. "This is the only ground locals have to organise functions, havan and other activities, including weddings. No outsider is allowed to perform anything without our consent. It is very strange that people are coming here from Nuh, just to offer namaz," he added. Yadav himself travelled 15-18 kilometres from his home in Sirhaul village to Sector 37 to attend the protest. Next Friday, the protest group plans to target Udyog Vihar, where around 800 Muslims offer namaz in the open, according to Yadav.
Members of the Sanyukt Hindu Sangharsh Samiti claimed they had been waiting for the administration to suspend the act of performing namaz in public locations for a month.
"We will not allow anyone to say prayers at any of the 20 locations starting next Friday, and we will continue to protest and occupy the sites," said Kulbhushan Bhardwaj, the Samiti's legal advisor.
Reference- The Hindustan Times