Is Guruji the villain?' Brahmastra fan theories you didn't see coming….
Ranbir Kapoor and Alia Bhatt's movie 'Brahmastra' was very much discussed. Before its release, it was in the headlines for Boycott, then after its release there was a lot of talk on its box office collection and story, dialogues. This type of movie has never been made before in the Hindi film industry! Meaning, so far such amazing VFX has been seen only in Hollywood and some South films too. Remove VFX from this movie then it becomes same old fashioned Bollywood movie. Same old love story. Same rote-rote climax. and story. Don't talk about the story. There is only one reaction coming straight about the story of the film – the part of Brahmastra is very good, by entering the love story in between and making it all cow dung. So. Talking about the story, one interesting thing is that after watching the film, the audience is making a different theory of its own. These theories are circulating on Twitter. Some are telling about the story of Amrita and Dev, while some are referring to the connection of Isha and Dev. All these theories are more interesting than the story of the film. Not sure, let us explain everything to you one by one. 
The strongest fan theory in this film is that Alia Bhatt ie Isha is the real villain! Yes, there is a solid reason behind this too. Users say that when Shiva (Ranbir) goes to the Durga Puja pandal, someone gives him flowers there. As soon as this flower comes in his hand, he starts having dreams related to Brahmastra. No one else had given this flower to him, but Isha. People noticed that hand. Everything starts changing after Isha's entry in Shiva's life. The fire starts pulling towards him. Troubles also start mounting. People feel that Isha's hand is somewhere in all this. 
Amitabh Bachchan has become Guruji in the film.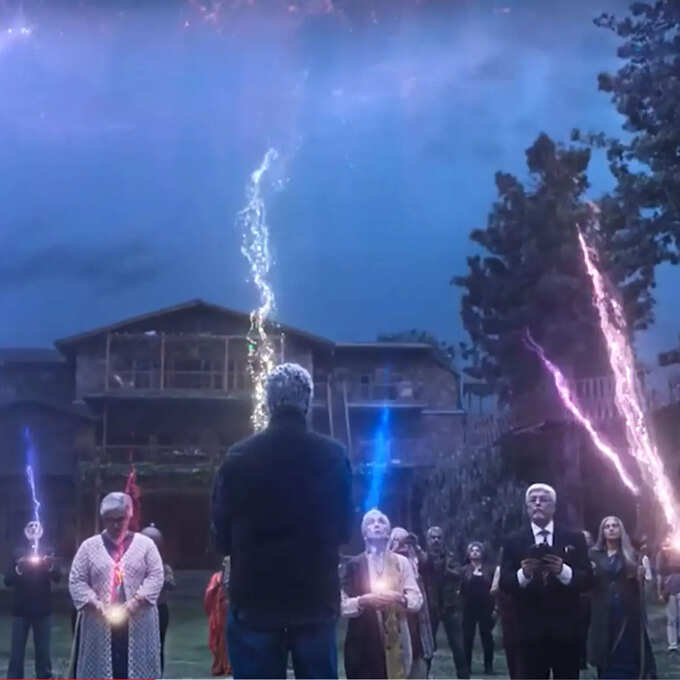 Not one but two theories are being made about Guru ji i.e. Amitabh Bachchan. That too opposite to each other. First it is being said that Guru ji can be none other than Shiva's maternal grandfather, that is, Amrita's father. Who wants to avenge the death of his daughter. The second theory is that he can also be a villain. Yes, it is being said that because of Guru ji, Amrita and Dev must have separated and such a terrible fight took place between them. Because neither Amrita nor Dev needed Brahmastra, Guruji wanted to get it. Now that fans have had a chance to watch Brahmastra, they've begun sharing theories about the film's lore and the future of the franchise. Intended as the first instalment in a planned trilogy, Brahmastra was in the making for several years before being released in theatres last week. In the film, Ranbir Kapoor plays an average Mumbai man named Shiva, who discovers that he is involved in a battle between good and evil that has been raging forever. Spoiler alert. 
The film opens with an animated sequence explaining the backstory of the universe, in which several sages harnessed the power of 'astras' and formed a secret society called the Brahmansh, designed to protect the world from the forces of evil. After the interval, Shiva is told by Amitabh Bachchan's Guruji that his parents were also a part of the society, but that his father was lured — like Anakin Skywalker in Star Wars — by the dark side. His mother, who had the ability to harness the power of water, died in a fire that left him unscathed, because Shiva has always been immune to flames. 
While the fans have been excited ever since Ranbir Kapoor and Alia Bhatt's first look and the song 'Kesariya' was released around their wedding, they have been curious about Amitabh Bachchan's character in the film. The makers had revealed the teaser of Brahmastra Part One: Shiva (2022) last week which had Kapoor and Bhatt's names first followed by that of the supporting cast, including Bachchan, but that didn't go down well with the fans. Soon after, a new teaser was shared introducing the Shahenshah of Hindi cinema in character
The veteran plays Guru, a wise leader and the one who holds the Prabhastra, the sword of light. Here's what Bachchan wrote when he shared the poster on Twitter.
T 4309 – गुरू है गंगा ज्ञान की । काटे भाव का पाश
गुरू उठा ले अस्त्र जब । करे पाप का नाश

Ek aisi Roshni jismein hai… har andhere ko haraane ki Shakti.

Here comes GURU! The Wise Leader who holds the PRABHĀSTRA: The Sword of Light!

BRAHMĀSTRA Trailer out on JUNE 15th. pic.twitter.com/DWyZji62h7

— Amitabh Bachchan (@SrBachchan) June 9, 2022
Ayan Mukherji also shared the motion poster on Instagram and expressed his feelings about Bachchan playing Guru in the film. Ayan wrote, "Guru (and his Prabhastra – the sword of light). Since my first meeting with Mr Bachchan in 2016 to discuss Brahmastra, he has always said that he loved the concept of this venture – ancient Indian astras which are protected in India today! Ayan added,  "This blend of ancient Indian spirituality and modern India had really appealed to him, and to my great fortune, he agreed to be a part of Brahmastra and changed the destiny of our movie by bringing his magnificent energy to our Guru, filling him with grace, wit and wisdom. So much excitement and respect in my heart"  
for more updates stay tuned at this space TheNewsHamster