by Divyakshee K.
Four of the nine suspects convicted in the 2013 serial bombings that killed six people at an election rally addressed by former Gujarat Chief Minister Narendra Modi were sentenced to death by a special National Investigation Agency (NIA) court on Monday. Special NIA judge Gurvinder Singh Mehrotra, who found the nine guilty on October 27, also sentenced two other defendants to life in prison, as well as giving them ten years of severe imprisonment and seven years in prison.
The bombings began at roughly 10:00 a.m. on October 27, 2013. The first bomb exploded at Patna Junction railway station, and bomb disposal authorities found two unexploded devices. The second bomb went off at 12:10 a.m., and the third bomb went off at 12:25 a.m., both near Gandhi Maidan, where Bharatiya Janata Party Prime Ministerial candidate Narendra Modi was scheduled to address a rally in the run-up to the 2014 Indian general election. There were five further explosives, with three bombs exploding in and out of the Gandhi Maidan area, one near a theatre, and another near Patna's Twin Tower building complex. The explosions took place shortly before Mr Modi arrived.
These explosions had devastating effects, killing six individuals and wounding 89 others. A total of 14 additional unexploded bombs were discovered on the premises. All of the accused are believed to be members of the Indian Mujahideen (IM) and the Students Islamic Movement of India (SIMI) .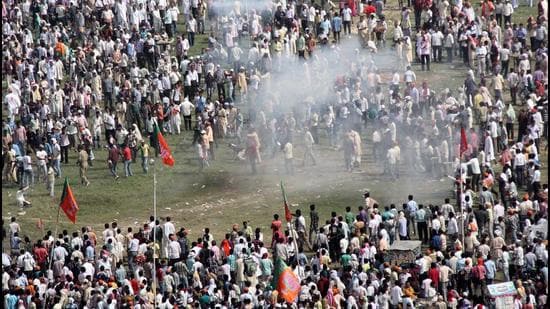 The devastating after effects of the explosions
According to Special Public Prosecutor Lalan Prasad Singh, who argued on behalf of the NIA, Capital sentence has been handed to Haider Ali, Noman Ansari, Mohd Mujibullah Ansari, and Imtiyaz Alam. Singh said "The court took a dim view of the sequence of explosives aiming at injuring a large number of persons at a gathering of innocent people,".
He added, "During the trial, two others – Umar Siddiqui and Azharuddin Qureishi – admitted to their involvement. Because of their confession, the court did not condemn them to death, but simply to life in prison,".
The case of one of them, who was a minor, was sent to the juvenile justice board. The court found another individual not guilty due to a lack of evidence.
"The NIA made a compelling and persuasive case. Electronic evidence was added to the record in addition to witness statements. The prisoners were found to be involved in a scheme that began in Raipur and ended in Ranchi with the preparation of explosives," Singh stated.
The court found the NIA's accusations of sedition, criminal conspiracy, murder, attempt to murder, and Unlawful Activities Prevention Act (UAPA) to be proven.
Image Source: www.indianexpress.com
Reference: www.timesofindia.com