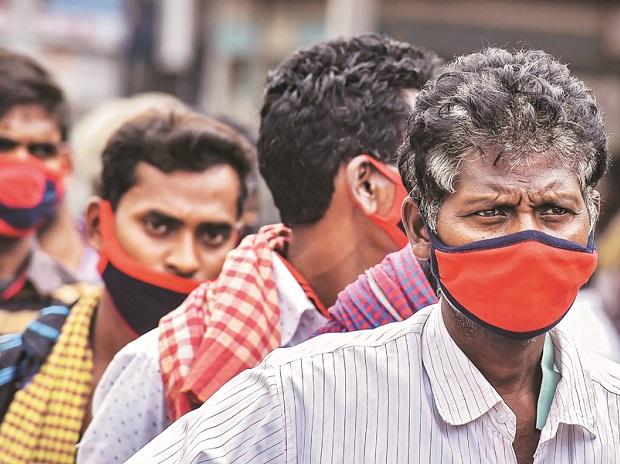 Starting from hymns like 'Go Corona Go' to worshipping the idol of 'Corona Devi', people of India are nowhere behind when it comes to resorting to astonishing superstitious beliefs and bizarre remedies to fight out the lethal Coronavirus.
When the modernised, hi-tech, and developed medical infrastructure of the country is failing to meet the needs of the patients amid the COVID crisis, people from in and around the rural parts of India have been coming up with some hair-raising remedies and practices to beat the virus. For some it may sound absurd, but for the people in the rural areas, these are the first hand steps they take when it comes to cure people affected by COVID-19.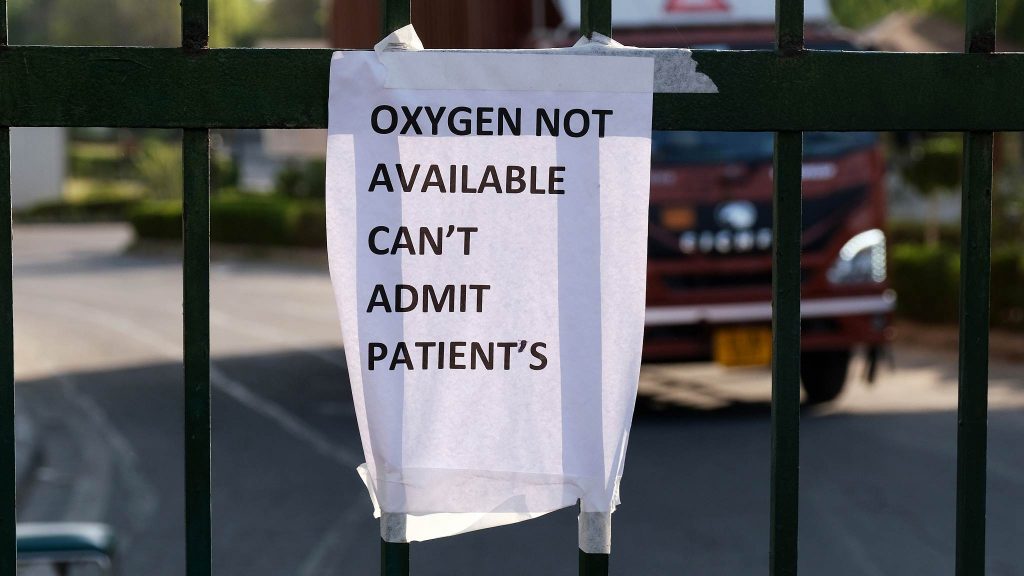 In a recent incident, thousands of people have lined up at Krishnapatnam town of Nellore in Andhra Pradesh where an unauthorised Baba is distributing herbal medicines for effective treatment of COVID-19. The herbal medicines are being distributed free of cost in the guise of Ayurvedic medicine for COVID cure.
The treatment is given by Bonigi Anandiah, who claims to be an Ayurvedic doctor with no legal proofs and license. The so-called Ayurvedic medicine which he is distributing is nothing else but an eye drop. This eye drop is not only unapproved but it also poses a threat to the patients eyes. As a result of this Ayurvedic medicine dispensation event, large mass gatherings (including Covid-19 patients) have taken place, without following the COVID protocols.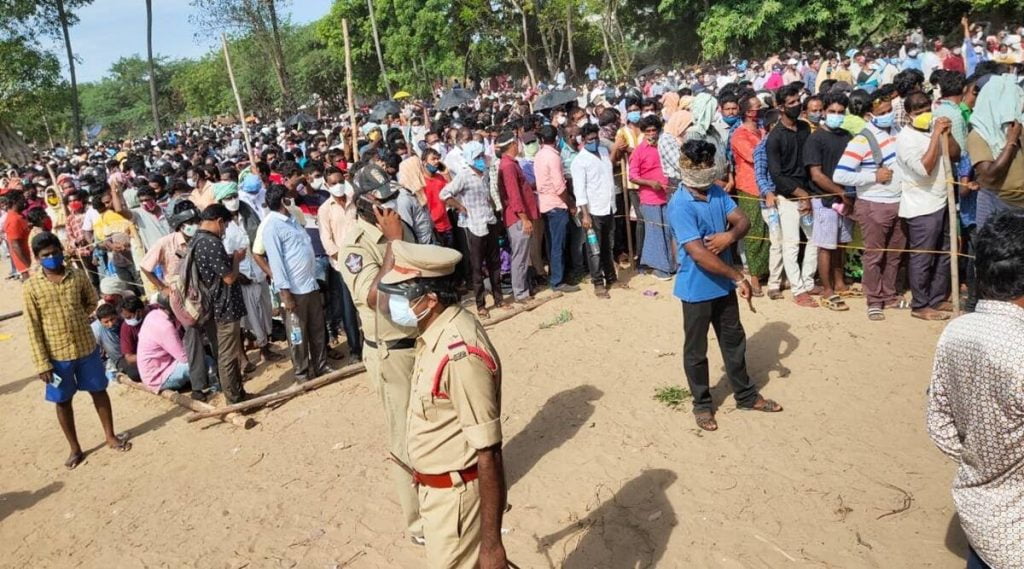 More than 30,000 people have received this Ayurvedic medicine so far. In the visuals that have surfaced on social media platforms, unending serpentine queues can be seen outside the clinic. This also includes some COVID patients who have arrived at the spot in ambulances. Such instances might prove to be a trigger point in spreading the chain of Infection. After much buzz, the Nellore district authorities have taken cognisance and the event is now halted.
Another shocking incident of superstitious beliefs has emerged from Pune where members of the Mariaai community, a nomadic tribe also referred to as Potraj, are not willing to get vaccinated against COVID-19 due to superstition. Known to be worshippers of Kadak Lakshmi, the members believe that their "goddess" has told them that there was no need to get the vaccine.
Despite possessing all necessary documents such as Aadhaar, PAN and Voter's ID, required to be submitted at the time of vaccination, the community believes that it does not need the vaccine.
Prahlad Nimabalkar, a youngster from the community, told The Indian Express, "About a week ago, some persons from our community were possessed by our goddess… She told us there is no need to fear and no need to take any vaccine. So we do not go to any Covid-19 vaccination centre."
Another member of the community, Maruti Kutekar said, "Our community members live at various places like Indapur, Baramati, Supa villages in Pune and also at Nashik and other places in Maharashtra. Nobody takes the Covid vaccine. And we have not heard of anybody suffering from Covid."
To state a very recent event that took place last week in a small village in Karnataka, a scarecrow, with a full-sleeved shirt, skirt and armed with a stick, was kept as a guard at the entrance of a remote village in Koppal district. Decked in neem leaves, limes, chilies and vermilion, the superstitious farmers constructed it last week after a dozen people in the village contracted COVID-19.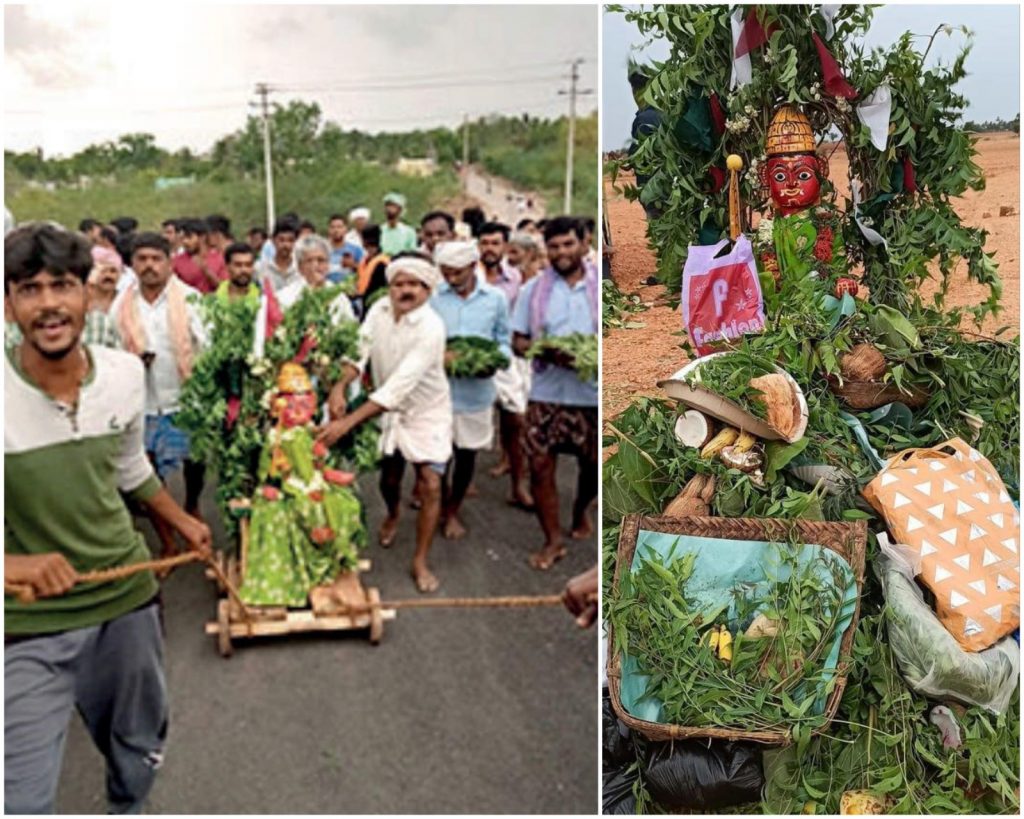 Known as 'Corona Amma', clones of the creatively rendered scarecrow have now been erected in several other villages in remote areas in North Karnataka. Locals assert that this has been a tradition for decades when villages were hit by diseases like dengue and malaria.
Many people, mostly women, are also performing 'Coronamma puja' in the belief that it would eradicate the disease. As part of the ritual, a 'Karaga' is taken out by a few priests in turns in villages and temples. These practices abound even in villages close to Bengaluru and priests claim they are doing it under pressure from devotees.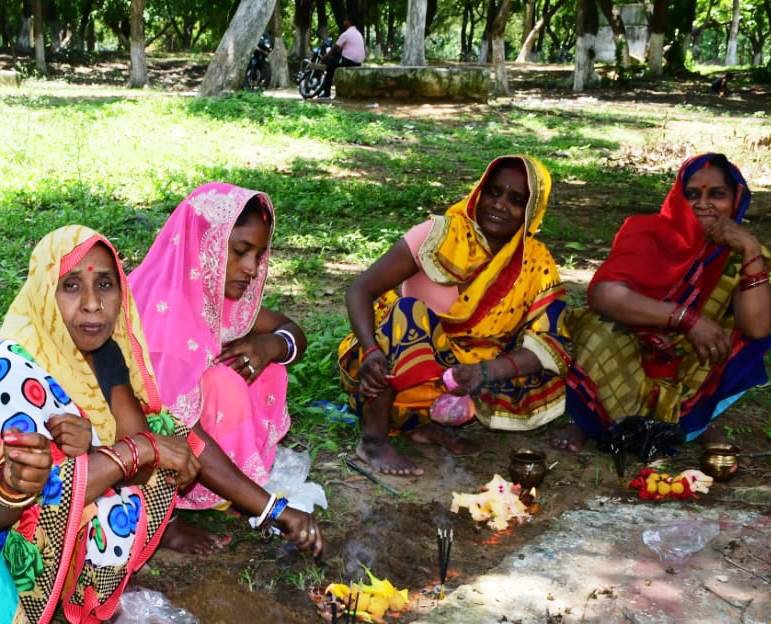 The list does not ends here, in remote villages in Mysuru and the Malnad region of Karnataka, cactus plants which resemble the SARS-CoV-2 virus are in high demand. Neem leaves are tied to these plants and villagers firmly believe that it would ward off infection.
In Raichur, Yadgir and Ballari, some of the state's most backward districts, there have been reports of people placing palm prints of turmeric paste outside their houses to ward off the disease. At some places, people have made an effigy of the coronavirus, worshipped, and fed it to satiate its hunger before burning it.
As the pandemic continues to ravage villages across the state, people in backward areas are resorting to superstitious practices to ward off the virus. Some of these practices are centuries old. Videos of some of the rituals have been widely shared on social media too.
References:
Image Sources:
• AP
• PTI
• CFP
• Times of India
• The Telegraph