A photo is doing rounds on social media claiming that Shah Rukh Khan's grandfather, Shahnawaz Khan was the first one to hoist the tricolor on the red fort by removing the British flag. Some websites also claimed that the government did not even remember him on the eve of Independence Day.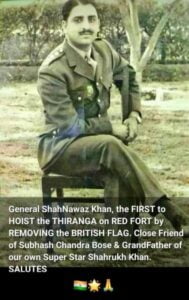 The post says that, "General ShahNawaz Khan, the first to hoist the tiranga on red fort by removing the British flag.Close friend of Subhash Chandra Bose and Grandfather of our own super star Shah Rukh Khan. Salutes"
However, the photo tells only half the truth. Firstly, "India's first Prime Minister Jawaharlal Nehru unfurled the national flag for the first time at the Red Fort on August 16, 1947, one day after independence."(Source: In Shorts)
Hence, the claim that Shahnawaz was the first person to do so is absolutely false. Also, Nehru did not hoist the flag on Independence Day itself as sources claimed there were no feelings of enmity with the British at that time, possibly because partition became a more important issue.
Coming to Shahnawaz's connection with SRK, there is no blood relation between them. Shahnawaz helped Shah Rukh's mother Lateef Fatima in her early days, hence he was like Fatima's foster father. There is no other way in which the two are connected.
The only claim that was true to facts in the photo was that Mr. Shahnawaz was a good friend of Subhas Chandra Bose. Shahnawaz met Netaji Subhash Chandra Bose in Singapore and was encouraged to join the INA to drive out the British.
His courage, intellect, and strong resolve helped him rise in the army. Impressed by his actions and prompt thinking, Netaji promoted Shah Nawaz in 1944 to lead the INA contingent in Mandalay. A year later, he took on the British in Kohima and was later captured in Burma.
The British charged him with abetment to murder along with Prem Kumar Sehgal and Gurbaksh Singh, amidst public outrage. He was the first of the three to be charged in the famous INA trials.
Verdict:
The claim that General Shahnawaz Khan unfurled the flag at Lal Qila is absolutely false. The claim that he is the grandfather of Shah Rukh Khan is partly true, as they do not have any blood relations. Finally, it is true that Mr. Khan was a close aide to Mr. Bose.
Hence, the text in the post is only partly true!
**Jooth bole kawa kate**
References: The Better India, Live History India, Heritage Times
Featured Image Source: The Asian Age