Recently, a post that a Muslim mob attacked constable Sandeep for arresting the murderers of the tailor Kanhaiya Lal, went viral on social media. The two main accused of Kanhaiya Lal's murder: Mohammad Riaz and Ghaus Mohammad had killed Kanhaiya for supporting comments made by the ex-BJP spokesperson Nupur Sharma. After the incident, various fake and misleading posts were circulated on social media.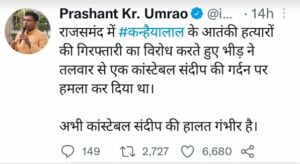 It is being claimed that people from the Muslim community attacked the police while protesting against the arrest. BJP spokesperson and lawyer from UP, Prashant Umrao was one of the first to claim the incident on a Twitter post.
The right-wing media OpIndia also came out with a news report titled- Constable Sandeep's neck attacked with a sharp weapon in Rajsamand, condition critical: Islamic fundamentalists were angry with the arrest of Kanhaiya Lal's killers.
OpIndia also shared the same on its Twitter handle and Facebook page. However, the posts were deleted later. Mr. Umrao has also deleted his post.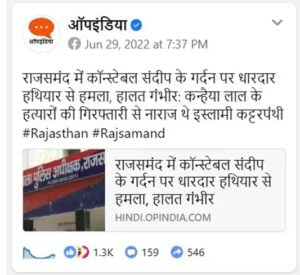 Another post by Twitter user @Bhagva_Update, says, "A mob of Muslims was demonstrating in support of the Udaipur killers. When stopped, the Islamic mob attacked a police constable named Sandeep with a sharp weapon. Condition serious!."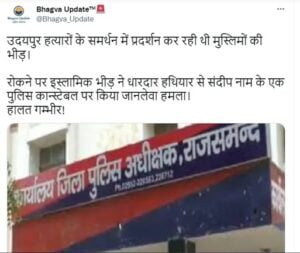 However, the Rajasthan Police has clearly refuted the viral post. They also added that the suspect who attacked Sandeep Chaudhary is a member of the same community. Requesting people to stop spreading fake news on social media, the police statement confirms the attacker was not from the Muslim community.
यह खबर सरासर झूठ है। इसमें गलत तथ्य प्रस्तुत किए गए हैं।

पुलिस कांस्टेबल संदीप पर हमला करने वाला आरोपी उसी के समुदाय से संबंधित है।

हमारी आपसे दरख्वास्त है फेक न्यूज फैलाने से बचें।#RajasthanPolice#StopFakeNews pic.twitter.com/cAPTnSXmU4

— Rajasthan Police (@PoliceRajasthan) June 29, 2022
After the main accused was arrested, the Gujarat Anti Terror Squad (GTAC) arrested three others who attacked constable Sandeep from Vadodara, Gujarat.
Several credible news websites have reported that protests occurred in several parts of Rajasthan on June 29, 2022. Sources also confirm that a police constable was injured trying to control a crowd of protesters in Bhim town. Further reports state that he was admitted to Jawaharlal Nehru Hospital in Ajmer, and was in serious condition.
However, the claim that there was a communal angle to the incident and that the constable's attackers belonged to the Muslim community is fake news.
References: Alt News, The Logical Indian, Paradise
Featured Image Source: Boom Fact Check