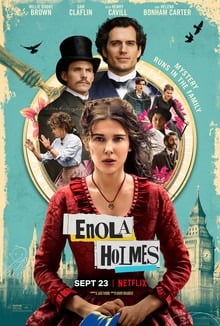 ENOLA HOLMES' REVIEW: SHE'S BEYOND ELEMENTARY, AND NOT YOUR DEAR
If you are a #SherlockHolmes fan, then you are in for a treat. #EnolaHolmes is based on the young adult novel of Nancy Springer called The Enola Holmes Mysteries – The Case of the Missing Marquess. For over 100 years, Sherlock Holmes is one of the most popular characters who has been adapted in many movies and series in order to reignite his cases. Many renowned artists have not only borrowed but also expanded his family, the idea of "Sherlock Holmes" from Sir Arthur Conan Doyle's stories over the years. This story is not about Sherlock Holmes but another Holmes who "chooses her path for herself".
Enola Holmes (Millie Bobby Brown) a sixteen-year-old girl whose world revolves around her mother, is the youngest member of the Holmes family, she is intelligent, observant and insightful. The credit goes to her unusual upbringing by her mother Eudoria (Helen Bonham Carter) who defied the social norms for women at that time. She was homeschooled by her mother in an unconventional way. She thought Enola everything her brothers knew including chess, jiu-jitsu, cyphers, deciphering and had everything at her disposal when her mother disappeared on her sixteenth birthday. She was made the ward of her oldest brother Mycroft Holmes (Sam Claflin) who found Enola rather wild and felt she did not fit into the category of "the perfect girl" or at least the kind of girl who knew how to embroider and be a loving wife. He finds it necessary to send her to a finishing school run by Miss Harrison. Sherlock Holmes (Henry Cavill) on the other hand finds his younger sister intelligent and can see a smaller version of himself in her. She then decides to run away in order to find her mother with the clues she left behind. On her way, she meets Viscount Tewkesbury (Louis Partridge) who is a young heir and happens to be another teenager who runs away from home because he does not want to follow the path his family chose for him, just like her. Without any idea about what the future holds, they take embark on an adventurous journey.
Jack Thorne, writes a well-structured script that involves minute detail of Victorian London, its ethnicity, culture and the reforms. To add on to that Enola Holmes is frequently talking and delivering running commentary about what she feels and observes to the camera. This however is a very tricky act to do, and #MilliBobbyBrown has done justice to it. With the quick insights, she helps us keep with the speed of the movie that however slowed down towards the end.
The whole film is light, family- friendly and filled with a lot of ciphering and deciphering. It feels like you are watching two movies side by side, but in concert with each other. Along with adventure, the film also throws in a helping of people's uprising and women's rights in the mix. We also see the contradictory beliefs and ideas between the modern mother and the traditional sons. We are hoping to see more adventures of Enola in times to come…
Are you?
– Daniya Khattib
– Bengaluru
Picture : https://www.google.com/url?sa=i&url=https%3A%2F%2Fen.wikipedia.org%2Fwiki%2FEnola_Holmes_(film)&psig=AOvVaw3Q9RGnrFzPvb_xUU9dlph4&ust=1601812384497000&source=images&cd=vfe&ved=0CA0QjhxqFwoTCNio1puumOwCFQAAAAAdAAAAABAD