A demolition drive in South Delhi's Shaheen Bagh under the name 'anti-encroachment drive' was halted even before it started, today morning. Shaheen Bagh was the center of protests against the controversial CAA(Citizenship Amendment Act) law.
The exercise was conducted by the BJP-controlled South Delhi municipality amidst protests of dissent by the locals. The drama unfolded under heavy police presence. Supporters of the Congress party and AAP, including Okhla MLA Amanatullah Khan, reached the area before the bulldozer could do the honors. Mr. Khan said he had got all illegal structures in the area removed and there are none now.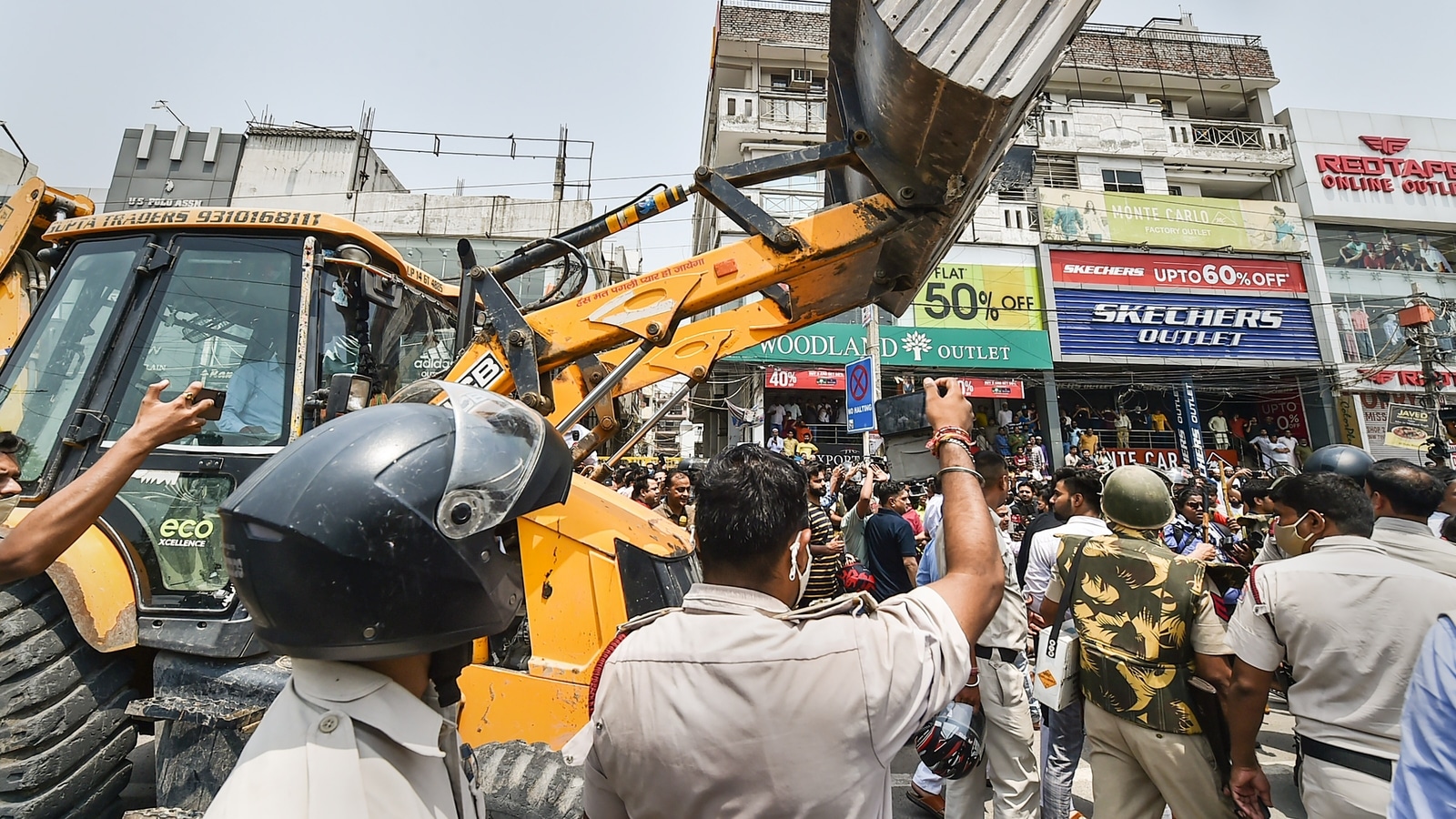 Credits: Hindustan Times
"There are no illegal structures here. They have brought the bulldozer and put it here to show that I am obstructing their work to remove the encroachment," Mr. Khan told NDTV. Meanwhile, Mr. Khan had a word with the local market association and also ordered the removal of a temporary structure. Soon after his departure from the area, the bulldozer returned.
Earlier, Mr. Rajpal, a senior official of the South Delhi Municipal Corporation, had told news agency ANI that the "municipality will do its work"."Our workers and officials are ready, teams and bulldozers have been organized. Encroachments will be removed wherever they are," he added. South Delhi Mayor Mukesh Suryan claimed that the people of South Delhi support the drive.
Demolition Halted In Delhi's #ShaheenBagh Amid Huge Protests: 10 Points https://t.co/r7zlNQBEkZ pic.twitter.com/b5Wi221xzY

— NDTV (@ndtv) May 9, 2022
Delhi BJP chief Adesh Gupta had written to the civic body's mayor last month, demanding the removal of encroachment by "Rohingyas, Bangladeshis and anti-social elements". The demolition drive at Shaheen Bagh draws parallel to a similar demolition exercise at Jahangirpuri, following communal clashes over Hanuman Jayanti processions.
The April 20 exercise at Jahangirpuri threw up painful visuals of people begging authorities to stop the activity of bulldozers that razed structures around a mosque. The demolition drive continued even after the Supreme Court's order to stop it at Jahangirpuri.
Shaheen bagh will always remain symbolic of resistance in the darkest phase of India's history.
The very first rank. ✊🏽 pic.twitter.com/3niHPQEbEb

— Safoora Zargar (Away) (@SafooraZargar) May 9, 2022
The court had taken serious note of this. Incidentally, a hearing on the matter is scheduled for today. The court will also hear a petition against the SDMC's demolition drives in several areas, including Shaheen Bagh, today.
North Delhi Mayor Raja Iqbal Singh maintained that the demolition drive is a 'routine exercise'. However, the timing which was set in the context of the BJP chief's letter was questioned for its political motives.
Reference: NDTV
Featured Image Source: The Quint