Alt News co-founder Mohammed Zubair has again found himself in yet another controversy after BJP leader Majinder Singh Sirsa lodged an FIR against the journalist for conspiracy against the Sikh community after the India-Pakistan cricket match held in Dubai on Sunday.
Full story
On Monday, BJP leader Majinder Singh Sirsa lashed out at the journalist for allegedly spreading hate propaganda against Arshdeep Singh and the Sikh community. In his FIR complaint, the BJP leader highlighted the conspiracy that the journalist and other anti-social elements from Pakistan are peddling and called out strict action against Zubair.
Contents of the FIR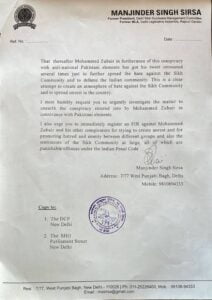 Credits: OpIndia
The complaint which was lodged at the Parliament Street police station, read  "Zubair, acting in connivance with anti-national elements across the border, has cleverly taken screenshots from Twitter of various Twitter handles after searching with the word Khalistani and then posting a tweet at 00:05 hours on September 5,  combining all these tweets trying to portray that such abusive and malicious tweets were posted by Indian Twitter handles, whereas the reality is that most of these Twitter accounts were Pakistani account and some were created just for the purpose of this tweet, the sole intention behind which was to spread hatred against a player and the entire Sikh community,
The spark leading to the FIR was the brutal online trolling of Arshdeep Singh, who faced vicious criticism after he dropped a catch in the 'death overs' resulting in Pakistan winning the match against India in the Asia Cup on Sunday.
#ArrestZubair is gaining momentum on Twitter with social media users expressing their disdain over the journalist's actions and aggressively pitching in for his arrest.
Here's how netizens reacted to the latest development  
#ArrestZubair
Enough to proof Pakistani propaganda…BHALU SUD B IN JAIL FOR INTENTION OF DISTURBING SOCIAL HARMONY BETWEEN HINDU AND SIKHS pic.twitter.com/HKcdvf2mRz

— RSR ® (@rsr12i) September 6, 2022
When you have no voice of your own. You silence others. Bloody loser

Power to @zoo_bear #ArrestZubair https://t.co/UessqRdhWZ

— Prakhar Gautam (@Prakharisms) September 5, 2022
Agenda is what you're doing. To find your party a presence in a state where it's non existent.

Your followers go about spewing hate. Your lapdog anchors have been divisive for ages

If anyone needs to be called out for hate speech it's your party. #ArrestZubair https://t.co/98TEriRuQW

— Prakhar Gautam (@Prakharisms) September 5, 2022
Make him rot in jail for good this time. I will forgive BJP for atleast a dozen mistakes.#ArrestZubair https://t.co/nGU01ZGJ9D

— antha scene ledu (@6731290239A) September 5, 2022
He is No.1 Anti-National ! He should be arrested asap!! #ArrestZubair #zubair https://t.co/MaU2arwxL8

— BenAtBanglr (@BenAtBanglr) September 5, 2022
citing Zubair's tweet as proof, the BJP leader demanded an investigation to unearth the conspiracy and find answers.