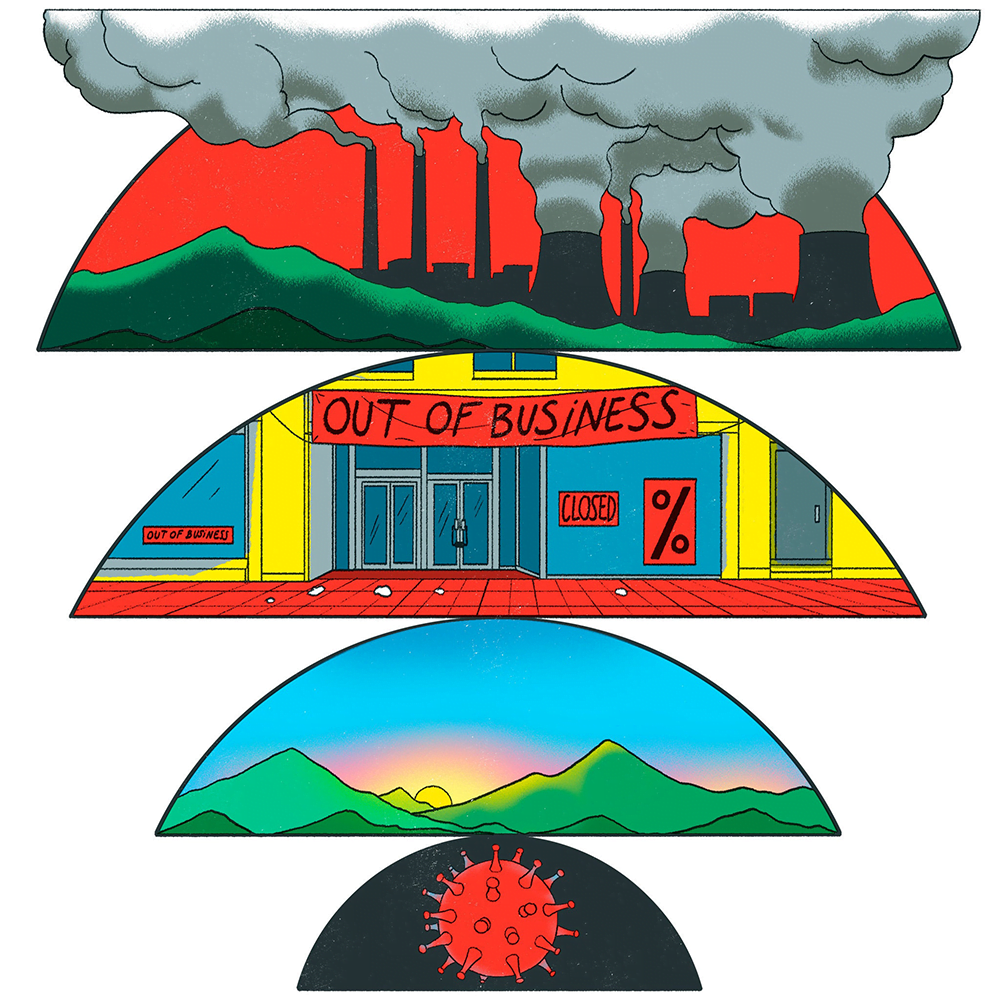 The corona pandemic has changed our way of life in a way we did not think was possible. Amidst the lockdown a lot of behavioral changes were made inevitably which turned out to be green measures. People had to walk to the closest store to buy their grocery and only go out when it was really required to due to the lockdown restrictions. People realized there is so much unnecessary stuff that we hoard up in our houses. We only require very little for our subsistence and how we have been mindless consumers. We started growing our own food hence reducing the chemical intake, we worked from home, hence reducing the air pollution, we gave time to art, art from whatever was available in our surrounding, in many cases there was direct delivery of vegetables and fruits from farms. This helped them get better prices. We realized industrialization is not really progress, and that it is sanitation, cleanliness, health, education and a good environment that is the real progress in a country. We saw how, as a country, we were unprepared for a situation like this.
Situations like these are not hard to face if green fiscal policies are in place. Policies should not look at a stopgap solution to the upcoming climate crisis and economic crisis. Just like Covid-19, Climate change and global warming has no physical boundaries and it can affect the entire globe. It's a good time to redirect the money given for fossil fuel subsidies into developing greener, cleaner and regenerative energies. Improvement of habitats will reduce human-animal interaction and contain the spread of zoonotic diseases. Throughout the pandemic inequality has attained centrality of social issues. The human cost of this pandemic doesn't end with loss of lives due to the infection but extends to the distressed millions of our country. All of this human resource could be used in Clean Development Technology. Rules based on the 'polluter pays' concept should be adopted in order to balance the environmental burdens and benefits. International Financial institutions could play a pivotal role in funding such projects.
The labor migration gave an impetus to finding livelihood in their villages. This in turn gives a momentum to procure goods locally, produce goods locally and use them locally, hence closing the sustainability circle. Upcoming policies should encourage these activities.
The one important lesson to have learnt from the pandemic is that people can transform themselves overnight. With this in hindsight, countries should go ahead and make good yet difficult green policies that may change the face of development in its familiar sense.
– Apoorva A
– Mysore
Picture credits – oneyoungworld.com