Latest Bangalore News: The Bihari community who are the residents of Bengaluru city celebrated the Bihar Diwas in the city on 27th March 2022. The event was organized by the Bihar Youth Foundation – Bengaluru Chapter in association with Shri Siddharth Sanskritik Parishad.
More details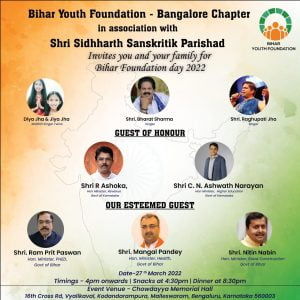 The event was held to commemorate the formation of Bihar as a state in India. It was held at the Chowdayya Memorial Hall located in Malleswaram, Bengaluru. The event was graced by guests that included the Cabinet Ministers of Karnataka Govt that include Shri R Ashoka, Minister for Revenue, Shri CN Ashwath Narayan, Minister for Higher Education. The event also had esteemed guests who are Cabinet Ministers in the Bihar Govt that include Shri Ram Prit Paswan, Minister for PHED, Shri Mangal Pandey, Minister for Health, Shri Nitin Nabin, Minister for Road Construction.
The event had cultural programs and had singers like Shri Bharat Sharma, Shri Raghupati Jha, Divya Jha and Jiya Jha who are twins and popular in the region.
The event began at 4 pm followed by snacks by 5 pm and then a gala dinner by 8:30 pm.
Bihar Diwas
Bihar Diwas is observed every year on March 22, marking the formation of the state of Bihar. It was on this day that the British carved out the state from Bengal in 1912. The day is a public holiday in Bihar. Bihar Day was started and celebrated on large scale by the Bihar Government in the tenure of Nitish Kumar.
#Latest Bangalore Updates
#Live news update Bangalore