In a new addition to the seemingly endless BharatPe conflict, Ashneer Grover, the founder and former managing director, has taken legal action against CEO Suhail Sameer and the board of directors for his statements to his sister Ashima Grover on professional networking platform LinkedIn.
The controversy began when a supposed BharatPe employee posted a lengthy statement on LinkedIn alleging that the firm had failed to pay many of the employees their salary for the month of March. He also tagged Ashneer and Suhail Sameer. Ashneer left a comment on the post, saying, "Folks please look into this. Not done – their salaries have to be paid before anything", tagging both Suhail and the company's Head of Financial Control, Hersimran Kaur.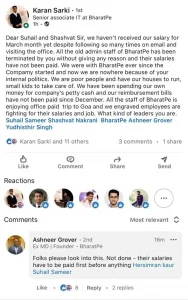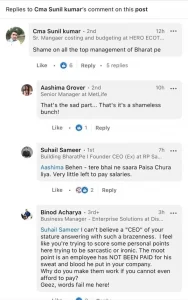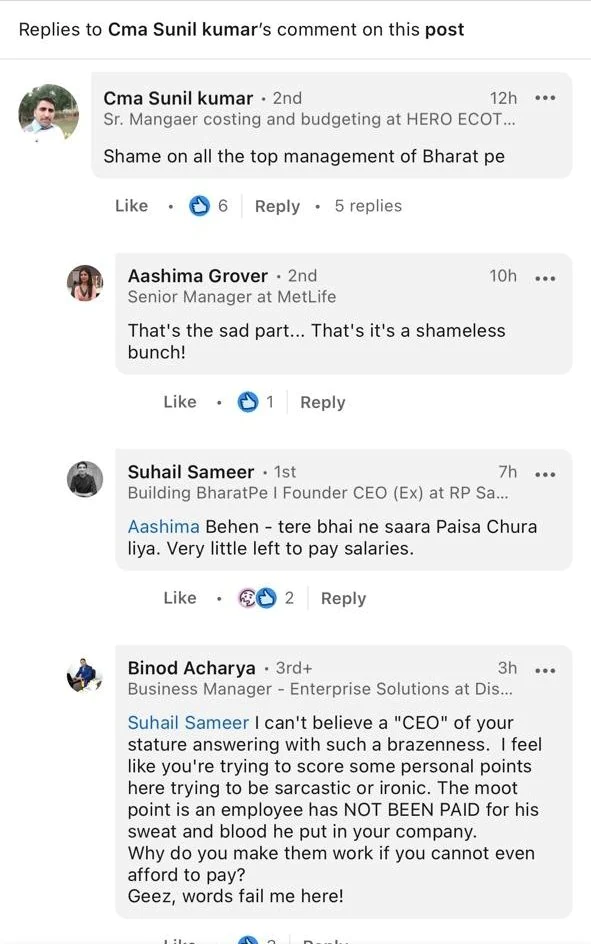 Ashneer's sister Aashima Grover chimed in in the comments section along with several others who were criticising BharatPe, labelling the company's senior executives "a shameless bunch." Suhail reacted to her remark by alleging that they were unable to pay the salary because Ashneer had swindled all of the money, saying "Behen – tere bhai ne sara paisa chura liya (sister, your brother stole all the money). Very little left to pay salaries."
Aashima responded to the comment, whereas Ashneer did not. "But still money is left for your ESOP, bonus, increment, parties and offsite and not to forget paid media,"  she replied in her first answer to Suhail. She then commented, in response to another comment criticising Suhail's tone, "We aren't surprised at all by Suhail's comments. That's him. Now you can imagine the plight of the company and what culture they would be building."
Ashneer Grover has since addressed a letter to the company's board of directors, requesting a formal apology from CEO Suhail Sameer and the management, without which Grover claimed he will initiate a criminal defamation suit against BharatPe's CEO and seek damages. Grover also stated in the letter, which BusinessToday obtained. In addition, Sameer's sister, Ashima Grover, has reserved the right to file a complaint with the Women Commission and other competent authorities against Sameer's behaviour. Grover has also demanded that Rajnish Kumar, the Chairman of the BharatPe Board of Directors, quit.
After suspicions of misappropriation of funds, Ashneer quit as managing director of the firm last month. Later, he and his wife, Madhuri Jain Grover, were both fired from the company's Board of Directors.