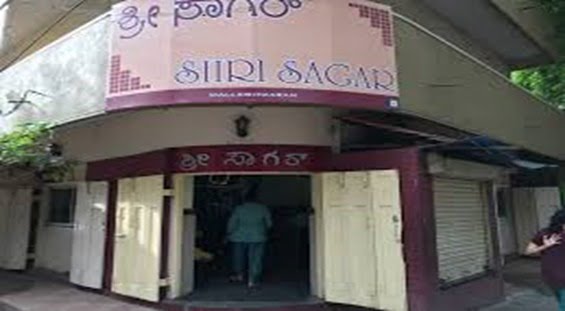 In the heart of Bangalore's busiest and oldest areas, lies a restaurant with the best Dose in the city. The "Central Tiffin Room Shri Sagar," popularly known as CTR, is a Dose lovers' haven. In a corner, opposite the Malleshwaram ground on the 7th cross, is the small and cozy place which was started in the late 1920s. CTR is a small breakfast place, with around 20 tables spread across its two floors. The dedicated army of waiters not only serve piping hot delicious Doses but also manage the huge crowd of customers and Dose lovers queued outside the restaurant, with a huge smile on their faces. "Heli Baass (boss) En kodli nimge?" is their warm and loving way of welcoming customers and "Ashte saaka baass? Coffee enadru togoli," Is how they pamper you to stuff yourself with more delicious food and coffee.
Inside the restaurant is a wooden board with the famous menu of CTR. Though known for its amazing "Benne masala Dose," CTR has everything that any south-Indian food lover would dream of, for a breakfast. Their Idly-Vade, Rave idly, Plain and Set Doses, Kesaribath, Kharabath and Poori saagu which can be savored alongside strong hot coffee or badam milk is worth all the hustle which lands you a table at the restaurant. When asked about the everlasting debate regarding the best Dose joint in the city, Nanjappa – a waiter who has been working in CTR from past 6 years said " There is no doubt that CTR is the best. We have been in business way longer than the others. The best part about CTR is that we have no holidays. We are open 365 days. From morning 7:30 to 12:30 and in the evenings from 4:30-9, our kitchen keeps running on all days." Nanjappa who has now mastered the art of managing the huge crowd at the restaurant said "we are full usually on all days. Weekends are extra hectic as we see people coming in throughout the day in large numbers. We have some special customers who come almost every day to at least have coffee. We have maintained our quality of food since ages and that is our trademark here. We don't compromise on anything"
Established in 1920s by Y.V Subramanyam and his brothers, Central tiffin room was named CTR Shri Sagar in the 1992 when the management changed. The second branch, opened in 1940s in Avenue road was a famous hang out place for writers. Shri Sagar specializes and serves only vegetarian breakfast. "Benne Masala Dose" which has won CTR the Times food guide award and Burrp.com's award for "Best Benne Masala Dose in Bangalore" has a cult following of its own. Dedicated followers queue up in front of CTR to relish the best dose in town. The Benne masala dose is dripping with butter with a huge potato filling and is served with two kids of chutney. The demand for this is massive in the restaurant and they sell at insane speed and quantity on weekends.
CTR attracts people from all corners of Bangalore. Prakash, a resident of Hebbal and a regular customer at CTR said, "I first came here 5-6 years ago, when I moved to Bangalore. I have been a fan since then and I make it a point to visit CTR at least once in a month. I usually come here on a Sunday with family, enjoy breakfast and then take a walk around Malleshwaram. It has been sort of a ritual now. I have tried so many restaurants in and around Bangalore over the years, but I have not had dose which comes anywhere near to the taste you get at CTR. My favourite is the Benne masala and my son loves the Kesaribath here."
Central Tiffin room has established itself as a landmark and attraction in Malleshwaram is its resident's favourite restaurant as well. Joggers and kids playing cricket in the Malleshwaram ground, can be seen stopping by for coffee here. Senior citizens, along with their groups of friends stop by to have their morning discussions, read newspaper while having Dose and Idly. Archana and Apoorva, residents of Malleshwaram, while waiting in the long Sunday queue said "This is our favourite place to have breakfast. We come here often, almost every week. The quality and taste of food is here is really good. The prices aren't that high too and it is pocket friendly, which is really good for students. We have been coming here since we were kids. We remember coming have dose here after school sometimes. We love everything on the menu here."
Central Tiffin room has stood the testament of time and is only growing in popularity. With the standard quality and taste which has never taken a hit, and their famous Benne masala dose's fan following on the rise, CTR serves to be one the most famous, delicious restaurants with the best Dose available in Bangalore.