The Assam police have allegedly been dragged into the crossfires of the demolition of a madrasa in Goalpara district. The residents of Darogar alga char argue that the madrasa was obliterated under the orders of the superintendent of police, meanwhile, the police refused any hand in the incident.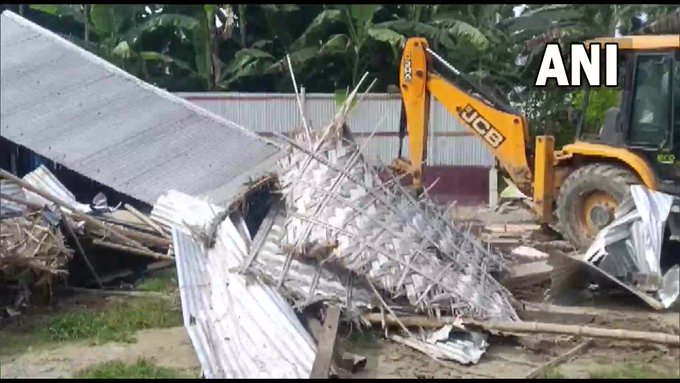 The police claim that the demolition was organized by a villager while the police were investigating the involvement of a teacher in alleged terror activities. The teacher is now absconding.
The police further reported that the Darogar Alga madrasa and a reed house were destructed by the villagers themselves after the occurrence of terror links with two of its teachers, who were stated to be Bangladeshis.
Furthermore, the villagers named the perpetrator Shukur Ali, who declared himself a BJP worker. BJP stickers are visible in his residence as well as his vehicle.
I was among those who pulled down the two structures. I was working in my jute field on the riverside when Shukur Ali (a villager) called me to the madrasa compound. He asked me and five-six others to help him demolish them," a resident told PTI.
"When I asked Ali why we should demolish the madrasa, he said that SP (superintendent of police) and DSP (deputy superintendent of police) sirs have asked us to do so. When I reached the madrasa compound, the media were already there," he added.
Ali also accepted that the media was approached well in advance to cover the event. Moreover, on Monday evening, he called upon the elders of the village and told them that the DSP of Goalpara had ordered the demolition of the structure.
On the other hand, the superintendent of police said that "From our side, there was no communication for the villagers saying that they proceed with it (demolition). Had it been planned, the district administration would have taken the steps accordingly."
To corroborate the claims of the villagers and the police, sheets of tin and reed walls were found at Ali's house, it is reported that they belonged to the Madrasa.