In an attempt to uncover corruption in bed allocation in the south-zone, a group of BJP legislators made communally provocative remarks against those serving in the war room as they belonged to minority communities.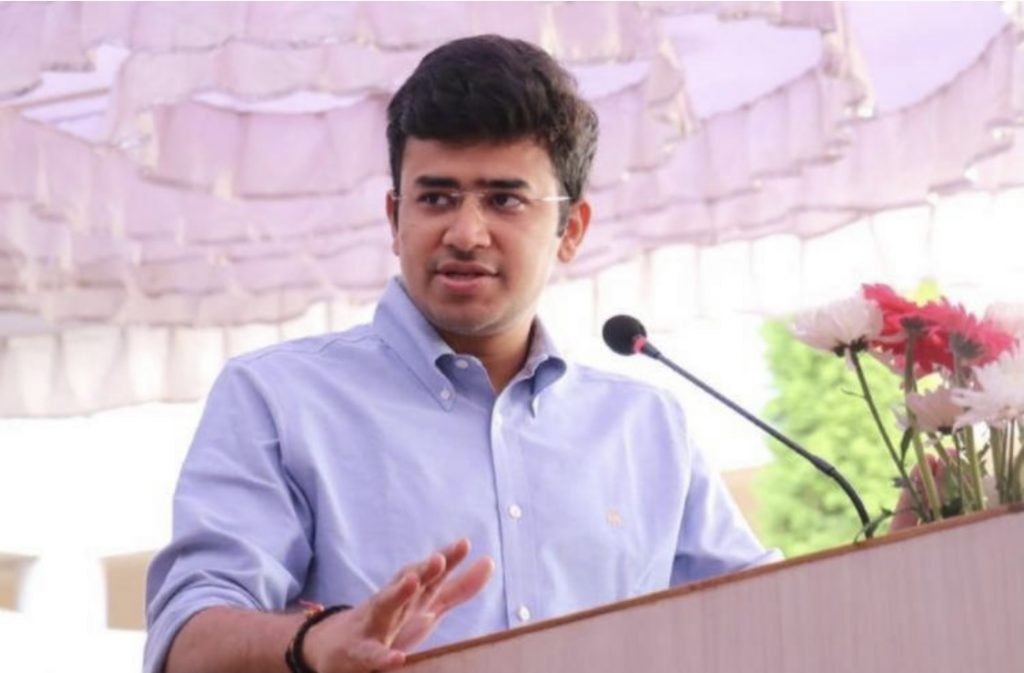 A day before, Tejasvi Surya, the Bengaluru South MP, claimed that his team had discovered suspicious patterns of beds being blocked against the names of patients in home isolation.
Furthermore, K S Eshwarappa, Minister of Rural Development, and Panchayat Raj alleged that a Muslim organization is behind the bed-blocking racket in Bengaluru and that the government will take punitive action against those involved.
Later, MP Tejasvi Surya arrived with a list of 17 names, all of whom were from the minority group, and demanded to know their credentials. MLA's Satish Reddy and Ravi Subramanya raised concerns over.
Following the press conference, WhatsApp forwards circulated citing the 17 names listed by Tejasvi Surya, pointing to the list as a "List of Terrorists working in BBMP War Room killing thousands of Bengalurians." Another version said "They are ensuring no Hindus get bed easily,"
According to civic sources, the south zone war room employs over 205 people and 17 of them who were from the minority community were dismissed as a result of this incident.
In this regard, the Bengaluru police have arrested two people and none of them are from the minority community.
Many journalists and politicians took to Twitter condemning Tejasvi Surya's antics regarding the issue.
Srivatsa YB, a member of the Karnataka youth congress took to Twitter to express his dissatisfaction.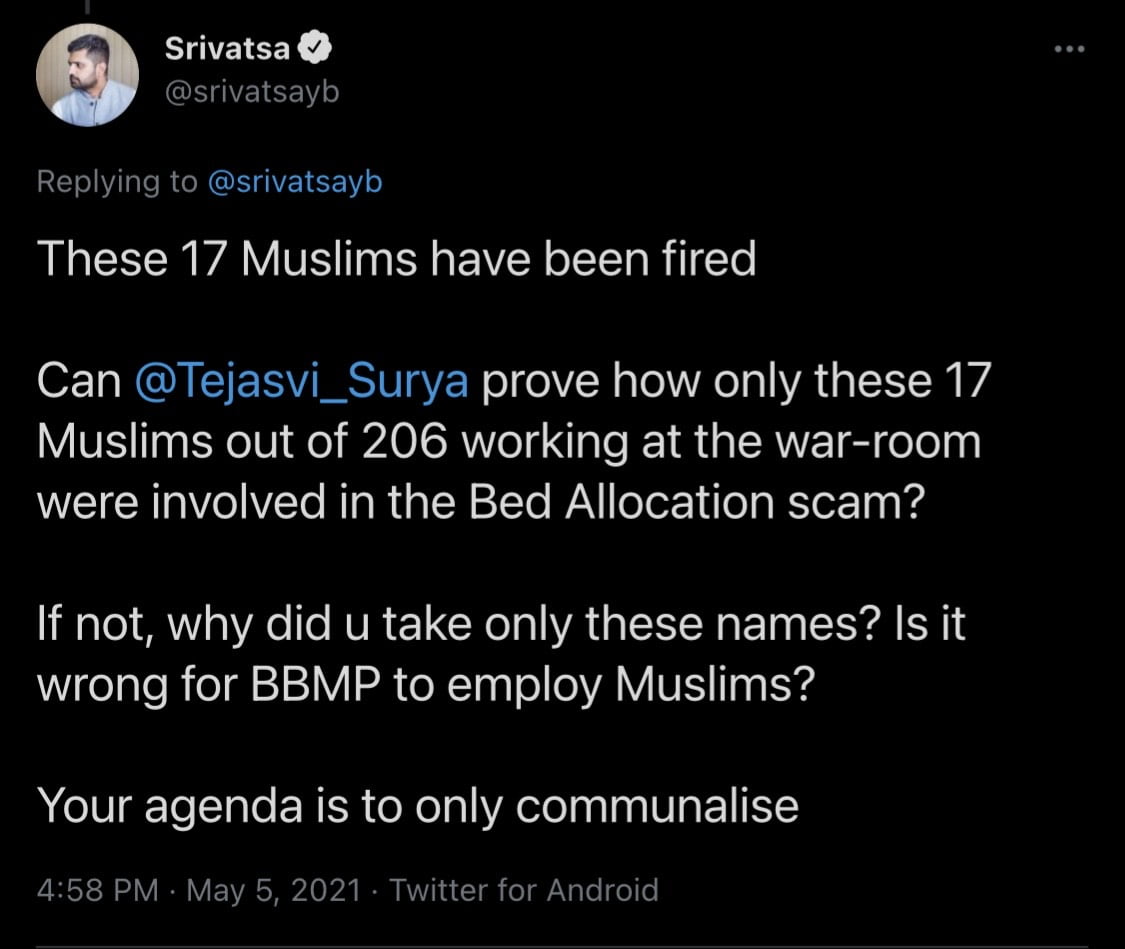 Furthermore, Mohammed Zubair co-founder of Alt News condemned Tejasvi Surya's actions.
Shehla Rashid politician and an activist condemned Tejasvi Surya's actions.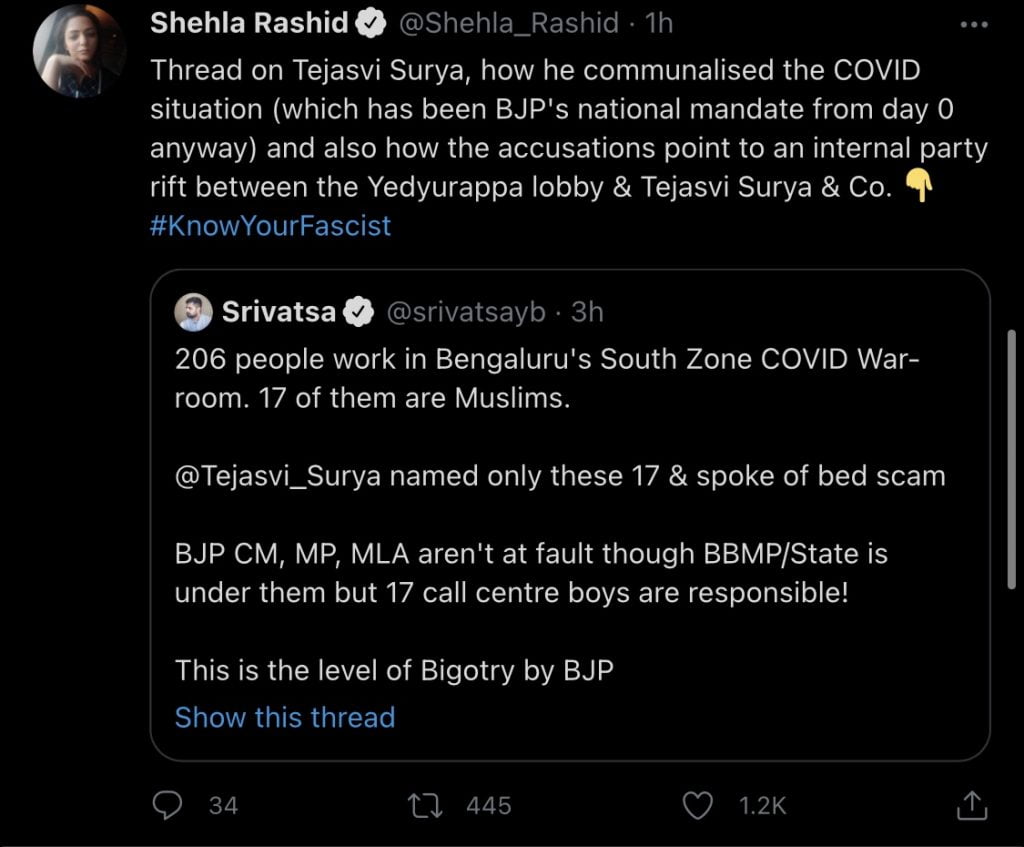 Why did they only list 17 names? Why did they choose these names of people who are associated with a particular community? So According to Tejasvi Surya and his associates, are all Muslims preconditioned to corrupt practices?
The main premise behind the incident is simple: myth-making and the blame game, all of which the BJP excels at. Whatever fits the narrative, whether it's Pakistanis, Bangladeshis, or fellow Indian Muslims.
While looking at these further incidents, experts also believe that Tejasvi Surya's actions on Tuesday are part of the ruling government's strategy to divert attention away from the actual issue. Experts also claim that, if Mr. Surya was really concerned he would have inquired as to why the Union government has failed to provide even a single oxygen concentrator to Karnataka, despite multiple requests.
That being said, let's take a look at the background of the case
Bengaluru South MP, Tejasvi Surya, had alleged that Black marketeers have sunk to a new low in Bengaluru, where they are running a bed mafia, after Remdesivir and oxygen cylinders. However, Surya claims that BBMP officials have conspired with private nursing homes and hospitals to block the beds and they reserve them for exorbitant charges
Many of those who have attempted to obtain a bed from the Bruhat Bengaluru Mahanagara Palike (BBMP) is often prevented. The beds, particularly oxygenated and Intensive Care Unit (ICU) beds, are often nearly full. During a telephonic audit, audio recordings have surfaced in which individuals can be heard saying they had no knowledge about beds being assigned to them.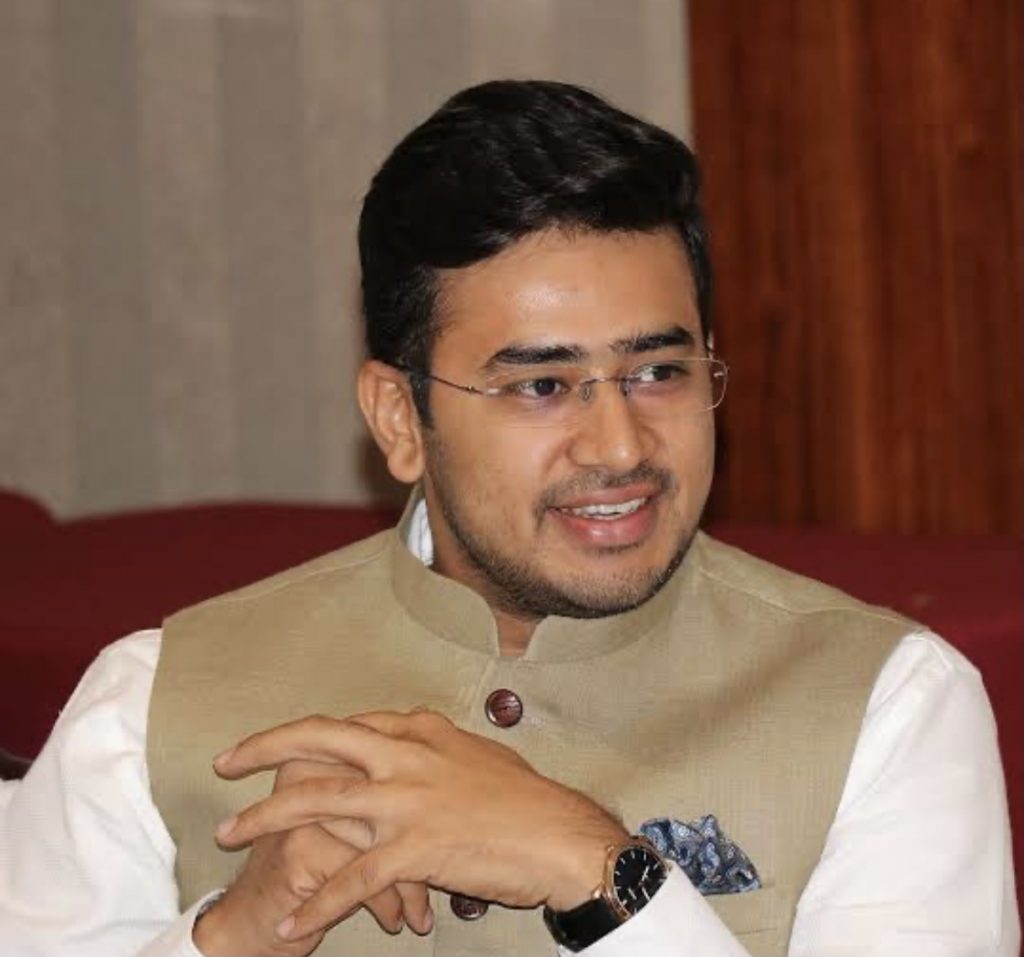 In less than a fortnight, Tejasvi Surya and his colleagues while inspecting the matter discovered over 5000 such cancellations in Bengaluru alone. He further added that, during the inspection, we found 4,065 beds that had auto-unblocking. When we called the patients whose names had been booked, we found that they were all at home isolation and had never been admitted to the hospital. He also claimed that a single patient's BU number is being used to obstruct approximately 5-20 beds, which are then leased to other patients for a large amount.
Mr. Surya referred to this as murder and stated that these beds should be used for the care of Covid patients instead. He has since called for a high-level inquiry and for the perpetrators to be charged in the most severe provisions of the law.
Satish Reddy, a member of the Bommanahalli Legislative Assembly, claims that the government's 'Arogya Mitras' are acting as agents to block the beds. "The agents exploit the poor and helpless. In one case, a patient paid the agent Rs 25,000 through Google Pay to reserve a bed. We, as elected representatives, are unable to facilitate people in finding a room, however, these agents will do it for all those who are willing to pay "Reddy said.
In other cases, a significant number of patients are oddly admitted to such hospitals, usually after midnight. They receive their allotment and entry in a matter of seconds, which was previously unimaginable. He cited several instances, including those at Manipal Hospitals, Navachetana Hospital, Aster CMI, and Aster RV Hospital. He further mentioned a case in which a patient was reportedly forced to pay for a bed upfront.
The BJP MLA also voiced his displeasure with the officers' lack of motivation to serve. "Over the last fortnight, the Centre has dispatched 750 ventilators, with another 250 on the way. The ventilators, on the other hand, have not been installed in any of the hospitals. We might have saved a lot of lives if the officials had been cautious and acted responsibly "Reddy sighed.
Furthermore, Ravi Subrahmanya, a member of the Basavanagudi Legislative Assembly, expressed his displeasure with officials who refused to take calls from elected representatives.
References:
Image source:
Scroll