Bengaluru: Did you know the vitality of wastepickers for a city? Waste Pickers divert a staggering 383,250 tonnes of waste from reaching landfills, by collecting and recycling plastic and other recyclable waste materials generated in the city. But who highlights there work and importance?
On 16 June, 2022, BBC Media Action announced the launch of #Invaluable Recyclers, the second phase of the 'Invaluables' initiative to highlight the role and contribution of informal waste pickers in Bengaluru's circular economy and aims to shift perceptions about waste picking and informal waste pickers in the city of Bengaluru. Research after the previous phase of the campaign showed an increase of nearly 6% among respondents in awareness of informal waste pickers, and their contribution in helping the environment through waste picking and sorting.
The event was held at Go Native Cafe in Lavelle Road and graced by participants like musician Vasu Dixit who collaborated with BBC Media Action and preapared a song titled 'Happy Number' that highlights the contribution of the city's waste pickers. He released the same in the event. The others included Soma Katiyar, Executive Creative Director, BBC Media Action, Vani Murthy, an environmentalist who is passionate about composting and urban farming and several people from the media community.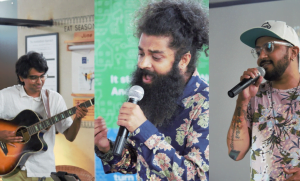 Many waste and ragpickers were also present at the event and spoke about their life and the importance of this event for them. HasiruDala which was one of the key partners of the event highlighted the need to recognise the importance of these people by helping them identify their rights and identity as citizens.
Link to Vasu Dixit's Happy Number Song: https://www.youtube.com/watch?v=szZrulHlxQ0