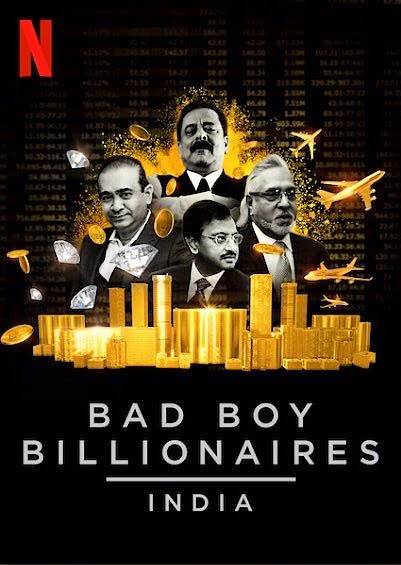 After quite a stir in the courts, Netflix has finally streamed the three episodes of Bad Boy Billionaires, while one episode of Ramalinga Raju still hangs there.
This documentary thoroughly stands on the authenticity of being one and treads on a difficult path to unfold such exuberant lives to the common masses. Exploring the lives of three Indian billionaires, namely Vijay Mallya, Nirav Modi and Subrata Roy, it explains their meteorite rise and fall and everything else associated between these two events.
While each episode has been directed by a different director, each episode does stand well on your expectations. From the intriguing theme song, to the initial sneak peek and then into most detailed understanding of what went right and what went wrong, hearing from various people about these 'stalwarts' is what makes this documentary special for me.
From Mallya, to Modi and to Roy what is common, is their ambition to make it big, which they did and the way everything, quite literally collapsed for them. Today from being billionaires and having their wings spread across the globe they stand as mere fugitives or so to say criminals.
What is striking about this documentary apart from its engaging narrative and brilliantly shot visuals is how they explain from a first-hand perspective the miseries of the people, the same people who belong to the most marginalized sections of the society and were associated with these 'stalwarts' and their companies. It is also worthy to note some known faces like Kiran Mazumdar Shaw, Sid Mallya, Raghu Karnad, Rajeev Bajaj, among others feature in this and speak up their hearts about the 'stalwart' they are associated with.
While some perspectives may not be as pleasing, some do put you in an intrigue to spare a second thought about these men. Its narrative shows how their business was spread across sports and films but there is very less relation drawn to politics of the time and has played a very safe game in that manner.
If you are well aware about the lives and deeds of these men then there is nothing new, absolutely nothing new here for you but if you want to know a lot new, then everything is in store. All in all, it's worth your time!
Personally, the Mallya episode was my favorite as he was the one, I could connect with not just because I consume Kingfisher in different forms but also because of my frequent visits to UB City, my flying in Kingfisher airlines while it ran with a tag of a low-cost carrier airline and of course my fidelity to Royal Challengers Bengaluru…
– Md Saqlain Jameel
– Bengaluru