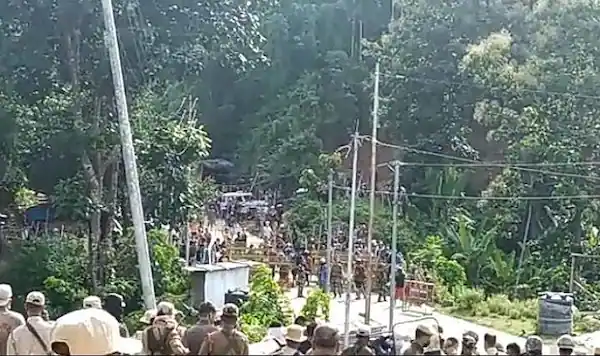 The dispute between Assam and Mizoram dates back to the British colonial rule, in the mid 19th century. Assam and Mizoram share a 164.6 km long border. Both sides accuse one another of encroachment of property on that border.
The dispute along the Assam-Mizoram border started to heat up at the end of June 2021. This was because the Assam police allegedly took over an area known as 'Aitlang hnar', accusing the other state of the encroachment of this land.
The Union Home Minister of India, Amit Shah, spoke to the states' chief ministers and instructed them to resolve the issue and maintain peace along the border. Both the chief ministers adhered to the same and called off the police forces present on the disputed site.
On 26th July 2021, all hell broke loose when the Mizoram police claimed that eight farmers' huts were on fire near the Assam border.
Six officers of the Assam Police were killed after groups on both sides of the border engaged in hostile attacks.
The Home Minister of Mizoram, Lalchamliana stated, "Unarmed civilians were assaulted by Assam Police by lathi charging them and firing tear gas, causing injuries to several civilians. Tear gas grenades were launched at Mizoram Police followed by firing from the Assam side…The Government of Mizoram strongly condemns the unjustified act of the Government of Assam in this."
On the contrary, the Chief Minister of Assam, Himanta Biswa Sarma tweeted, "I am deeply pained to inform that six brave jawans of Assam Police have sacrificed their lives while defending constitutional boundary of our state at the Assam-Mizoram border. My heartfelt condolences to the bereaved families."
Both chief ministers took to Twitter, talking about the clashes taking place at the border while accusing one another. The two of them are sharing videos, photos and posting statements on Twitter, and requesting Amit Shah to intervene.
CRPF ADG Sanjeev Ranjan Ojha announced that the clash at the border was turning violent. The statement given by him revealed that both sides were firing at each other using automatic weapons, which led to the death of 6 Assam policemen. He also mentioned that the CRPF companies were looking into this dispute, and as of this moment they are not taking any sides.
IMAGE SOURCE:
REFERENCE: