Ahead of the upcoming Assembly elections in Gujarat, the Aam Aadmi Party(AAP), conducted its first Rashtra Jan Pratinidhi Sammelan at 11 am Sunday at the Indira Gandhi stadium in Delhi. The conference was chaired by Delhi Chief Minister and AAP national convener Arvind Kejriwal. Around 1,500 AAP leaders from across 20 states participated in the national convention party.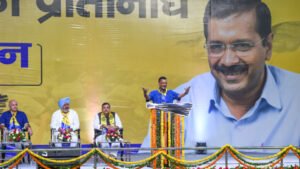 The conference was chaired by Delhi Chief Minister and AAP national convener Arvind Kejriwal. At the first such national convention of elected representatives of AAP, party national convenor and Delhi CM Arvind Kejriwal set the pitch for the 2024 general elections, making the Gujarat assembly polls later this year the focus of his outreach and indicating that the party had no plans yet to join an opposition alliance to counter BJP
Instead, he asked party members to focus on building an 'alliance of 130 crore citizens of India' through AAP's "Make India No. 1" campaign. He claimed that AAP's growing popularity in Gujarat had baffled the BJP which made it take resort to such adverse ways of attack on the party.
Emphasizing that the AAP's formation was an act of divine intervention, Kejriwal said God had to come and intervene, and in 2012 the AAP was formed to save the government and the country. He added, "This is not some coincidence. God has given us the responsibility and each one of you has to keep up to that and work for development."
Kejriwal told his AAP colleagues that BJP was jealous of the popularity of the party's politics of honesty. There are some things about AAP that they cannot bear — education, healthcare facilities and schemes which they call 'revdi'. He said that their leaders have never spoken about education and healthcare facilities.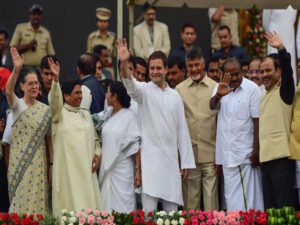 The CM said AAP was planting seeds across India and these seeds would grow into strong trees, like in Delhi and Punjab. He hoped that like in Delhi and Punjab, AAP would get fruitful results in Gujarat. 
The Congress took the initiative to ask all the opposition parties to form an anti BJP front to fight against the ruling BJP government. An apparent secular alliance was asked for. 
The Bharat Jodo Yatra is actually a prominent hint in favor of such an alliance by the opposition.