Source : Assam Tribune
Bangladesh got its freedom from Pakistan on 26th March 1971 after a series of hardship and struggle under the leadership of Sheikh Mujibur Rahman known as the Father of the Nation. On 17th March at the National Parade Square in the presence of Maldivian President Ibrahim Mohamed Solih along with the physical presence of five heads of state and government and virtual presence of global leaders, the grand celebration for the birth anniversary of Bangabandhu and the golden jubilee of Bangladesh's Independence started. It is a 10 days long celebration and Indian Prime Minister Narendra Modi was invited as a guest of honor.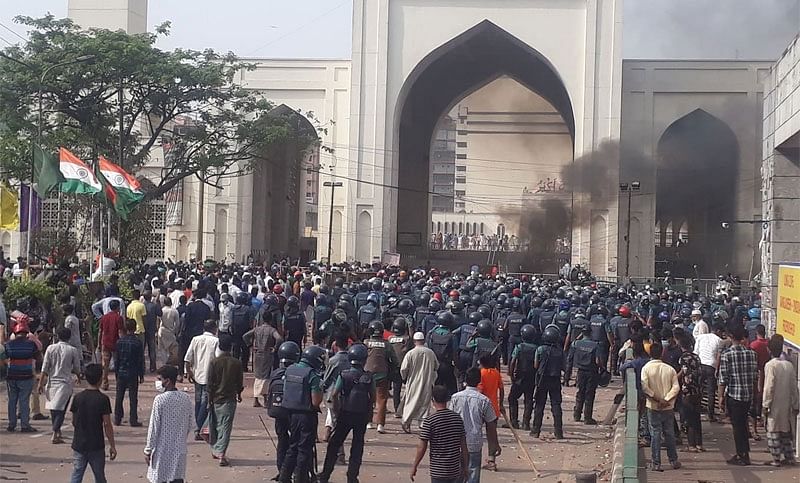 The Protest
After the news of PM Modi's scheduled arrival in Bangladesh was announced the protest started and it intensified after PM Modi landed in Dhaka for the celebration. The protesters gathered at Dhaka's Baitul Mukarram mosque where the activists clashed with the Awami League supporters and the police. PM Modi along with Bangladesh Prime Minister Sheikh Hasina was participating in the National Day Celebration in Dhaka; enormous clashes erupted near the mosque where approximately 60 people including 2 journalists were injured and the protesters were raising slogans against Modi. The protesters were from a group called Hegazat-e-Islam, an Islamic Fundamentalist Group and along with them there were students affiliated with the Left parties clashed with the police and at least 4 people were killed during this protest and a dozen were injured severely in Bangladesh's Chittagong. The situation in Chittagong went out of control as the protesters attacked the police and tore down the National Day banner hanging outside the police station, student organizations were also involve in the protests where they clashed with pro-Awami League student organizations. "Eight people were brought to the hospital with gunshot wounds and among them four succumbed to their injuries," Md Alauddin, assistant sub-inspector of the police outpost at Chittagong Medical College Hospital, said. Rafiqul Islam, a police official said, "We had to fire teargas and rubber bullets to disperse them as they entered a police station and carried out extensive vandalism." Azizul Haque Islamabadi Hefazat's Central Organizing Secretary said "Police attacked our leaders and activists at Baitul Mukarram in Dhaka. The students took out a procession to protest the incident and came under police firing." According to the police the protesters marched in the capital Dhaka and many were throwing stones and rocks at officers
On the other hand, PM Modi congratulated the country on its 50th Independence and said that he also protested for the freedom of Bangladesh, he claimed "The freedom struggle of Bangladesh was a significant moment in my journey too… My colleagues and I had done a satyagraha in India… I was in my early twenties. I even had the opportunity to go to jail during this satyagraha for Bangladesh's struggle for freedom," After this remark citizens and the netizens expressed their astonishment and took the social media to express it which led to the hashtag #LieLikeModi which is trending on twitter.

Hefazat-e-Islam
The Hefazat-e-Islam also known as Saviour of Islam is an Islamic fundamental group which is a union of several small organizations. Reports claim that "It has traditionally not sought power through elections, but looks to use its street muscle to change Bangladesh's traditional secular culture and politics through the imposition of what it believes are proper Islamic ways." In 2018 right before the elections the Hefazat-e-Islam has created trouble across Bangladesh, after this the Sheikh Hasina government had come to a political agreement with the group. But Bangladesh has been witnessing a rise in religious radicalism and communal hatred for years. Hefazat-e-Islam has always been aligned with Bangladesh's opposition party Bangladesh Nationalist Party (BNP), but in 2013 they came into prominence after a Bangladeshi blogger was killed because of the clash between police and the Islamic protesters. They also protested after the French President Emmanuel Marcron commented over Prophet Mohammed's caricatures in Dhaka last year. Hefazat aside, a diverse range of Bangladeshi group which included student's, lefties and other Islamic organization have been protesting for few days against Mr. Modi's visit. They accused PM Modi for causing religious tension and stirring anti-Muslim violence in Gujarat in 2002. On 25th March approximately 40 people were injured including four police officers and 33 people were held for violence. Farid Hossain, political analyst and writer based in Bangladesh said "The students are protesting because they believe Prime Minister Modi is guilty of the Gujarat riots and that he represents a Right-wing pro-Hindutva party. On the other hand, there are these Hefazat activists, who have been protesting since last year when they came to know that PM Modi will be visiting Dhaka. The student protesters are not anti-India, but they are against PM Modi and they believe that Bangabandhu's ideology was different from that of his. But the Hefazat activists are completely anti-India and they are part of a chain of Saudi-funded madrasas. They see it as a revolution."
Admits the protest in Bangladesh the government is not saying anything but the police is trying to control the protest. The protest has been going on for days but it has gone out of control after the arrival of PM Modi. The protest took place about 3km from the hotel where the Prime Minister is staying in Dhaka.
Reference
https://www.dhakatribune.com/bangladesh/2021/03/25/bangladesh-set-to-celebrate-independence-day-friday
https://theprint.in/world/4-killed-in-bangladesh-as-students-islamic-fundamentalist-group-protests-against-modis-visit/629523/
https://www.nationalheraldindia.com/india/was-he-in-pakistan-netizens-take-swipe-at-modi-on-claim-he-agitated-for-bangladeshs-liberation-was-held
https://www.thehindu.com/news/international/4-dead-as-anti-modi-protests-turn-violent-in-bangladesh/article34172629.ece
https://indianexpress.com/article/india/modi-bangladesh-visit-chittagong-clash-7247215/
Picture
https://assamtribune.com/bangladeshs-twitter-fb-war-with-pak-ahead-of-modi-visit/
https://www.nationalheraldindia.com/international/bangladesh-4-killed-in-chittagong-as-radicals-protest-modi-visit-mosque-area-in-dhaka-turns-battleground