Recently, the headlines like "Misuse of UAPA" are trending, along with the name of Assam's MLA, Mr. Akhil Gogoi. What is this chaos that is going on all around? Let us understand it step-by-step without ignoring any facts.
Starting with the prominent figure of the story, Akhil Gogoi, an Indian peasant leader, RTI activist, and an MLA from Sibsagar, Assam. He has become a well-known figure after his relentless fight against corruption. Besides this, his noteworthy contribution in exposing a 12.5 million scam in Sampoorna Gram Rozgar Yojna in the Golaghat district of Assam was highly praised. He was also an active member of the Anna Hazare-led anti-graft campaign against Corruption. But he broke with IAC soon after the mass movement. Along with all this, Gogoi launched a new political party named RAIJOR Dal on 2nd October 2020.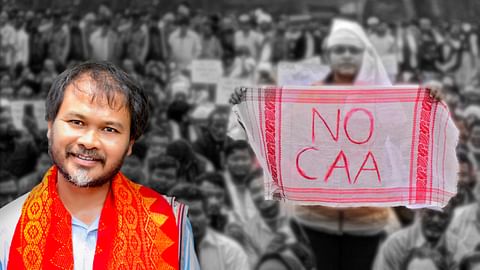 It is time for us to throw some light on the case of 2019 that booked Mr. Akhil under the amended UAPA (Unlawful Assembly Prevention Act) by the National Investigation Agency (NIA). He was arrested from Assam's Jorhat district while protesting the Citizenship Amendment Act in the state. According to the police official, Gogoi, a founder of the Krishak Mukti Sangram Samiti (KMSS), had staged a sit-in outside the Jorhat deputy commissioner's office against the new controversial law.
Interestingly, Gogoi could now be the "first person" to be tried as a terrorist under the new amended UAPA. 
Before going any further, we must educate ourselves regarding the UAPA Act, so as to understand Akhil Gogoi's case properly.
The Unlawful Activities (Prevention) Act 1967 (UAPA) was developed as an anti-terrorism law to prevent unlawful activities association and maintain the sovereignty and integrity of India. Throughout the years it has been amended for effective application and to serve the primary intent of the act. The act has been amended on multiple occasions to incorporate the changing techniques of terrorism. The most recent amendment that came was the Unlawful Activities (Prevention) Amendment Act, 2019 (UAPA, 2019) which dealt with expanding the definition of "terrorist" to include individuals under Section 35 and 36 of Chapter VI of the Act.
A Review Committee to 'denotify' the individual notified as a terrorist is also constituted by the Central Government thus removing all the chances of any institutional mechanism for judicial review.
However, the amendment in the UAPA act has been highly criticized by the mass as the act is contrary to the principle of 'innocent until proven guilty.' Secondly, it is being used to repress rather than combat terrorism since the amendment provides that designation of an individual as a terrorist would not lead to any conviction or penalties. Along with this, there are no objective criteria for categorization, and the government has been provided with "unfettered powers" to declare an individual as a terrorist.
Now we are ready to dive into Akhil Gogoi's case and can examine it.
As per the Print's report, Gogoi has been booked for "waging a war against the nation", conspiracy and rioting. He was in jail since Dec. 2019 for allegedly fomenting violence during anti-CAA protests and maintaining links with Maoists.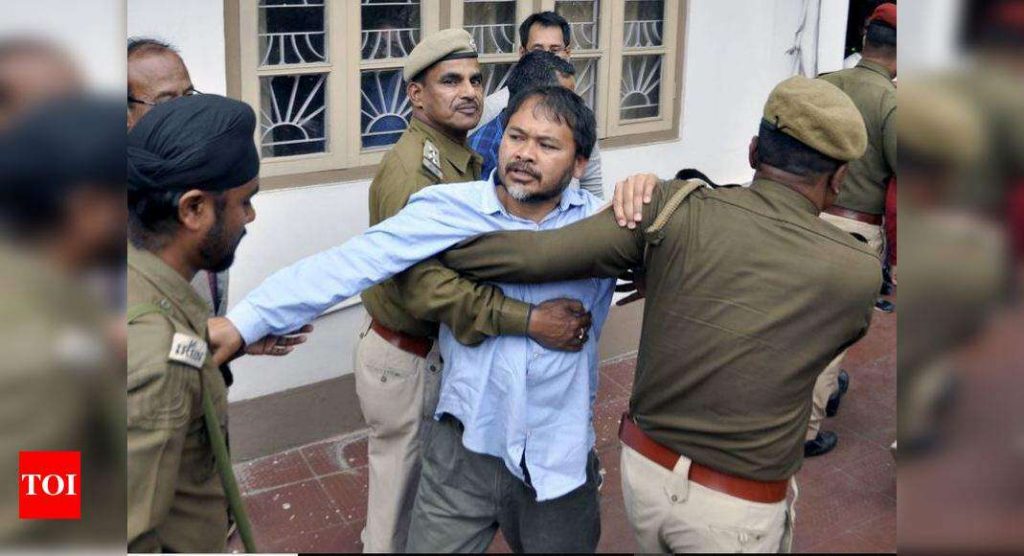 "The NIA has formally taken up the investigation in the case and has booked Gogoi for waging a war against the nation," the source said.
The RTI activist Akhil Gogoi was arrested at Jorhat on December 12 last year for his role in the protests of CAA. He was later handed over to NIA and a court in Assam sent him in the custody of the agency for 10 days. On the same day, he was taken to New Delhi for further questioning and brought back to Guwahati on December 25, and since then he was in Judicial custody. Considering his deteriorating health, several demonstrations for his release have taken place both in Assam and outside.
The NIA has lodged a case under sections 120B, 124A, 153A, 153B of Indian Penal Code (IPC) and Section 18 and Section 39 of the Unlawful Activities (Prevention) Amendment Act (UAPAA).The charges pertaining to criminal conspiracy, sedition, promoting enmity between groups on grounds of religion, race, place of birth, residence, language, etc., assertions against national integrity, support to a "terrorist organization" etc.
All this for protesting a government act, sounds fair.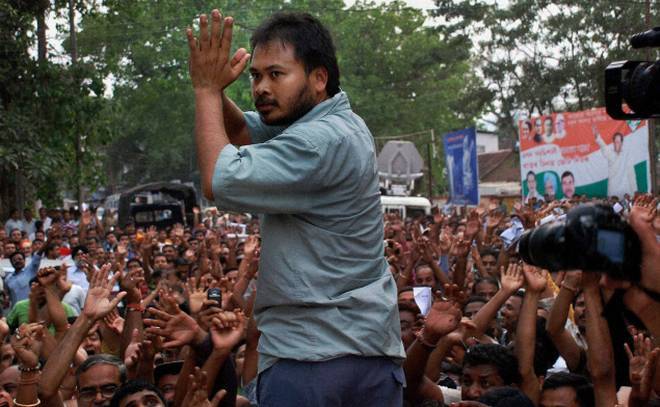 After his release, Mr. Gogoi said, "The court has proven that the government's charges against me were bogus. This is a historic day for the Indian judiciary." He also added, "A case was filed against me for my links with CPI [Maoist]. In another case, I was charged with inciting violence during the anti-CAA agitation. The court proved these were fake charges that kept me in jail for more than a year and a half." Along with clarifying all this, he slammed the BJP-led State government for "misusing" the UAPA and NIA.
Initially, UAPA was made to combat terror but recently it became a tool that governments have begun to frequently use to stifle democratic protests. In Akhil Gogoi's case, the Gauhati High Court observed that civil disturbance which arises out of protests cannot be considered acts of terror. The verdict clearly indicates that UAPA cannot be used casually. An act or law should not be the government's tool to suppress anyone, instead, it should act to safeguard the integrity of the state.
Lastly, Mr. Akhil Gogoi said, "My focus will be on working for the development of my constituency besides opposing any anti-people policy the government tries to impose."
References:
Image Sources:
Bar and Bench
The Wire
Live Law