The Bruhat Bengaluru Mahanagara Palike (BBMP), which has drawn criticism over its fixing of potholes and bad roads, has recently spent Rs. 23 Crore over 14 Km stretch of roads ahead of PM Narendra Modi's short visit to the city.
The roads that were developed are Kengeri to Kommaghatta (7 km), Mysuru Road (0.15 km), a stretch after the Hebbal flyover (2.4 km), and Tumakuru Road (0.90 km), and roads in the Bengaluru University campus (3.6 km).
This is apart from road works that Bangalore Development Authority (BDA) took up near Kommaghatta, where the Prime Minister held a public rally and laid the foundation stone for several infrastructure works.
Surprisingly, ahead of Prime Minister Narendra Modi' visit to Bengaluru, the Bruhat Bengaluru Mahanagara Palike (BBMP) has spent nearly ₹23 crore to develop 14-km stretch of a road. https://t.co/Ed9vcYwNG6

— Mint (@livemint) June 21, 2022
The local body usually attracts criticism and ridicule for its poor functioning. But the Prime Minister's visit has proved to be lucky for the citizens living in these local areas. The civic body also used the grants to repair the median, fix street lights and paint roads and kerbs.
The quality of work was also far better than BBMP's regular road development work. Ravindra P N, special commissioner (projects), BBMP, told reporters that asphalting roads is part of the protocol ahead of the Prime Minister's visit.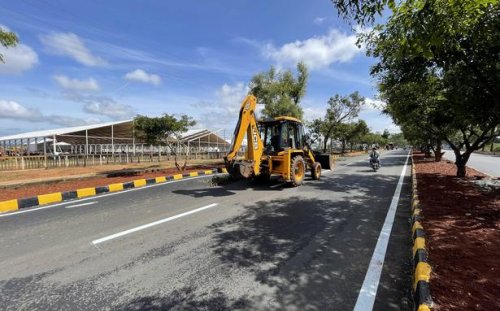 Credits: Flipboard
---
"The PM's visit was confirmed to us by the state government 15 days ago. We used the funds under the discretionary use of the Chief Commissioner for the work. The approval was given by BBMP administrator," he said.
When asked about the priority of developing roads, Mr. Ravindra said other works were also underway and claimed only 1,600 odd potholes were left on the city streets to be filled. "Filling potholes is tedious work and usually affected by rains. But redeveloping an entire stretch of road is far easier," he said.
While the PM's visit has turned out to be a blessing in disguise for Bengaluru residents, local bodies must take a learning lesson from this incident. Building good infrastructure goes a long way in the development of the nation- and we must start from the grassroots!
References: The Hindu ,Deccan Herald
Featured Image Source: Deccan Herald