Malayalam actress Bhavana Menon recently started to speak against sexual violence and assault. She stated that the victims of sexual assault should share their trauma and talking about it should be normalised. During an interview, she stated that she would fight the perpetrators with all her might, regardless of the consequences.
In 2017, while returning home from a shoot in Thrissur, Mrs Menon was allegedly kidnapped and sexually assaulted by a gang of men. Moreover, Malayalam actor Dileep was accused as the mastermind of the assault.
Mrs Menon stated that she received tremendous support from her family, husband, friends, and fans while dealing with the trauma. Burkha Dutt stated in an interview that she was devastated by the fact that her dignity had been shredded to a million pieces and that her entire life had been turned upside down. Furthermore, she stated that she used to blame herself for the attack and that she wished she could go back in time and change everything so that she could live a normal life.
Mrs Menon had initially requested to not name her in reports because these reports attract national attention. She stated that it made her very angry and sad that perpetrators of sexual assault get rehabilitated while victims were blamed. She goes on to state that there were times that she wanted to give up on her fight. However, she says that people and society should normalise and support the victims who come out with their trauma.
Furthermore, she opened up about her legal battle. She fought a court case three years after she was assaulted. She said that the court case gave her an additional trauma but came out stronger. She further states that after attending the trial for 15 days, she realised that she was a survivor and not a victim.
She had revealed and voiced her trauma through an Instagram post in January this year.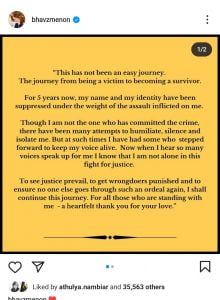 References: Hindustan Times
Featured Image Source: Outlook India