by Divyakshee K.
Actor Siddharth's tweet referencing badminton player Saina Nehwal's remark about Prime Minister Narendra Modi's recent security scare in Punjab has sparked outrage for its blatantly sexist connotations.
Last week, Nehwal voiced concerns over PM Modi's convoy being halted for 20 minutes on a flyover in Punjab's Bathinda due to a roadblock by protesting farmers.
Retweeting Nehwal, Siddharth posted, "Subtle cock champion of the world… Thank God we have protectors of India. Folded hands. Shame on you Rihanna."
The Rihanna digression was in response to the pop star's support for farmers opposing three new agricultural rules – which have since been repealed – in February of last year, after which Indian celebrities and officials chastised her for interfering in India's domestic affairs.
After a while, the actor clarified that he did not mean to offend anyone and that his "subtle cock" tweet was devoid of any innuendo. The actor remarked in a follow-up tweet:, "Cock and bull. That's the reference. Reading otherwise is unfair and leading. Nothing disrespectful was intended, said or insinuated. Period."
Rekha Sharma, the chairman of the National Commission for Women, has criticised Siddharth's post. "This man needs a lesson or two. @TwitterIndia why this person's account still exists? Taking it up with concerned police," Ms Rekha said.
The National Commission for Women (NCW) has asked Twitter to suspend actor Siddharth's account following a "lewd" tweet sent towards ace badminton player Saina Nehwal. Rekha Sharma further requested that the Maharashtra DGP examine the allegation swiftly and file a FIR against the actor.
Union Minister Kiren Rijiju has also criticized the actor, taking to Twitter to say,, India is proud of @NSaina for her outstanding contributions in making India a sporting powerhouse. She is a steadfast patriot besides being an Olympic medalist.  Making a cheap comment on such an icon personality depicts a person's ignoble mentality."
He has also previously commented on the security breach incident. In response to the BJP's blame of the Congress-led Channi government in Punjab for the PM's security lapse, the actor tweeted that a channi (strainer) is used to filter tea, but there is nothing to filter the tea-seller (referring to PM Modi). Replying to Times Now anchor Navika Kumar on her tweet regarding the Prime Minister's security breach, he said "This woman is a toolkit. She'll raise a stink for sure."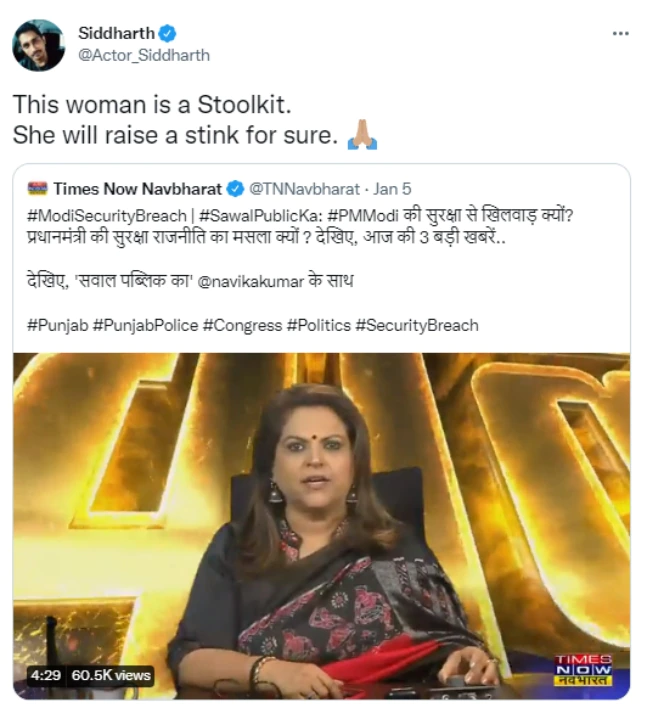 Saina Nehwal reacted to Siddharth on Monday, saying that the actor could have chosen better words. In an interview with News18.com, she stated, "Ya I'm not sure what he meant. I used to like him as an actor but this was not nice. He can express himself with better words but I guess it's Twitter and you remain noticed with such words and comments."