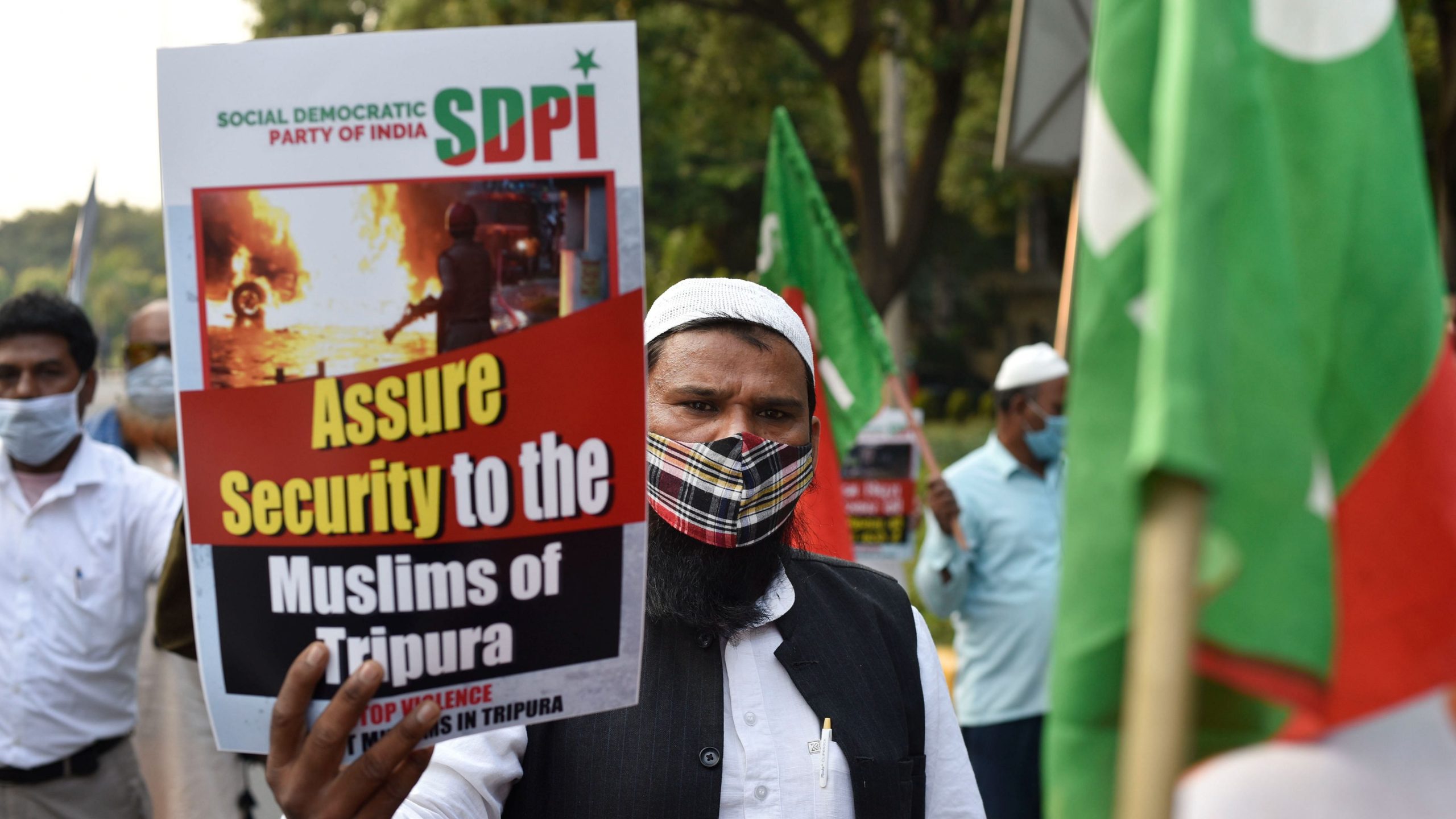 (image source: PTI)
by Divyakshee K.
"Governments will come and go but it is important for the court to use its power and strike down Section 124A and the offensive portions of UAPA. Then citizens here would breathe more freely," said former Supreme Court Justice Rohinton Fali Nariman. When we consider the scenario of gross injustice that has engulfed the northeastern state of Tripura in recent weeks, this sentiment rings especially true.
The Tripura police's decision to charge attorneys, journalists, and 102 social media users on November 6th with violating the Unlawful Activities (Prevention) Act (UAPA) for posts on "communal violence" is just another example of this harsh law being used arbitrarily. Several of the arrested individuals were journalists, activists, and lawyers who used social media to condemn the recent anti-Muslim violence in the state.
On October 26th in Northern Tripura, specifically the Chamtila and Rowa Bazar areas that fall under the Panisagar sub-division, a mosque was damaged and two stores were set on fire. These incidents are said to have occurred at a rally organised by the Vishwa Hindu Parishad to oppose the recent vandalisation of Durga Puja pandals in Bangladesh. As per their website, "The objective of the VHP is to organise -consolidate the Hindu society and to serve –protect the Hindu Dharma. By taking up issues like the religious conversions of Hindus by Christian Church, Islamic terrorism, Bangladeshi Muslim infiltration etc, VHP is proving to be the indomitable force of the Hindu society for the protection of its core values- beliefs and sacred traditions." While the VHP claimed that their march was held in protest of communal violence in Bangladesh, the events witnessed in the northeastern state were eerily similar to the very bloodshed that they claimed to be against.
Panisagar Sub-Divisional Police Officer (SDPO) Soubhik Dey, speaking to Indian Express, said that a VHP protest drew over 3,500 persons to Panisagar. "A section of VHP activists at the rally ransacked a mosque in the Chamtilla area. Later, three houses and three shops were ransacked and two shops set on fire in the Rowa Bazar area, around 800 yards away from the first incident," the official told reporters.
Narayan Das, a Bajrang Dal leader from Panisagar who was part of the rally, told Indian Express that "….After we came near Rowa, we found some youths standing in front of a mosque hurling abuses at us. They were armed with dao and other weapons. They chanted Pakistan Zindabad and religious slogans. Some sporadic incidents occurred owing to their provocation." Das believes that a faction of the administration wanted the situation to spiral out of hand, so they intentionally understaffed the rally's security by not deploying sufficient personnel.
However, in stark contrast to Narayan Das' claims, a video of the vandalism had gone viral on social media, which depicted protest participants chanting "Tripura me Mullagiri nahi chalega, nahi chalega" and "Oh Mohammad tera baap, Hare Krishna Hare Ram."
A senior police officer, speaking to The Wire, said that "We have registered a case. Some members of the minority community registered a case against some unknown VHP workers. They [VHP workers] chanted some provocative slogans during the rallies. We are investigating the matter and collecting all video footage," the senior police officials said on condition of anonymity.
Speaking with The Wire, Additional Inspector General (AIG) of police (Law and Order) Subrata Chakraborty, in an effort to control the damage of the aftermath, added that "….We have deployed an adequate number of police officers to maintain law and order. The incident took place near Chamtila and Rowa bazaar area. We have registered a case,". He further stated that substantial security has been deployed throughout all sensitive areas in the region to prevent the situation from escalating even further.
Looking back, here is where the problem takes root. Despite the fact that the incident occurred in broad daylight and was witnessed by numerous people, the Tripura police have done little to identify and apprehend the perpetrators. No arrests were made in relation to this case.
However, in painful irony, the Tripura Police issued a notice to Delhi-based lawyer Mukesh Kumar, alerting him that a case has been filed against him under section 13 of the Unlawful Activities Prevention Act (UAPA), as well as other provisions of the Indian Penal Code (IPC). Ansar Indori, another Delhi-based lawyer, received a similar warning. They were both a part of a fact-finding team that visited Tripura after reports of anti-Muslim violence occurring there. Aside from UAPA, the two have been charged with promoting enmity between different groups on the grounds of religion, race, place of birth, residence, language, forgery, criminal intimidation, intentional insult with intent to provoke breach of peace and hatching a criminal conspiracy.
According to the report, which was co-authored by Supreme Court lawyers Ehtesham Hashmi and Amit Srivastav, the violence erupted owing to the "irresponsibility of the administration, along with extremist organisations and the vested interests of ambitious politicians".
According to the report, the state unit of the Jamiat Ulama (Hind) had warned Chief Minister Biplab Kumar Deb four days before the violence erupted that such incidents may transpire. "Despite this, the government not taking any action is tantamount to sponsoring this violence," the report said.
Mukesh and Indori were given notice to immediately remove "fabricated and false statements/comments" that they had uploaded on social media.
According to the People's Union for Civil Liberties (PULC), a human rights organisation, the lawsuits were filed against the attorneys only because their report revealed that the violence was perpetrated against Muslims by Hindu majoritarian organisations with the police's "tacit connivance and conscious abdication of duties."
The Tripura police then went on to charge 102 people and organisations for their social media posts and remarks on the same subject. They have arrested eight persons from various regions and have written to Twitter to request that 68 Twitter accounts be suspended. Journalist Shyam Meera Singh of NewsClick, one of the people arrested under the UAPA, stated that he had only tweeted "Tripura is burning."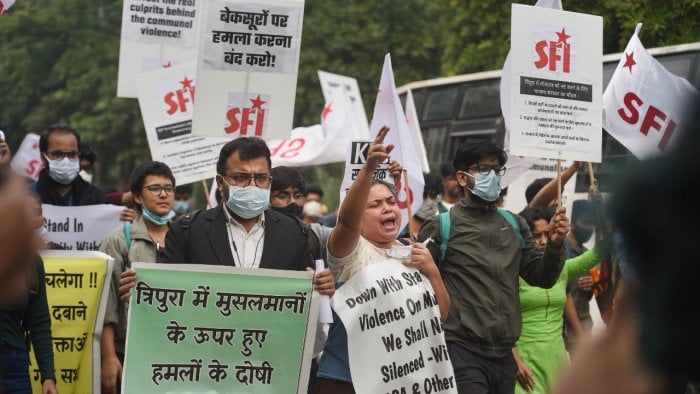 Whether the Unlawful Activities (Prevention) Act (UAPA) is compatible with India's constitutional framework and international agreements that we have signed are questions that our administration needs to answer urgently. Over time, this law has devolved into a fatal instrument to crush opposition, and successive administrations have exploited it to legitimise their personal objectives, all at the cost of democracy. The government is abusing their power by criminalising free speech, ordinary protest is being stifled or criminalised, bail is frequently rejected, and the government is deliberately pursuing dissenters. Critics have pointed out that the UAPA's strict conditions for granting bail, along with the fact that criminal cases can take years, if not decades, result in people spending extended amounts of time in jail without being proven guilty of any crime.
This incident in Tripura appears to be part of a routine of harshness that has been mastered by our government. This routine entails bending strict laws like the UAPA or the sedition statute to silence dissent or frighten anybody who disagrees with or could disagree with the state's interpretation. While severe laws have existed and been utilised in the past, what strikes out now is the governing establishment's apparent lack of reservations in using them as weapons against civilians. Due to the lower judiciary's unwillingness to issue bail to the accused in UAPA cases, the judicial procedure can become a lengthy punishment in and of itself.
Kapil Sibal, former Union Cabinet minister, rightly encapsulates today's political climate by saying that "The imbalance between fundamental freedoms and the larger interests of the State is heavily skewed against the citizen. The state uses the law to oppress the people, making democracy a victim."