Recently, Shivappa Yellappa Maradi from Karanataka recently hosted a lavish party in Belagavi, Karnataka, to honour the birthday of his dog Krish. He even ordered a 100 kg cake for his pet dog to cut since he wanted the occasion to be especially memorable.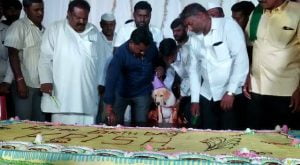 Additionally, it was reported that 4,000 or more people attended the ceremony and were fed as a way of honouring Krish. Here are four more times Indians have done crazy things with the beloved canine species. 
Nawab The Paragliding Dog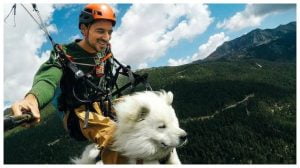 As the first dog in India to experience paragliding, the story of Siberian husky Nawab and his owner Rohan Tyagi made headlines. Nawab became well-known after a video of him paragliding in Manali began to go viral online.
Rohan revealed in an interview with Mirror Online "It took place in June 2019. I was not scared at all, and neither was Nawab. We paid special attention to his safety. He was tied to three parachutes and was quite calm when we took off. He was surprised by his response. He enjoyed flying high in the sky and was very happy looking down at the picturesque landscape. We achieved the feat at 6,500 feet above the ground."
Tamil Nadu's Dog Bride 
A 33-year-old man in Tamil Nadu married a dog in an effort to escape a "curse". At a Ganesh temple in Manamadurai, Selva Kumar wrapped a "mangal sutra" on the dog, whom he named Selvi. He claimed that when he was 18 years old, he killed a dog couple as they were mating and hung them from a tree.
After that, Kumar had a stroke, lost the use of his left arm and legs, and had hearing loss.
An astrologer supposedly instructed Kumar that he had the "curse of dogs" and that all of his troubles would be resolved after he married a female dog.
Jharkhand's Curse Absorbing Dog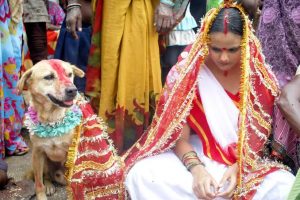 Mangli Munda, an 18-year-old woman from a small village in the eastern Indian state of Jharkhand, was forced to marry as a teen after a local guru persuaded her parents that she was under a curse and that getting married would only do harm to the family and the community.
Meanwhile, the four-legged groom, Sheru, is intended to eventually act as a medium for Munda's bad luck.
She explained, "The village elders believe that my evil spell will be passed on to the dog, so I am marrying a dog. After that is done, the man I will marry will have a long life."
Kedarnath's Religious Husky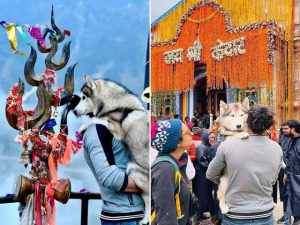 Having taken his pet husky to the Kedarnath Temple in Uttarakhand, a man from Noida drew major criticism and was arrested by the police for allegedly offending religious sentiments. He claimed that his pet, "Nawab," had travelled with him all over the country and that people were genuinely shocked to see it at the worshipped site.
The incident came to light after a video of the man approaching the statue of "Nandi" with the "Nawab" through the temple's grounds became viral on social media.