According to the World Air Quality Report provided by IQAir, India's air pollution deteriorated in 2021. This brings a stop to a three-year upward trend in air quality. The average level of air pollution, as measured by the lethal and microscopic PM2.5 pollutant, is 58.1 micrograms per cubic metre, which is more than ten times the WHO's air quality guidelines. In India, no city matched the WHO standard.
For the fourth year in a row, Delhi is the world's most polluted capital, with pollution up over 15% from the previous year. PM2.5 levels were over 20 times higher than WHO safety guidelines, with an annual average of 96.4 micrograms per cubic metre. The safe limit is 5. While Delhi's air pollution is ranked fourth in the world, Bhiwadi, Rajasthan, is the most polluted city, followed by Ghaziabad in Uttar Pradesh. Ten of the top 15 most polluted cities in the world are in India, with the majority of them clustered around the country's capital.
Indian cities top the list of the 100 most polluted areas, with 63. Haryana and Uttar Pradesh account for more than half of the total. Residents in Delhi and Lucknow, for example, could add about a decade to their life expectancy if air quality levels met WHO standards, according to a 'life index' developed by the University of Chicago. Last year, air pollution levels increased in all six metro cities except Chennai.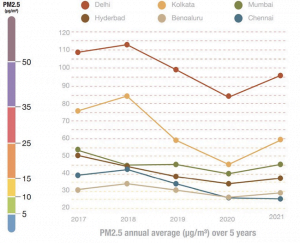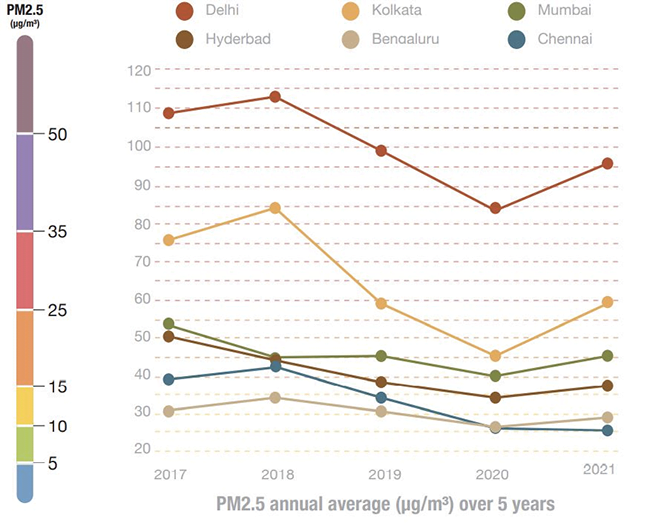 Vehicle emissions, coal-fired power plants, industrial waste, biomass combustion for cooking, and the construction industry are all prominent causes of air pollution. Furthermore, due to extreme levels of air pollution, many huge power plants in the Delhi area, as well as several businesses, were shut down for the first time in November of last year. India's yearly economic cost of the situation is projected to be more than $150 billion. The health consequences are significantly worse, with three fatalities per minute believed to be connected to air pollution, in addition to heart and lung conditions and a slew of other serious health consequences.
According to IQAir, their data is based "exclusively" on ground sensors, with nearly half of them managed by government agencies throughout the world.
The study makes a specific note of smoke from crop-burning following the rice harvest, which is a politically delicate topic for political parties that are normally hesitant to take action against farmers. According to the report, this smoke is responsible for up to 45 percent of pollution in Delhi, particularly in the rice farms surrounding Delhi during the winter months.
In India, Ariyalur, Tamil Nadu, has the cleanest air. Even so, this is three times the WHO's recommended safe limits.