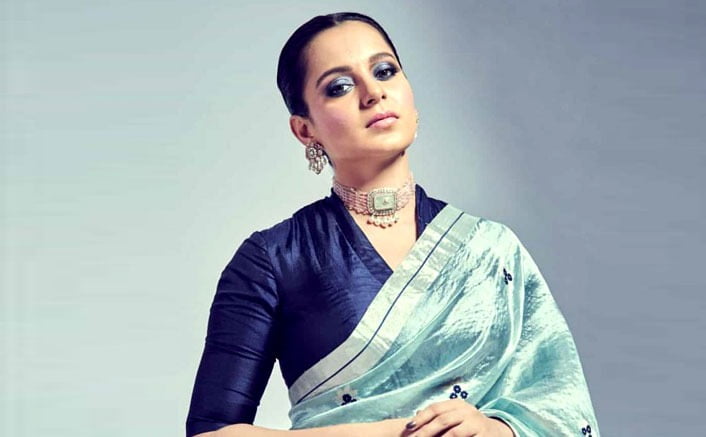 A wise man once said that there is no such thing as bad publicity, which essentially means that may the reasons be right or wrong, but as long as people are talking about you, all is well. Looks like our own 'superstar' #KanganaRanaut took this very seriously. Be it her time to time allegations against Karan Johar or.. basically anything else, she makes statements on a regular basis, so that people don't forget her. Yes, of course, her movies are enough to keep her in news, but she goes the extra mile.
On 14th June, we all lost one of our favourite actors, #SushantSinghRajput to suicide. On that particular day and the days which followed, people of India started talking about a deeply stigmatized subject, mental health. Most of us tried to be the persons other "talked to". All this until Ms Ranaut made a video declaring that "engineering entrance exam rank-holder could (not) have such a weak mind that he'd commit suicide". She alleged that he, just like her, was a victim of nepotism and found it difficult to survive in Bollywood. She also declared that he didn't die by suicide, but it was a planner murder (no proof). Like always, she gracefully moved from Sushant's struggles to her struggles and made it all about her. While the video started a conversation on Twitter about how depressed people should look like or if engineers don't attempt suicides, it also started a conversation about the alleged murder and all the conspiracy theories behind it. Madam was once again, in news!She was invited to the nation's favourite channels for interviews and panel discussions, where she started strengthening her murder theory. By then an army was formed to fight for #JusticeforSSR, and Ms Ranaut was their leader, their fearless sherni!
In all of her videos and interviews, Ms Ranaut spoke more of her struggles and how certain people are against her, and how #KaranJohar is the reason for all the bad that happens in the world. But wait, what about #JusticeforSSR? Come on, she isn't called Queen Kangana for no reason. Of course it is all about her. But what baffled me while she was allegedly "speaking up" for Sushant was the fact that while he was alive, Kangana was never seen being friends with him or promoting his movies.
Anyway, the family of the departed actor didn't approve of the way madam was fighting their war. So, their lawyer, Mr Vikas Singh came out and said "The issue that she is raising is correct, but she is not Sushant Singh Rajput's representative and neither is she carrying on his case. Woh Sushant ka nahi kar rahi kuch bhi. She is only doing her own." How dare he! Without Kangana none of these evidences (alleged) would have been found and the case wouldn't have taken this new angle, said the twitter army.
During this whole justice movement, Ms Ranaut made it a point to spew hate against anybody who she thought has wronged her during her time in the Bollywood (or as she likes to call it, Bullywood). From calling the likes of #TapseePannu and #SwaraBhaskar as B grade actresses to saying that Mahesh Bhat (who practically launched her film career) is a bad man and might also be an accomplice to Sushant's alleged murder, and not to mention Karan Johar and nepotism, madam was on fire for the justice movement (read #Justiceforkangana). She also called out Deepika Padukone saying that Ms Padukone was forcing mental illness theory on people and instead gave us her own valuable thoughts on mental health. But when some of these actresses gave their rebuttals to these comments, the twitter army, once again asked "how dare they?!" and started trends to boycott these actresses.
When the news of a possible relationship between Sushant and #SaraAliKhan started making rounds, madam remembered how her heart was also broken by #HrithikRoshan, drawing a parallel between the two situations. But when people started to suspect that maybe she is trying to push her own agenda through the ongoing issue, she came out with the narcotics angle. She declared that if the government guarantees protection for her, she will reveal the details about the drug mafia within the Bollywood mafia gang. Diverting attention from one issue to the other is madam's area of expertise anyway. Somehow, things were still working in her favour as #RheaChakroborty was arrested by the NCB for procurement and consumption of drugs. If madam is a fan of Captain Holt, she might have squealed "VINDICATION!!"
After this, madam decided to fuel her fight against the Mumbai police and the Shivasena government in Maharashtra. This was when, #SanjayRaut made a statement and said that she shouldn't come back to Mumbai if she doesn't feel safe there. After she compared Mumbai to PoK, several other shivsena leaders expressed their disapproval about her statements. Kangana decided that she would come to Mumbai and if anybody's daring enough, should stop her. But madam wasn't daring to come to the city without security and the Hon. Home Ministry provided her with Y Plus security as there was a threat to her life (where were the life threats, btw?). (Y Plus security is only provided to 14 people in India including the CJI and other Union Ministers, but madam is a queen, so why not?) #KubraSait asked if the security is funded by her tax money. Yours and mine and everybody else's sister!
Before she came to Mumbai, the BMC decided to demolish an illegal structure at Ms Ranaut's office (as she hadn't responded to the legal notices issued since 2.5 years) and then she declared that Mumbai is now Pakistan. She compared the demolition of her office to the demolition of Ram Mandir! She also declared that it made her understand what the Kashmiri Pandits might have gone through! Someone said on Twitter that he got drenched in rain and understood what tsunami victims might have gone through. If we are drawing false parallels, the twitterati had a point. Madam a few days ago declared that she has more money than politicians as she is a superstar but contradicted herself when she said that she dint have the money to renovate her office and will keep it as a symbol of women empowerment.
Anyway, an old video has surfaced on internet where Ms Ranaut has claimed to have been a drug addict after she ran away from her home. Will it land her in trouble or will 2020 continue to be the year of Queen Ranaut, (now that she has also hinted at entering politics by scheduling a meeting the governor of MH) only time will tell!
– Jahnavi TR
– Bengaluru