Tajinder Pal Singh Bagga has a lot of controversies under his belt.
Tajinder Singh Bagga is the national secretary of the BJPs youth wing and also a spokesperson for the party.
His arrest by Punjab Police and the political drama that followed is just the tip of the "Ice Baggarag"
On Friday morning, the national secretary of the BJP's youth wing was arrested by the Punjab Police from his residence in West Delhi. Soon after his arrest, the Delhi and Haryana Police swung into action.
The whole event looked like a Bollywood thriller with lots of twists and turns.
First, an abduction charge by his father was filled by the Delhi police.
Harayana Police too swooped into the act intercepting the convoy of Punjab Police and detaining the policemen of the convoy.
From here Haryana Police Handed over Bagga to Delhi Police- when he is handed over to Delhi Police he is seen showing a "victory sign."
But as mentioned this is one of the many controversies he is been into let us look at some.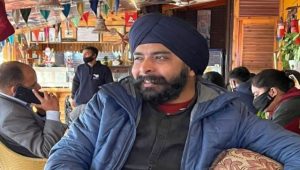 Disruptive Political beginnings.
Bagga has had deep connections with RSS (Rashtriya SwayamSewak Sangh) since he was around 4 years old.
On Twitter, he calls himself "#SwayamSewak" which again shows his deep links with RSS (Rashtriya SwayamSewak Sangh).
Bagga started his political innings with the lesser-known outfit, the Bhagat Singh Kranti Sena (BSKS), which described itself as a "task force against traitors, anti-nationals and corrupt".
His first claim to fame was back in 2011 when he disrupted Arundhati Roy's book launch at the India Habitat Centre in Delhi.
The very next year, he took credit for heckling Syed Ali Shah Geelani at an event organised by the Centre for Study of Developing Studies in Delhi.
So his political nature from its inceptions has been very disruptive and explosive.
Old Memories with Arundhati Roy, whn she was Barking on Kashmir pic.twitter.com/dNA8vcl3zS

— Tajinder Pal Singh Bagga (@TajinderBagga) August 30, 2018
His Viral Movement
Bagga's true claim to fame took place in October 2011, when he and his friends attacked and slapped Prashant Bhushan in his Supreme Court chambers.
He said the advocate's claim on Kashmir evoked such a huge outburst from his side.
He had then tweeted, "He tries to break my Nation, I try to break his head. Hisab chukta. Congrats to all. Operation Prashant Bhushan successful (sic)."
This incident helped him amass the 900,000 followers that he has on social media.
This helped him to be noticed by Prime Minister Narendra Modi who met him at an event named "#super150." 
Two years later he becomes the party's spokesperson to attract youth ahead of the Municipal Corporation of Delhi (MCD) polls.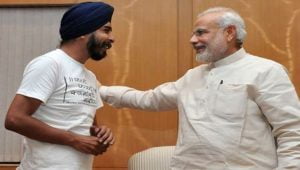 Twitter Troll!
Bagga understood the power of being a disruptor and a person who makes the loudest noise with his opinion, he continued this on his online platforms constantly trolling people whom he had ideological differences with.
He attacked Deepika Padukone after she stood beside Kanhiya Kumar and injured Aishe Gosh and called for a complete boycott of her movie "Chappak."
This trolling has also shown his dark sexist side. 
He had once mocked actress Swara Bhaskar on social media, for her masturbation scene in the movie Veere di Wedding, earning widespread rebuke for his comment.
RT if you will Boycott Movies of @deepikapadukone for her Support to #TukdeTukdeGang and Afzal Gang pic.twitter.com/LN5rpwjDmT

— Tajinder Pal Singh Bagga (@TajinderBagga) January 7, 2020
His Rivalry with Delhi CM Arvind Kejriwal
Bagga has taken potshots at Delhi's chief minister and Aam Aadmi Party (AAP) chief Arvind Kejriwal on repeated occasions.
This war on words escalated after the release of Kashmir Files where he posted a derogatory tweet against Arvind Kejriwal, he then took down the post later due to the intense backlash.
As seen earlier he doesn't shy away from Violence, in this situation too he turned violent saying "he will 'put a crack in his (Arvind Kejriwal's) nose."
On 30 March, Bagga was also part of a protest by BJYM members outside Kejriwal's official residence during which the gates of the CM house were defaced.
One thing is really clear how much ever you disagree with his politics he will always remain a constant in the Indian political system.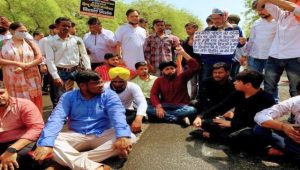 Credits:- Firstpost and Times Of India
Featured Image Credits-: TV9 BharatVarsh