Amid the raging tensions between Israel and Palestine where the situation is aggravating with every passing day, a group of Indians have been asserted to be the staunch supporters of Israel. These supporters of Israel have been running a hashtag named #IndiaStandsWithIsrael ever since the conflict began. However, the way India has been ignored in Israeli Prime Minister Benjamin Netanyahu's official tweet seems to have really dismayed them.
On Sunday, May 16, PM Netanyahu expressed his gratitude to a list of 25 countries that included – United States, Albania, Australia, Austria, Brazil, Canada, Colombia, Cyprus, Georgia, Germany, Hungary, Italy, Slovenia, and Ukraine.
PM Netanyahu used the emoticons of the flags of the countries in a tweet which said, "Thank you for resolutely standing with Israel and supporting our right to self-defense against terrorist attacks."
However, one country's flag that was missing in the post was that of India, which has remained a staunch ally of the Middle East nation and was in the present moment supporting Israel virtually over the ongoing violence against Palestine.
Hashtags such as #ISupportIsrael, #IndiaWithIsrael, #IndiaStandsWithIsrael and #IsrealUnderFire have trended on Indian social media over the past week, many calling Palestinians "terrorists" – a term used by Israel for Palestinian resistance groups. On Saturday night, #PalestineTerrorists was one of the top trends on Twitter in the South Asian nation.
In such a situation where a majority of India's population was standing in favour of Israel against Palestine, PM Netanyahu's tweet ignoring India comes as a severe blow to all those supporting Israel's cause.
Here's some of the reactions of Indian's to PM Netanyahu's tweet :
On the same day, May 16, PM Netanyahu had said in a video statement, "Israel has responded forcefully to these attacks, and we will continue to respond forcefully until the security of our people is reinstated and restored."
Meanwhile, Israel bombed and destroyed a building in the Gaza strip housing offices of the Associated Press and Al Jazeera later in the day. They gave a one-hour warning to the residents to bail out of the building before it was annihilated.
Al Jazeera called the attack dastardly and a desperate effort of the Israeli government to silence the press and stop the world from knowing the blatant human rights abuses and war crimes that they are committing in the Gaza Strip.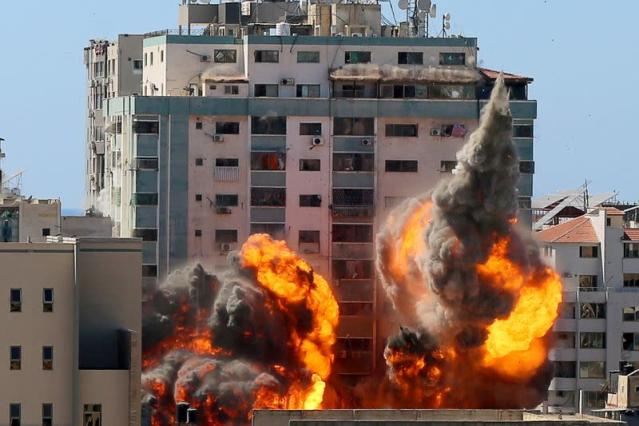 Unperturbed by the upheaval, the Israelis looked confident in their stance and declared that the building was destroyed because it housed Hamas operatives and was being used to plan, perpetrate and launch attacks on Israel.
Indian journalist and writer Rana Ayyub on Sunday wrote that while checking most of the #IndiaStandWithIsrael tweet handles, a common thread that runs through is a "visceral hatred for Muslims and a bloodlust to see Muslims massacred and shown their place".
"Most handles [are] followed by one or more BJP minister[s] or the PM himself," she added.
At least 212 Palestinians, including 61 children, have been killed and more than 1,000 others wounded in one week of intense Israeli air attacks in besieged Gaza – home to 2 million people. In the occupied West Bank, Israeli forces have killed at least 19 Palestinians protesting against the forced expulsion of Palestinian families from their homes.
On the other hand, at least 10 Israelis have also been killed in rockets fired by Hamas fighters from Gaza.
India has historically supported Palestinian self-determination as part of its anti-colonial solidarity following its independence from British rule in 1947.
The evolution of India's Palestine policy goes back to pre-independence days when Indian nationalists looked upon Palestinians as fellow "brothers-in-bondage".
India's freedom fighter Mahatma Gandhi famously said in 1938, "Palestine belongs to the Arabs in the same sense that England belongs to the English or France to the French."
India and Israel's ties have strengthened significantly too in recent decades, especially under Prime Minister Modi and his Israeli counterpart Benjamin Netanyahu. India and Israel have been sharing a close bilateral relations. In July 2017, PM Modi, who counts PM Netanyahu among his "friends", became the first-ever Indian prime minister to visit Israel. In 2018 the Israeli PM also visited India.
India follows what is called a "de-hyphenation policy". It maintains an independent relationship with Israel and an independent relationship with Palestine – both are separate and both stand on their own merit.
This stance reflects in India's latest statement at the UNSC on Sunday. New Delhi has called upon both sides to de-escalate and resume direct dialogue. It has expressed "strong support" for the just Palestinian cause and opposed Hamas rocket fire against Israel while underlining an "unwavering commitment" to the two-state solution.
"I reiterate India's strong support to the just Palestinian cause and its unwavering commitment to the two-state solution," India's permanent representative to the United Nations TS Tirumurti told a virtual United Nations Security Council meeting.
But the Indian stand at the UNSC came in for criticism from many government supporters with a Twitter user calling it "shameful diplomacy. Spineless act by our govt."
Many others backed India's position, saying diplomacy was the only option to solve the Israel-Palestine issue.
References:
Image Sources:
• AP
• AFP
• Reuters