Protest; the language of the unheard, the beauty of democracy. But in recent times, the perception of protests has taken a sharp turn. The lines between being an anti-national and being a woke citizen is blurred.
जनता की सेवा के लिए हैं सरकारें,

जनता की बात नहीं मानेगी तो लगेंगे नारे.
Here's a list of the top 10 Andolan Jivis who have kept the essence of democracy burning high!
10. Yogendra Yadav

Yogendra Yadav has been quite bubbling for some time with the entire Andolan jeevi sentiment being aired. Currently, Yogendra Yadav is the Swaraj Party leader and the president of the Indian Farmers Protest 20-21. Yadav is an Indian activist turned politician and is heavily interested in political and social sciences. Yadav has actively participated during the protests against the three farm laws. He is a determined leader who claims to maintain a peaceful protest without budging his stance against the legislation. In a recent Twitter spat, Modi claimed that Andolan Jeevis (professional protestors who live on protests) should be avoided, as they can bring a nuisance to the country. In response to this, Yadav stated that while 'Andolanjivis' raised their voice against injustice everywhere, 'Andolan Bhogis' are content to enjoy the fruits of one or two movements and become status quoits
09. H Doreswamy
H Doreswamy is an Indian activist and journalist. Many know him as the 102-year old freedom fighter, this gentleman hails from Mysore, Karnataka. His activism has changed the fate around him and so he has been rightly acknowledged as the conscience of the state by historian Ramachandra Guha. Being an active freedom fighter against the British Raj, Doreswamy arranged several protests and strikes in the Mysore state under the British. He was involved in setting small-scaled time bombs in record rooms to disrupt the functioning of the British. Under his andolans, he collaborated with several unions and organized strikes. He successfully held a 14-day strike at three textile mills, namely, Minerva, Binny, and Raja Mills. The strike saw active participation of more than 8,000 workers. Later in 1943, he was arrested for supplying bombs and was detained in Bangalore Central Jail. He was later released after 14 months of detention. After his release, Doreswamy established his own newspaper publication Sahitya Mandira. 
08. Medha Patkar
Medha Patkar isn't foreign to many. This female Indian activist has participated in and initiated several protests on the political and socio-economic spectrum. She has actively protested for the rights of the tribals, Dalits and against injustice against women. Few of her andolans that bore fruit include; Narmada Bachao Andolan (NBA), Ghar Bachao Ghar Banao Andolan, Golibar Demolition. The NBA especially protected the rights of the Adivasis which otherwise being compromised in the name development in 1985. The non-violent protest safeguarded farmers, labourers, tribals on the river Narmada. Since that Andolan, the NBA has been running Jeevan Shalas i.e. School of life with about 5,000 students since 1992. 
07. Ramchandra Guha
India after Gandhi, the name is enough right? Ramchandra Guha is an Indian writer and a columnist for many news portals including the Caravan, the Telegraph, etc. Guha is also a contributor to various academic journals and a researcher on a plethora of genres including, economics, politics, history, environment, etc. Guha's activism visibly spurted in the CAA protests in Bangalore. Guha who was part of a non-violent protest at Town Hall, Bangalore was detained by the police. His columns have shamed the CAA. Guha says, " This government in Delhi is animated, above all, not by the love of Hindus, not by pride in Hinduism, but by hatred and fear of Muslims…CAA is illogical, immoral, and ill-timed."
06. Chandrashekhar Azad Ravan
Chandrashekar Azad Ravan is a lawyer by profession who turned into a Dalit activist. He is also the co-founder and the president of the Bhim Army, alternatively the Bheem Army Bharat Ekta Mission that exists to protect Dalit rights in India. Azad has been quite an active personality when it comes to protests in India. He actively participated in the CAA-NRC protests in Delhi. His presence in Delhi's Jama Masjid has been iconic. Azad has staged a protest against the 2020 Hathras Rape incident. Azad and his supporters held protests at Safdarjung Hospital, Delhi, where the victim succumbed to her injuries. Azad has also pledged support to the farmers against the farm bills at the Delhi-Ghazipur border. 
05. Anna Hazare
Anna Hazare is the modern Gandhi. Rooted in ideologies such as non-violence and anticorruption, Hazare has been an activist for more than three decades. His participation in the transformation of the village Ralegan Siddhi is remarkable. Ralegan Siddhi was a village drenched in poverty and neglect. Hazare and his clan launched several movements and efforts were made to bring in better standards of living for the villagers. 
His activism in Maharashtra has garnered everlasting effects. Hazare led many movements including the Right to Information movement which birthed the RTI (Right to Information) Act, regulation for transfers of officials, and the most impactful one, the hunger strike. The Hunger strike was an indefinite strike held in various cities across the country including, Mumbai, Bangalore, Shillong, Chennai, Guwahati, etc. This strike was successful as the government accepted the demands made. Hazare also called this movement "the second struggle of Independence."
04. Arundhati Roy
A woman with a cause and for a cause, Arundhati Roy has spent most of her life amidst political activism and voicing the voiceless. Roy has authored many books including, The God Small Things. Roy has been quite vocal about her views and has even called Narendra Modi a 'tragedy' on his nomination in 2013. She says, "He is the system. He has the backing of the media. He has the backing of the army, the courts, a majoritarian popular vote … Every institution has fallen in line." Roy has even partnered with Medha Patkar in several protests including the Sardar Sarovar project in sync with the Narmada Bachao Protest.
03. Mahatma Gandhi
The Father of the Nation needs no introduction, but besides his revolutionary movements that fueled the freedom struggle, Gandhi had a lot more going on. Gandhi and satyagraha have nearly emerged as synonyms lately, but this thought of Gandhi was drawn from the writings of Leo Tolstoy and religious texts including the Bhagavad Gita and the Bible. Gandhi first conceived Satyagraha in 1906 in South Africa, on the discrimination between Asians and White. In India, the first Satyagraha movement was witnessed in Champaran, Bihar also referred to as the Champaran Satyagraha. Gandhi launched this movement in response to the abuse of farmers as they were forced to cultivate indigo. The movement concluded with an Agrarian Bill that consisted of all of the recommendations and suggestions made under Gandhi. The second Satyagraha, the Kheda Satyagraha of 1918. Another act of abuse on peasants as they were levied with exorbitant taxes despite facing famines and losses. This protest too bore fruit as the British government reduced the tax rates and released the suspended lands. Thus Gandhi never fails to impress with his andolans. An Andolan jeevi in the real sense. 
02. Father Stan Swamy
Father Stan Swamy is a Jesuit priest and an Indian human rights activist. By far Swamy is the oldest person ever to be accused of terrorism in India. The 83-year-old activist is believed to be interested in the well-being and protection of the Adivasi community in India. However, Swamy has been arrested in connection with the 2018 Bhima Koregaon protests and has been alleged as a Maoist.
"What is happening to me is not something unique happening to me alone. It is a broader process that is taking place all over the country. We are all aware of how prominent intellectuals, lawyers, writers, poets, activists, students, leaders, are all put into jail because they have expressed their dissent or raised questions about the ruling powers of India. We are part of the process. In a way, I am happy to be part of this process. I am not a silent spectator, but part of the game, and ready to pay the price whatever be it."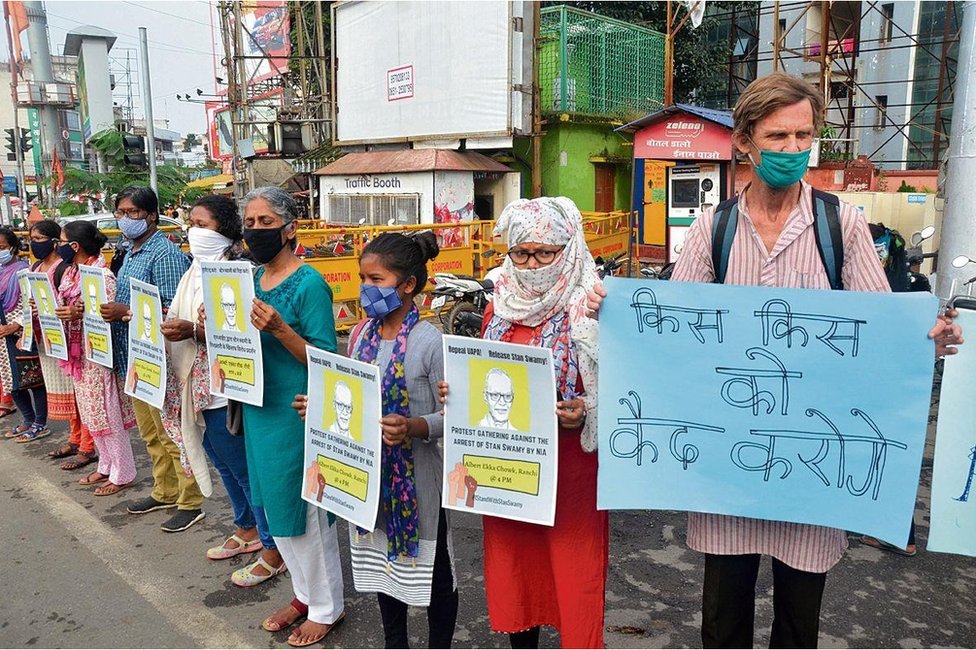 Since his arrest, there have been several protests across the country in support of the release of Swamy.
01. Bilkis Daadi 
This post would have been incomplete without Bano Dadi.
Bilkis Bano, the 82-year-old protestor has been garnering the essence of democracy by protesting right to this day. Better known as Bilkis Dadi, Bano achieved fame during the Shaheen Bagh protests in Delhi that were held against the CAA. Bilkis joined hundreds of other women in a day-in and day-out sit-in protest in December, which went on till March. Despite the unsparing winters of Delhi, Bano didn't bat an eye. Bano even pledged support to the farmers' protest, however, she was detained under the condition of being a senior citizen and was sent home. 
These individuals for sure tell us a tale, that protesting isn't being anti-national but moreover it's like renewing your license to living in practising democracy.