Image Via Fossbytes
by Divyakshee K.
The relationship between social media platforms, journalists, and India's governing Bharatiya Janata Party has been questionable for much of Prime Minister Narendra Modi's near eight years in office. With the recent exposé on an app called Tek Fog, this connection has taken a new, shocking, and deeply worrisome turn.
The BJP is said to have utilised a browser-based application to infiltrate social media sites to propagate misinformation, target female journalists, and zero in on anybody it considers an opponent. According to a whistleblower claiming to be a disgruntled employee of the governing party's information technology unit, a piece released last week by The Wire, an independent Indian news publication, described the mechanics and strategy of the computer programme known as Tek Fog. Although the exact date of the system's creation is unknown, The Wire has been examining the accusations made by the unnamed source for the past two years.
In April 2020, an anonymous Twitter account called @Aarthisharma08, claiming to be a frustrated employee of the Bharatiya Janata Party's (BJP) Information Technology Cell (IT Cell) claimed the existence of a highly sophisticated and secret app called 'Tek Fog' in a series of tweets. They stated that political operatives linked to the ruling party use the app to falsely inflate the party's popularity, threaten critics, and manipulate public perceptions on a huge scale across prominent social media platforms.
The Wire contacted the Twitter user to examine the existence of Tek Fog, a 'secret app' that they claimed could 'bypass reCaptcha codes' allowing fellow employees to 'auto-upload texts and hashtag Trends.'
Upon further interactions, the individual said that their daily work included using the Tek Fog app to hijack Twitter's 'trending' segment with targeted hashtags, creating and managing various WhatsApp groups linked with the BJP, and direct online harassment of journalists who were critical of the BJP.
The source also claimed that they chose to break their silence after their alleged manager – Devang Dave, the former national social media and IT head of the Bharatiya Janata Yuva Morcha (the BJP's youth wing) and current Maharashtra election manager – failed to fulfil a promise regarding a lucrative job offer in 2018 if the BJP was able to retain power in the 2019 Lok Sabha elections. Dave has since denied knowing anything about the app.
One of the app's main objectives is to take over Twitter's 'trending' area and 'trend' on Facebook. This method uses the app's built-in automated tools to 'auto-retweet' or 'auto-share' individual or group tweets and posts, as well as spam existing hashtags with accounts controlled by app operators.
This tool is also used to promote right-wing propaganda on the site, making extremist ideologies and political campaigns look more widespread than they are.
These accounts are also created utilising in-app tools that allow individual operators to produce 'temporary' email addresses, activate phone numbers, and bypass programming limits, as well as email and OTP verification on various apps such as WhatsApp, Facebook, Instagram, Twitter, and Telegram.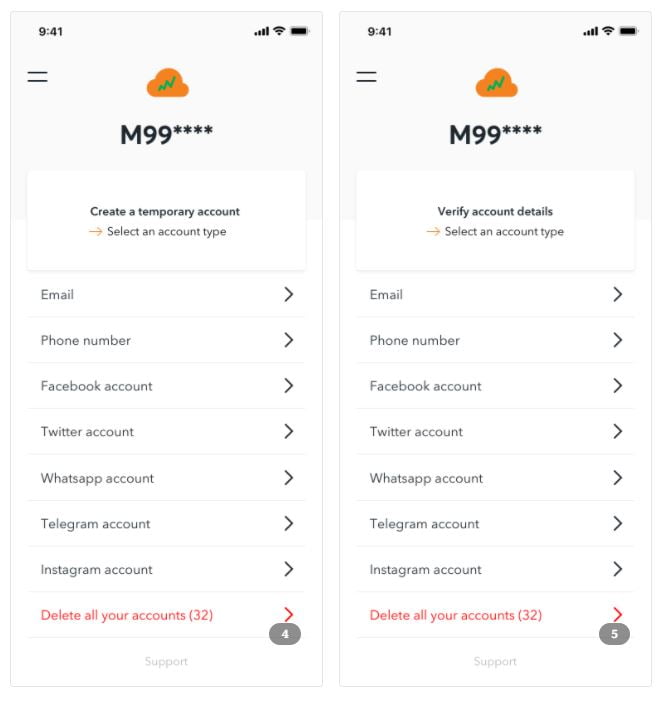 Another disturbing element of the software is its potential to allow individual operators to hijack 'inactive' WhatsApp accounts of private citizens and use their phone numbers to message their 'frequently contacted' or 'all contacts,' similar to 'token theft.'
This is also used by app operators to phish personal information from targeted users to upload it to a cloud-based political database. When private citizens are added to this database, they become potential targets for future harassment and trolling efforts.
The app's screenshots and screencasts reveal a large and dynamic cloud database of private persons organised by occupation, religion, language, age, gender, political leanings, and even physical characteristics. The pictures also show that by linking a Google Sheet or auto-generating keywords and phrases, app operators may 'auto-reply' to people or groups, the great majority of which are abusive or derogatory.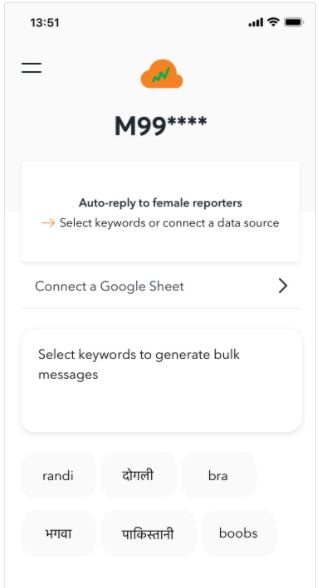 Another feature included in the app was the option for app administrators to remove or remap all existing accounts at any time. This capability permits them to delete any incriminating proof of their previous activities.
Swati Chaturvedi, a New Delhi-based investigative journalist, says, "I'm happy to know that it's not actually a human being lighting up my phone with horrible, sexually coloured insults on a regular basis, but bots. Still, what message does it send about our democracy when private citizens are systematically attacked by a call centre of hate?" Since the publication of her book "I Am A Troll: Inside the Secret World of the BJP's Digital Army" in 2016, Chaturvedi has been consistently harassed online.
With its accessibility and complexity, paired with technology to automate, learn, and scale, the discovery of WhatsApp hijacking poses a huge risk to the integrity of the Indian information ecosystem and the privacy of India's population. The same characteristics give a unique insight into the technology arsenal of online operators supporting the BJP, as well as their capacity to use WhatsApp to control public and political debate in the world's largest democracy.
Source: The Wire